Vital Stats:
Vitola: Double Robusto
Length: 5″
Ring Gauge: 60
Country of Origin: Dominican Republic
Wrapper: Pennsylvania Broadleaf
Binder: Dominican Habano
Filler: Dominican, Nicaraguan
Factory: Undisclosed
Blender: Undisclosed
Number of reviewers: 5 —– Craig (WyldKnyght) Robert (NavyPiper) Milton (mjohnsoniii) James (dscl) Emmett (rhetorik)
Price: $7.30
Age: 2 Months Rest
Release Date: 2010
Contributed by: Flatbed Cigar Company
This cigar was reviewed blind (no bands) by a panel of at least 4 reviewers. They did not know what they were smoking beforehand. The scores are an average of all the reviewers' scores with outliers removed. All of our cigars reviewed are shipped to the panelists with Boveda packs to ensure optimal smoking experience.
Initial Impressions
Appearance: 90
"The appearance of this large cigar is pretty good. The wrapper is a medium-dark brown and very toothy, like Cameroon, but darker than is typical. The double cap is a little sloppy and there are a few veins present, but nothing offensive. Most of the veins are under the wrapper." –Emmett (rhetorik)
Aroma: 90
"There were definitive notes of strong tobacco and barnyard scents along with some sweetness." –Milton (mjohnsoniii)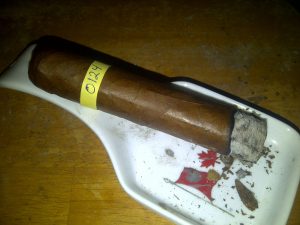 First Third
Flavor: 89
Strength: Medium
Body/Complexity: Medium
"This robusto cigar started out with a strange but rather intriguing taste. It was a mixture of pepper, spice and some herbs. As it continued on, I began tasting a bit of nuttiness along with wood." –Milton (mjohnsoniii)
"This third start off with some really unique flavors. The base layer is earth and leather, but there is a spice I'm picking up that I don't usually get from cigars, the closest descriptor I can come up with is oregano. The draw is light and airy, it takes a good 4 puffs to get it going, but when you do, there's lots of smoke. The burn is a struggle. Towards the end of the third, the spice starts turning to pepper." –Emmett (rhetorik)
Second Third
Flavor: 89
Strength: Medium
Body/Complexity: Medium
"The flavor mellowed right out during the 2nd third with a nice smooth creamy woody/hay flavor. Lots of creamy thick smoke, I was really starting to enjoy this cigar at the half way mark."  –Craig (WyldKnyght)
"The wood and burnt toast are still present, and after half way through the third, began getting a white pepper and an 'incense' type flavor that comes and goes. Really hope things improve with this sample." –Robert (NavyPiper)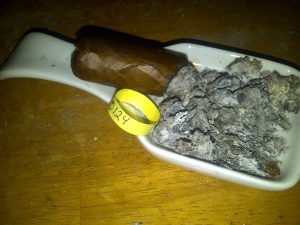 Final Third
Flavor: 91
Strength: Medium-Strong
Body/Complexity: Medium-Full
"Finally! In the final third this stogie came alive! Lots of creamy smoke coating the palate, and the flavors really ramped up nicely. Flavors present were toast, spice, and the white pepper, all consistent through the third. This third really was good. Wish the first two thirds would've been like this." –Robert (NavyPiper)
"The burn line has continued to be razor sharp and the flavor has gotten deeper, but the wrapper has once again cracked." –James (dscl)
Overall Impressions
Draw: 90
"Aside from the first 3/4″ the draw was excellent, perhaps a little open for some, but great in my opinion."  –James (dscl)
Burn: 89
"Although a bit uneven at times, the burn didn't give much trouble at all and didn't require any touch-ups." –Milton (mjohnsoniii)
Construction: 90
"This cigar was very well constructed, nice and firm with no soft spots, other than the cracked wrapper at the end, I had no issues."  –Craig (WyldKnyght)
Overall Strength: Medium-Strong
Overall Body/Complexity: Medium-Full
Overall Experience: 89
"I really enjoyed this cigar, it really hit the spot at the halfway mark and just got better as I finished it. Can't wait to find out what it was, I will be buying more." –Craig (WyldKnyght)
"This sample was very frustrating and discouraging. The wrapper was too bloody thin to start with! It cracked just punching the cap, and just holding it caused it to bust up even more, and this was before lighting it. You know, I really hope I had a fluke, that one that is totally opposite from the others in the box. By the end of the 2nd third I was ready to chuck it, but the final third made it worth it. I wish the whole stick would've had the flavors and behaved like this third! I'm curious what it is. I'd like to try another one to see how it is, but at this time I'm not ready to invest in a box. Thicker wrapper would go a long way…" –Robert (NavyPiper)
"This was a decent cigar that lasted a little over an hour. Would I recommend it to my buddies? Definitely. I don't think I'd spend my last dime on one but it was well worth the time spent smoking it. I would keep a few of these in the humi. Who knows? Maybe with a bit more age on them, they could turn out to be excellent cigars." –Milton (mjohnsoniii)
"Overall the cigar was highly enjoyable and I would certainly smoke another one or three. If the cigar had a bit more transition in flavors it would have scored higher, but it was still a good smoke." –James (dscl)
"The flavors were promising at first, but quickly became boring. The construction was quite bad on my sample and made for a pretty unenjoyable experience. The large ring gauge definitely hurt this cigar, and may have produced a different experience in another vitola. I would try it again if the other panelists have a different experience, but at this point I cannot recommend this to anyone." –Emmett (rhetorik)
Smoking Time (in minutes): 77
Total Score: 90 (Very Good)
Edit

| Reviewer | Appea-rance | Aroma | 1/3 | 2/3 | 3/3 | Draw | Burn | Constr. | Overall |
| --- | --- | --- | --- | --- | --- | --- | --- | --- | --- |
| Craig | 88 | 90 | 90 | 90 | 92 | 92 | 92 | 92 | 90 |
| Robert | 88 | 88 | 85 | 85 | 90 | 83 | 75 | 85 | 75 |
| Milton | 97 | 90 | 88 | 92 | 92 | 90 | 90 | 92 | 90 |
| James | 95 | 95 | 90 | 90 | 90 | 92 | 95 | 90 | 92 |
| Emmett | 90 | 90 | 92 | 88 | 83 | 85 | 80 | 75 | 85 |
| Overall | 90 | 90 | 89 | 89 | 91 | 90 | 89 | 90 | 89 |
To view the complete scores and notes, click here.
Blind Cigar Review: Panacea | Green 560