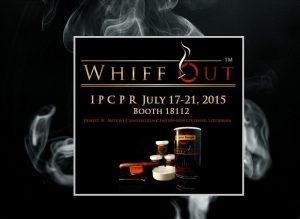 At this year's IPCPR in New Orleans I ran into Michael of Whiff Out on the show floor and then at one of the cigar after parties. Michael talked about how amazing Whiff Out worked and said I should try it. A few weeks after the show I got in contact with him and he was kind enough to send me some samples to review and try out.
One of the reasons I got assigned this review is because I do smoke in my car and I also smoke inside my home on occasion when the weather is just too bad to go outside. I was very interested in how this product would help – if at all – in my car because when I smoke cigars in my car it smells horribly for a few days and any passengers complain.
Whiff Out is an ultra-fine crystalline deodorant powder that releases a clean, pleasant scent while absorbing most odors. It is like pouring a crystal-sand mixture into your ashtray. Its odor is super pleasant and very crisp and clean. You could use Whiff Out as just a normal car air freshener if you wanted to.

I put some Whiff Out in both my shotgun ashtray in my car as well as the larger ashtray I use in my living room at home.
Let me start with the experience I've had with using it in my car. There have been multiple times where I put some Whiff Out in my small car ashtray and have smoked cigars either on my ride home from work, which is about 30 minutes, or on longer rides when I drive to and from Des Moines, which is about 2 hours. Every time after smoking with Whiff Out in my ashtray, I'm amazed the next morning when I get in my car and it does not smell. To me, this has been the most success I have had with using Whiff Out. I keep it in my car ashtray at all times now. I have to admit I was very skeptical about the product, but if you smoke in your car, this is something you just need to get and use. It does wonders.
I found using Whiff Out in my home also makes a difference and I will continue to put it in my ashtray. The big difference is that if you do smoke in your home, the smoke just goes all over, so having this in your ashtray can only do so much. It does help, but it can't stop the smoke from going all over your entire house. Now, if you run a cigar lounge, this is something I would definitely put in each ashtray and replace every day. Having it in many ashtrays around the lounge you will notice a difference and it does keep the ashtray itself from stinking for days. Obviously, lounges have ventilation systems to handle the smoke, so adding Whiff Out to all your ashtrays would make a welcoming difference in your shop.
Overall, I have to say that I was pleasantly surprised with this product. I will never go without it again in my car for sure. It's been in there since I got it and I will make sure I never run out of it. I would encourage you to try some yourself. And again, if you do run a cigar lounge, I think this would be a must use in all your ashtrays. It is not expensive; you just spread a small amount in each ashtray so the container you get will last a long time. It's definitely worth a try and something every cigar smoker should check out.
Verdict: Great
(Recommend)