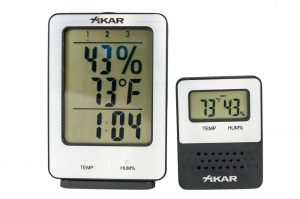 Something that every cigar smoker has to deal with is keeping your cigars at the right humidity. An essential tool of this process is the hygrometer, the instrument that tells you the relative humidity of your humidor. This review is for the Xikar PuroTemp Wireless Digital Hygrometer System.
Description From the Company
Introducing the XIKAR PuroTemp™ Wireless Hygrometer System. This wireless remote hygrometer system can read up to 3 separate remote units in different locations/humidors allowing you to know the temperature and humidity level in all 3 locations without having to open the humidor. Take the guess work and stress out of monitoring your cigars. Trust XIKAR to protect your cigars!
PuroTemp™ Wireless Hygrometer System Features:
Humidor temperature & relative humidity display
Ability to monitor up to 3 humidors within a 60ft range
High & Low temperature/ humidity alerts
Temp. display in °F or °C
Temp. Range: –13 to 140 °F or –25 to 60 °C
Relative Humidity Range (RH): 20% to 95%
Accuracy (RH): +/- 2% (Temp): +/- .1 °C
Four function keys: CH, SELECT, UP, DOWN
12 / 24 Hour Clock
Look and Feel
This unit has a very clean look to it, simple, but classy enough you wouldn't mind displaying it out in the open. The stainless steel face is a nice touch. I do wish the stand tilted back a little bit further or was adjustable so you could choose the angle, and that there was a wall mount, but these are minor issues. The numbers are big and viewable from quite a distance away. It feels solidly built all around, nothing comes across as flimsy. The buttons are all responsive and act as you would expect.
Function
This unit is built for one thing, showing you the humidity of the remote unit. There are no fancy bells and whistles that come with similar units like barometric pressure, or weather predictions, or atomic clocks. And to tell you the truth, that is a breath of fresh air, because the one thing this unit does, it does absolutely flawlessly. With other units I've had like the Ambient Weather system, syncing the remote units to the main was a nightmare of epic proportions, having to go through each step in a specific order, and God forbid you should have a battery die and have to do it ALL over again. With the Xikar PuroTemp, it works exactly like I had hoped it would, and I couldn't ask for anything more. You put in the batteries, turn it on, and it works. That's it. And if you have more than one remote unit, there are simple physical switches in the batter housing that you can chose which remote is #1, #2, or #3, and that choice will be recognized by the main one.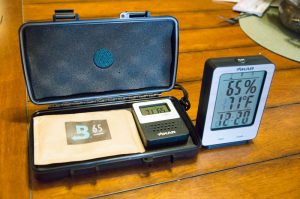 My biggest concern when I saw the original announcement for this product was that it "doesn't need calibration". So going into reviewing this, I was expecting to test this thing, find out it was 6% off and have to complain about how there's no adjustment. Well, to my complete amazement, they were right. I tested this against a 65% boveda pack and it was DEAD ON accurate. I don't know how they did it, because I've had dozens of hygrometers in my cigar life and every one of them has needed calibration except this one. Whatever they did, I applaud them, because this removed another headache from the routine of a cigar smoker. I would still recommend that everyone that gets one test it against salt or a boveda pack, but if they are all this good, you will only do it once.
Though it doesn't come with many features, the ones it does include are fantastic. The ability to customize the temperature and humidity of the alarms that let you know when your cigars need attention is perfect. You can even set different thresholds for each remote unit of you like. With my Ambieint Weather unit another big problem was the range of the wireless remotes, they were so finicky, they didn't like to be too close to the base, or too far. I would lose the signal in the next room. Not the case with this Xikar. I took the base unit anywhere in my house and never lost the signal form the remote in my humidor.
Overall Impressions
Overall I was very very impressed with this offering from Xikar. It does exactly what it says it does, and it does it with simplicity. It measures humidity better than any other method I have used, and that is saying a lot. The only drawback I can find is the price. The base unit which comes with one remote, will run you $79.99, and $39.99 for each remote. So to use it to its full capacity of three remotes would set you back $157.97. While that may be a little steep, in my opinion, it is well worth it. If you are still on the fence, there is of course the company's lifetime warranty on all their products, which I have found to be one of the best in the biz.
Highly Recommend