Vital Stats:
This cigar was reviewed blind (no bands) by a panel of at least 4 reviewers. They did not know what they were smoking beforehand. The scores are an average of all the reviewers' scores with outliers removed. All of our cigars reviewed are shipped to the panelists with Boveda packs to ensure optimal smoking experience.
Vitola: Robusto
Length: 5″
Ring Gauge: 52
Country of Origin: Undisclosed
Wrapper: Dominican Criollo
Binder: Dominican
Filler: Nicaraguan Ligero and Dominican Viso/Seco
Factory: Undisclosed
Blender: Undisclosed
Number of reviewers: 3—– Robert (NavyPiper) Milton (mjohnsoniii) Dave (mdwest)
Price: Undisclosed
Age: 3 Months
Release Date: April 2013
Contributed by: Arcangel Cigars
Note: Typically we have no less than four reviewers on a cigar. In this particular review, we only had three, so take that into consideration with reviewing the final scores.
Initial Impressions
Appearance: 90
"This is a really nice looking cigar. Uniform medium brown color, with a light sheen to it and no blemishes. The cap is super smooth and looks so good, I can't see where it joins to the wrapper. Heck, it may be part of the wrapper for all I know- but it's nice!" –Robert (NavyPiper)
Aroma: 90
"I detect nutmeg, hay and maybe raisins coming off of this one. Smells very good." –Milton (mjohnsoniii)
First Third
Flavor: 90
Strength: Medium
Body/Complexity: Medium
"After punching the cap and firing up, the initial flavors presented were pepper which was dominant but not overpowering, tobacco and wood. Pretty good third, enjoyed it." –Robert (NavyPiper)
"An unexpected fairly long finish that has hints of spice tied in with cedar. The smoke is cool and creamy. Very nice." –Dave (mdwest)
Second Third
Flavor: 90
Strength: Medium
Body/Complexity: Medium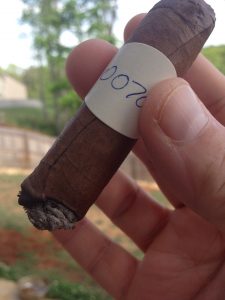 "Floral notes were still present during the second third of this cigar. Along with that was cedar, coffee and spices that coated the palate. The smoke began really billowing at this point and was very thick and creamy. The ash was tight and held on strong until it fell half way into this third." –Milton (mjohnsoniii)
"Once again I am surprised by this stick as we roll into the second third. The strength has progressed up to medium-strong, and the flavor profile has changed to now include black pepper and grass notes." –Dave (mdwest)
Final Third
Flavor: 90
Strength: Medium
Body/Complexity: Medium
"As the smoke billowed, coffee notes and cedar continued to be the more prominent flavors with unsweetened chocolate and cilantro appearing off and on during the retrohale." –Milton (mjohnsoniii)
"The final third profiles much like the second third with wood, grass and cinnamon notes and bits of pepper on the finish. If there was any question in the second third about strength, its gone now. The final third is definitely medium-strong." –Dave (mdwest)
Overall Impressions
Draw: 88
"Throughout the entire first half of the cigar, I had to continuously puff on it to keep it lit, but from that point on, the draw was outstanding." –Milton (mjohnsoniii)
Burn: 93
"While the pack was obviously a little soft on this stick and the resulting draw loose, this did not effect the burn at all. It stayed super sharp the entire smoke with no touch ups or attention otherwise required." –Dave (mdwest)
Construction: 93
"Well constructed. No flaws, imperfections, or problems detected. The stick was slightly soft packed, but I believe this was by design." –Dave (mdwest)
Overall Strength: Medium
Overall Body/Complexity: Medium
Overall Experience: 93
"I was really impressed to try this cigar, especially seeing how well it looked and was made. Flavors were pretty consistent the whole time, except for the middle third, which had the mustiness and had the problem keeping it going. I enjoyed the flavors, the smoke was good, again except for the middle, and the draw problem. Those things are what dropped it from 'great' to 'very good'." –Robert (NavyPiper)
"This cigar provided a unique profile which changed up pretty often. Although nothing to write home about, it was a fairly good smoking experience that I wouldn't mind having again. The flavors were good and it was complex enough that it could very well be a super premium cigar given a bit more age. I really enjoyed it." –Milton (mjohnsoniii)
"Overall a very good stick. One that I would seek out again. It had a nice flavor profile, and was complex enough to keep things interesting from start to finish. Very enjoyable." –Dave (mdwest)
Smoking Time (in minutes): 55
Total Score: 91 (Very Good)
Edit

| Reviewer | Appea-rance | Aroma | 1/3 | 2/3 | 3/3 | Draw | Burn | Constr. | Overall |
| --- | --- | --- | --- | --- | --- | --- | --- | --- | --- |
| Robert | 92 | 90 | 90 | 88 | 90 | 85 | 93 | 95 | 93 |
| Milton | 90 | 90 | 90 | 90 | 90 | 88 | 93 | 90 | 90 |
| Dave | 90 | 90 | 92 | 92 | 92 | 88 | 95 | 93 | 93 |
| Overall | 90 | 90 | 90 | 90 | 90 | 88 | 93 | 93 | 93 |
To view the complete scores and notes, click here.
Blind Cigar Review: Arcangel | Michael Robusto