Cigar Info
Tom Lazuka and Christian Eiroa partnered in 2012 to introduce the Asylum brand. They call it a, "take no prisoners" approach, Asylum Cigars is breaking out with a diversity of taste profiles and formats at very approachable prices, achieving their goal of appealing to a broad cigar audience at every level. The original aim of the company was to provide enthusiasts with a totally unique cigar experience. Lazuka noted, " By partnering with Christian Eiroa and his company, Tabacaleras Unidas, we have a platform that gives us the ability to create full-body, high-palate-impact to truly flavorful medium bodied cigars and our formats range from 44 x 4 to 70 x 7, all rolled with the finest available Nicaragua tobacco reserves." This boutique brand has gained a lot of traction in recent years, and with the help of industry great Christian Eiroa, has managed to command the respect and attention it deserves. They're best known for huge ring gauges, but here with Insidious they take a very different approach.
This cigar was reviewed blind (no bands) by a panel of at least 4 reviewers. They did not know what they were smoking beforehand. The scores are an average of all the reviewers' scores with outliers removed. All of our cigars reviewed are shipped to the panelists with Boveda packs to ensure optimal smoking experience.
This handmade is noted to be mild and has a slightly sweetened cap. This mild-bodied creation also includes a Honduran binder and a mix of Honduran filler leaves. Tom Lazuka created this blend to be beginner friendly, and each vital features an uncharacteristically mild profile and the first sweetened cap of any Asylum offering to date. Insidious utilizes the first Ecuadorian Connecticut wrapper leaf of any Asylum release. Each of the five vitolas in the line has a price point less than $5, making this sweet tip mild-smoke both easy on the palate and easy on the wallet.
Vital Stats:
Vitola: Robusto
Length: 5″
Ring Gauge: 50
Country of Origin: Honduras
Wrapper: Ecuadorian Connecticut
Binder: Honduras
Filler: Honduras
Factory: El Aladino
Blender: Tom Lazuka and Christian Eiroa
Number of reviewers: 5—–Gregg (McGreggor57) Ron (shuckins) Robert (NavyPiper) Wes (SosaCub4Life) Dave (mdwest)
Price: $4.20
Age: 3 Months
Release Date: August 2014
Contributed by: C.L.E. Cigar Company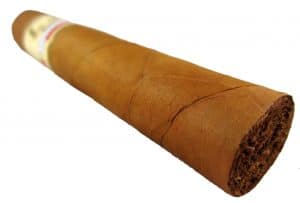 Initial Impressions
Appearance: 91
"This cigar may have the closest thing to a perfect wrapper on it that I have ever seen, with zero imperfections. It is slick, with minimal tooth, camel tan in color and close to invisible seams. A cigar that is extremely appealing to the eye." –Dave (mdwest)
Aroma: 89
"Grass and hay with a touch of barnyard mixed with cedar at the foot. The cold draw has a sweet, almost infused, flavor of cedar." –Gregg (McGreggor57)
First Third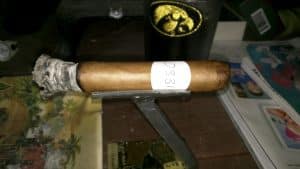 Flavor: 89
Strength: Medium-Strong
Body/Complexity: Medium
"The sweetness from the cold draw carries over and lingers on my lips as the initial flavors establish themselves. Leather, tobacco and grassy notes begin to develop. A bit of pepper creeps into the retrohale making for a somewhat sweet and spicy mix. Cedar appears near the end, creating a a nice balance of flavors." –Gregg (McGreggor57)
"Definitely picking up quite a bit of sweetness from the stick during the first third. It's creamy and sweet, almost sugary. There is also some nice spice on the retrohale to balance it all out. So far I've liked it much more than I thought I would from just the appearance." –Wes (SosaCub4Life)
Second Third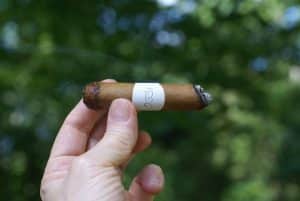 Flavor: 88
Strength: Medium
Body/Complexity: Medium
"Fresh tasting cedary tobacco, with light coffee and splashes of nutmeg, are fighting their way through a metallic after taste. This adds life to the cigar and keeps me smoking as I wasn't enjoying it so far." –Ron (shuckins)
"Every now and then I get a strange syrupy sweet type note on a puff. It's inconsistent, but a nice little surprise every time it happens. Otherwise, the second third is much like the first with delicate floral and wood notes." –Dave (mdwest)
Final Third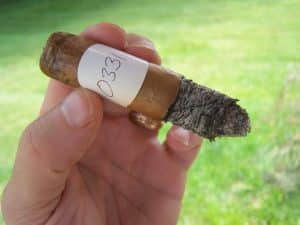 Flavor: 88
Strength: Medium
Body/Complexity: Medium
"The leather has left the building, leaving woodsy notes to dominate the final third. A bit of coffee is present in the background taking away most of the sweetness from the tobacco and cedar. I also notice an increase in strength." –Gregg (McGreggor57)
"In the last third, the nuts and wood disappeared, and it was pretty much just that biting tobacco. The heat mentioned in the second third increases the farther I progress in the third. That was the only change in this third." –Robert (NavyPiper)
Overall Impressions
Draw: 92
"Excellent draw, couldn't ask for anything else." –Robert (NavyPiper)
Burn: 92
"The burn was almost perfect throughout. No issues." –Wes (SosaCub4Life)
Construction: 92
"A well put together cigar that smoked like it was born to do it." –Ron (shuckins)
Overall Strength: Medium
Overall Body/Complexity: Medium
Overall Experience: 89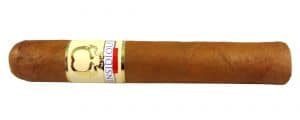 "A solid cigar full of richer flavors with just enough sweetness to keep it balanced. I feared the profile might become harsh after the leather faded and was pleasantly surprised at how smooth it remained. While just shy of what I would consider a powerhouse, there was enough strength in the first and final third to caution a newer cigar smoker." –Gregg (McGreggor57)
"The cigar had a strange start, and if I wasn't reviewing it I may have tossed it early on. It did get better and I'm glad I stuck with it, but this one's not for me at this time." –Ron (shuckins)
"It was a well made stogie, and couldn't ask anything more from the draw or the burn. Curious about the bite and the heat though. Maybe there was a pepper that I didn't pick up on, I honestly don't know, but definitely was there. Enjoyed it, was much stronger than I expected. Well done!" –Robert (NavyPiper)
"I really enjoyed the first two thirds of this stick and then it took a turn for the worse at the end. What was a very pleasant and mild cigar with very good sweetness balanced by the spices, turned into an almost tasteless ending with some bitterness. If I would have quit after second third, this cigar would have been rated much higher." –Wes (SosaCub4Life)
"A nice early morning cigar that would pair well with the first cup of coffee for the day. Light to medium in body. Cigars like this arent normally my thing, but it was a good cigar overall, and I would be happy to revisit again." –Dave (mdwest)
–
Smoking Time (in minutes): 62
Reviewer

Appearance

Aroma

1/3

2/3

3/3

Draw

Burn

Constr.

Overall
Experience

Gregg
McGreggor57)
88
90
90
90
90
88
90
90
90
Ron
shuckins)
92
88
83
85
85
95
88
95
85
Robert
NavyPiper)
88
88
88
88
88
92
97
90
88
Wes
SosaCub4Life)
95
88
95
95
88
97
97
97
92
Dave
mdwest)
90
90
88
88
88
85
88
88
88
To view the complete scores and notes, click here.
–
Blind Cigar Review: Asylum | Insidious Robusto
Blind Cigar Review: Asylum | Insidious Robusto
90
Total Score - Very Good