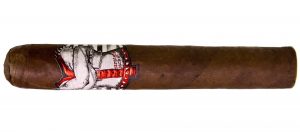 Vital Stats:
This cigar was reviewed blind (no bands) by a panel of at least 4 reviewers. They did not know what they were smoking beforehand. The scores are an average of all the reviewers' scores with outliers removed. All of our cigars reviewed are shipped to the panelists with Boveda packs to ensure optimal smoking experience.
Vitola: Robusto
Length: 5″
Ring Gauge: 50
Country of Origin: Honduras
Wrapper: Habano
Binder: Honduras
Filler: Honduras
Factory: El Aladino
Blender: Tom Lazuka/Christian Eiroa
Number of reviewers: 4 —– Jason H. (Jokey Smurf) Dave (mdwest) Aaron (aaron72) Ron (shuckins)
Price: $9.00
Age: 2 Months Rest
Release Date: July 2013
Contributed by: CLE Cigars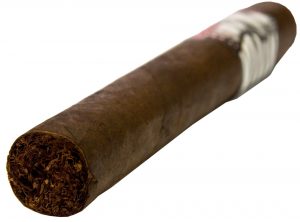 Initial Impressions
Appearance: 91
"This cigar sports a chocolate colored wrapper with minimal veins and barely visible seams. The wrapper is uniform in color with no water spots or other blemishes. There is a triple cap that is well applied with the exception of a wrinkle that has one edge slightly lifted." –Jason H. (Jokey Smurf)
Aroma: 91
"A pleasant aroma of spicy cedar, coffee and light cocoa has me eager to smoke it." –Ron (shuckins)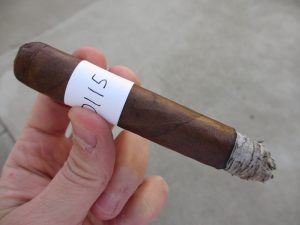 First Third
Flavor: 90
Strength: Medium
Body/Complexity: Medium
"The first flavors of this cigar were of sweet raisins. This cigar produced plenty of rich oily smoke which coated my palate with the sweetness, in addition to some leather and a small amount of spice on the retro hale. As the cigar progressed through the first third the sweetness left and more earthy leather developed. A very nice start to this cigar." –Jason H. (Jokey Smurf)
"Notes of bitter chocolate and a bit of raisin are detectable along with a hint of baking spices in the first third. This cigar reminds me quite a bit of a Padron "Thousand Series" within the first 10 minutes of smoking." –Dave (mdwest)
Second Third
Flavor: 89
Strength: Medium
Body/Complexity: Medium
"The cedar flavors continue in this third with a woody retrohale. A bit of a mineral flavor has made its way in towards the middle of the third. The smoke has become very drying on the palate with a little bitterness." –Aaron (aaron72)
"The cedar is dry tasting, but oddly enough, still a little creamier. This is probably because a taste of coffee has joined in with the light cocoa flavor that battled it's way past the peppery nutmeg. I am enjoying the way the flavors are blending." –Ron (shuckins)
Final Third
Flavor: 88
Strength: Medium
Body/Complexity: Medium
"The cigar is really coming into its own in the final third. No new flavors are present, but the chocolates and spices are much more prevalent now. Well worth taking this one all the way down to the nub." –Dave (mdwest)
"The peppery nutmeg has toned down and become more of an allspice flavor as it enters the final third. That let more of the coffee and cocoa mix move forward, allowing the cedar to obtain more of the creaminess it was teasing me with so far. I liked the way the cigar finished better than it started, as it was more pleasing to my palate." –Ron (shuckins)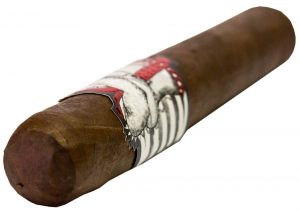 Overall Impressions
Draw: 98
"The draw was very good, just the right amount of resistance." –Aaron (aaron72)
Burn: 94
"A nice, consistent burn from start to finish. No touch ups were required at all, and the burn line stayed extremely sharp until the final third where it only got slightly off course." –Dave (mdwest)
Construction: 95
"No flaws with the construction, as it burned well and didn't cause me to pay much attention to it." –Aaron (aaron72)
Overall Strength: Medium
Overall Body/Complexity: Medium
Overall Experience: 90
"This cigar showed flashes of greatness but never really developed like it could have. It was an easy smoke, for sure, and had just enough suspense to keep me interested. If there was a little more flavor during the middle of this cigar I would have given it a higher rating, but it is what it is…an excellent yard or fishing cigar, but not one worthy of contemplation over the evening drink after dinner." –Jason H. (Jokey Smurf)
"I really enjoyed this stick. It was a nice day out, so I decided to take it for a walk. Despite the wind and constant jostling around, it performed extremely well. While there werent many changes from one third to the next in flavors, and the stick wasnt overly complex. The flavors that were present were nice and subtle, which made for a pleasing smoke. This is not a cigar that will overpower you or knock you off your feet, but made for a great mid day (while walking the dog) experience." –Dave (mdwest)
"I enjoyed the first third the most and hoped that flavor would continue throughout the cigar. The spiciness was nice. The last two thirds transitioned to a less desirable, but not bad flavor. This would be a good cigar as the last cigar of the day or one to have after a meal. This is something that I would smoke again." –Aaron (aaron72)
"I enjoyed this cigar and would smoke another one, as well as recommend it to a friend." –Ron (shuckins)
Smoking Time (in minutes): 78
Total Score: 92 (Excellent)
Edit

| Reviewer | Appea-rance | Aroma | 1/3 | 2/3 | 3/3 | Draw | Burn | Constr. | Overall |
| --- | --- | --- | --- | --- | --- | --- | --- | --- | --- |
| Jason H. | 90 | 92 | 92 | 88 | 88 | 100 | 95 | 97 | 90 |
| Dave | 97 | 88 | 90 | 90 | 90 | 95 | 95 | 95 | 92 |
| Aaron | 92 | 95 | 90 | 88 | 88 | 98 | 93 | 95 | 88 |
| Ron | 90 | 90 | 90 | 90 | 92 | 98 | 90 | 93 | 90 |
| Overall | 91 | 91 | 90 | 89 | 88 | 98 | 94 | 95 | 90 |
To view the complete scores and notes, click here.
Blind Cigar Review: Asylum | Straight Jacket Robusto