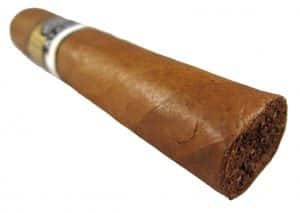 Vital Stats:
This cigar was reviewed blind (no bands) by a panel of at least 4 reviewers. They did not know what they were smoking beforehand. The scores are an average of all the reviewers' scores with outliers removed. All of our cigars reviewed are shipped to the panelists with Boveda packs to ensure optimal smoking experience.
Vitola: Robusto
Length: 4.5″
Ring Gauge: 50
Country of Origin: Costa Rica
Wrapper: Undisclosed
Binder: Undisclosed
Filler: Undisclosed
Factory: Vegas de Santiago
Blender: Nelson Alfonso
Number of reviewers: 5—–Jiunn (jliu) Steve (ThaGreatWazoo) Dan (Danfish) Jack (Jack_H) Sandeep (Djangos)
Price: $19.99
Age: 4 Months
Release Date: Undisclosed
Contributed by: United Cigar Group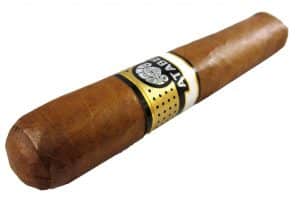 Initial Impressions
Appearance: 90
"Incredibly smooth natural tan brown wrapper. Cigar feels well packed with no soft spots. Head is topped off with a clean, well adhered triple cap." –Jiunn (jliu)
Aroma: 87
"The aroma is of hay and grass with some tobacco and nutmeg. The dry puff is white pepper to the tongue with nutmeg and cinnamon. Very complex from the very start." –Sandeep (Djangos)
First Third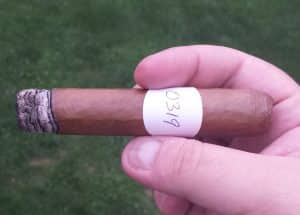 Flavor: 90
Strength: Medium
Body/Complexity: Medium
"Upon lighting the cigar, I'm greeted with smooth, sweet tobacco and a bit of pepper on the finish. Soon after, a bit of grass/hay mixes in on the retrohale. The pepper only lasts a few draws and leaves cinnamon in its wake. An inch in, sweet cream occasionally joins the party making me think this cigar would be perfect after sleeping in on a Saturday morning with coffee." –Dan (Danfish)
"The initial third starts off with tobacco and leather with some nutmeg and a slight nuttiness. This persists the entire length of the third with some pepper that increases in intensity as that third progresses. The pepper definitely adds to the complexity. The burn and the draw are very good without any issues. The ash is strong and held well to the end of the third." –Sandeep (Djangos)
Second Third
Flavor: 91
Strength: Medium
Body/Complexity: Medium-Full
"The second third continued to have a harsh retrohale and finish. The salt tastes subsided and the cigar lead into dry grass coupled with a pepper finish. The construction and burn were very pleasant however. Continuing through the second third, the harshness has calmed and the dry grass and pepper have opened up." –Steve (ThaGreatWazoo)
"I get a great improvement and a significant change. I taste hay and there is a ton of smooth buttery billowing smoke. It still has slight strength and the draw is unbelievable. This is 180 degrees from the disappointing first third." –Jack (Jack_H)
Final Third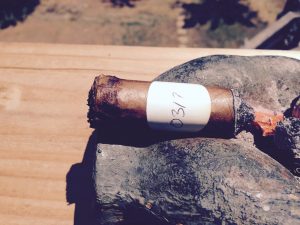 Flavor: 90
Strength: Medium
Body/Complexity: Medium-Full
"Last third's flavors stay true to the second third. Still getting sugary sweet cream, roasted nuts, black pepper and cedar. The bitterness is more of a player as compared to to first and second third. Unfortunately, the smoke is still hot. Strength and body still at a medium." –Jiunn (jliu)
"The final third starts with the same flavors of leather and tobacco but transitions slightly into some woodiness with a predominantly cedar profile. There is also some nutmeg that is more prominent in this third. The burn and draw are excellent until the end. The ash is still holding and does not fall till the very end." –Sandeep (Djangos)
Overall Impressions
Draw: 99
"One of the only truly perfect draws I have ever come across. A white whale that Ahab himself would try to track down." –Jack (Jack_H)
Burn: 96
"The burn was another strong point. The first third had a razor crisp burn line. The cigar did not need very much re-lighting and maintained producing a good amount of smoke." –Steve (ThaGreatWazoo)
Construction: 94
"I don't generally notice the cap to a cigar, but this one was so perfect that I had to stop and appreciate it. The burn was nearly flawless and the ash fell off in 3 solid chunks. The ash was a pleasant dark grey and never flaky." –Dan (Danfish)
Overall Strength: Medium
Overall Body/Complexity: Medium-Full
Overall Experience: 91
"Very good cigar. Since this was a flavor over strength type of cigar, this is another winner in my book. If I smoke a cigar that is sweet, creamy, woody and nutty, I will always like it. The only let down were the pockets of bitterness. I am going to bet on the bitterness subsiding after some additional humidor time. Fiver for me to smoke when the bitterness subsides." –Jiunn (jliu)
"The lack of enjoyable flavors and the extreme harshness in the beginning just put me off on this cigar from the beginning. The second third seemed to continue and then it had a slight change, which made me hope for better. However, the final third went back to the underwhelming harshness and flavor profile and I was completely down at that time. Unknown if any age could help, but it was not a signature cigar to me." –Steve (ThaGreatWazoo)
"This wouldn't be my first choice for smoking right after dinner, as I enjoyed it this time, but it very well might be my very first choice to pair with a morning coffee. I'm about 99% sure this was a Cuban and I'm looking forward to finding out if I'm right. Regardless, I will add it to my must buy list and the next one will be enjoyed with a coffee!" –Dan (Danfish)
"I liked this cigar and I didn't like this cigar. The best way I could summarize it would be pros and cons. Pros: amazing second third and one of the best draws you will ever find. Cons: bland at times and harsh at others." –Jack (Jack_H)
"Overall, the cigar was quite good with a very good flavor profile of leather and tobacco with some woodiness mixed in. There were no issues with the burn or draw. I will definitely try this again." –Sandeep (Djangos)
Smoking Time (in minutes): 63
Edit

| Reviewer | Appearance | Aroma | 1/3 | 2/3 | 3/3 | Draw | Burn | Constr. | Overall |
| --- | --- | --- | --- | --- | --- | --- | --- | --- | --- |
| Jiunn | 90 | 85 | 90 | 92 | 90 | 100 | 97 | 95 | 90 |
| Steve | 88 | 85 | 85 | 85 | 85 | 93 | 93 | 90 | 85 |
| Dan | 92 | 90 | 92 | 90 | 90 | 98 | 95 | 97 | 92 |
| Jack | 88 | 87 | 88 | 92 | 90 | 100 | 95 | 97 | 90 |
| Sandeep | 90 | 97 | 92 | 90 | 90 | 98 | 97 | 90 | 92 |
To view the complete scores and notes, click here.
Blind Cigar Review: Atabey | Divinos
Blind Cigar Review: Atabey | Divinos
92
Total Score - Excellent