Vital Stats:
This cigar was reviewed blind (no bands) by a panel of at least 4 reviewers. They did not know what they were smoking beforehand. The scores are an average of all the reviewers' scores with outliers removed. All of our cigars reviewed are shipped to the panelists with Boveda packs to ensure optimal smoking experience.
Vitola: Corona Gorda
Length: 5.5″
Ring Gauge: 46
Country of Origin: Nicaragua
Wrapper: Mexican San Andres Maduro
Binder: Nicaragua
Filler: Nicaragua
Factory: Undisclosed
Blender: Undisclosed
Number of reviewers: 5 —– Jason H. (Jokey Smurf) Jason (bigslowrock) Derek (StogieNinja) Dave (mdwest) Emmett (rhetorik)
Price: $11.00
Age: 4 Months Rest
Release Date: January 2014
Contributed by: Bodega Premium Blends
Initial Impressions
Appearance: 93
"This is a nice looking cigar…it has a dark brown and veiny wrapper which is very attractive. It has a consistent, firm pack and is rolled with invisible seams and a very well applied cap." –Jason H. (Jokey Smurf)

Aroma: 95
"The prelight draw and wrapper/foot aroma present an enticing combination of musty, peaty, smoky, earthiness reminding me of an islay scotch." –Jason (bigslowrock)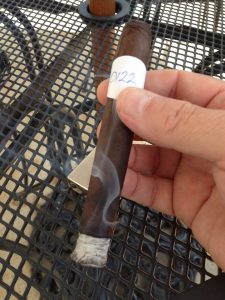 First Third
Flavor: 93
Strength: Medium-Strong
Body/Complexity: Medium
"From the start, I'm greeted with a blast of espresso and dark chocolate, with pepper and oak. The rustic-looking wrapper provides tons of flavor, and I like it from the start. Progressing into the first third, the espresso is tamed somewhat, while the pepper comes to the front. Dry wood appears and the chocolate fades, which is regrettable." –Derek (StogieNinja)
"From the first puff I can tell this is going to be something special. I pick up tons of flavors including nuts, espresso and lots of spices. After a few puffs, I start to pick up a very dark wood flavor, almost like charred oak, very nice. The draw is perfect and putting out a ton of smoke, even while it's sitting. During the rest of this third my palate is tickeled with a multitude of spices, some I could pick out were cloves, cinnamon and allspice." –Emmett (rhetorik)
Second Third
Flavor: 89
Strength: Medium-Strong
Body/Complexity: Medium
"A syrupy sweetness appears, offsetting the bitter espresso nicely. The pepper has subsided as well, and the wood and bittersweet cocoa remain in the background. It's nice enough, but the balance is a bit off. The cocoa needs more strength and the sweetness needs less." –Derek (StogieNinja)
"The draw has tightened up a little but it hasn't impacted the smoke production. The finish is really calling attention right now, it's very long and spicy, like eating a "Hot Tamale". Besides the hot cinnamon flavor, I'm still getting that dark espresso and the oak flavor, but without the char. Towards the end of this third the spice settles down and the cigar takes on a more mellow tone, more balanced. The oak is now the prominent flavor." –Emmett (rhetorik)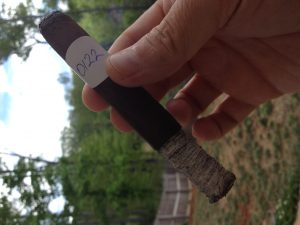 Final Third
Flavor: 90
Strength: Medium-Strong
Body/Complexity: Medium-Full
"Around the start of the final third, the cigar finds its balance. The chocolate comes to the forefront, and the espresso and dry wood are right behind, the flavors complementing each other nicely. This is the best third of the cigar by far, and I only wish the whole had been as good as the final third." –Derek (StogieNinja)
"Still no real flavor transitions other than the finish seems to be getting a little bit longer as I draw near the end of the smoke. The coffee and tobacco flavors are very pronounced though at this point, and the smoke remains very creamy and smooth." –Dave (mdwest)
Overall Impressions
Draw: 95
"A truly excellent draw. Not too much more can be said here. Very little, if any room for improvement." –Dave (mdwest)
Burn: 96
"This smallish cigar burned plenty slow and was never in need of relight or touch up. The ash was firm and very white." –Jason H. (Jokey Smurf)
Construction: 93
"While the double cap appears to have been applied a little bit on the sloppy side, everything else about the construction of this stick appears to be high quality. It is firmly and consistently packed, with seams that are almost invisible to the eye and to the touch. Excellent construction lead to excellent combustion and an almost perfect burn. Really well executed." –Dave (mdwest)
Overall Strength: Medium-Strong
Overall Body/Complexity: Medium-Full
Overall Experience: 87
"If I only rated this on construction, burn and appearance, this would be an excellent cigar. Unfortunately, flavor is a pretty big part of the smoke for me. This cigar had plenty or flavor, but for me, the flavor was very unenjoyable. Not something I would choose to smoke again." –Jason H. (Jokey Smurf)
"Other than the comical ash. Just didn't really like it after the first third. It just went just too harsh. I probably got a dud cigar." –Jason (bigslowrock)
"Good, but it could have been better. That's how I would sum this up. It had a lot of good things going for it, and the right flavors for it's appearance, it was just off balance for the first two thirds. I'd gladly smoke another, but it's not one I'd go chasing after." –Derek (StogieNinja)
"What this stick lacked in complexity it made up for in performance and in flavor. Outstanding burn and combustion and really nice flavor notes made this stick a pleasure to smoke. Absolutely worth seeking out and making a purchase on." –Dave (mdwest)
"I can't wait to find out what this cigar was, so I can buy some. I HIGHLY recommend it. The flavors were so complex, it was hard to keep track of. The transitions were prominent and well timed, delivering a different featured flavor in each third, while keeping the same core in the background. This was a pretty strong cigar though, so probably not for the novice, but if you are a true cigar smoker, buy this." –Emmett (rhetorik)
Smoking Time (in minutes): 72
Total Score: 91 (Very Good)
Edit

| Reviewer | Appea-rance | Aroma | 1/3 | 2/3 | 3/3 | Draw | Burn | Constr. | Overall |
| --- | --- | --- | --- | --- | --- | --- | --- | --- | --- |
| Jason | 95 | 95 | 83 | 83 | 85 | 95 | 95 | 95 | 83 |
| Jason | 85 | 95 | 90 | 85 | 75 | 90 | 95 | 88 | 83 |
| Derek | 93 | 90 | 93 | 90 | 92 | 90 | 88 | 90 | 90 |
| Dave | 90 | 95 | 93 | 92 | 92 | 95 | 97 | 93 | 92 |
| Emmett | 97 | 97 | 95 | 97 | 97 | 97 | 100 | 100 | 97 |
| Overall | 93 | 95 | 93 | 89 | 90 | 95 | 96 | 93 | 87 |
To view the complete scores and notes, click here.
Blind Cigar Review: Bodega | Reunión Digestivo Corona Gorda