Vital Stats: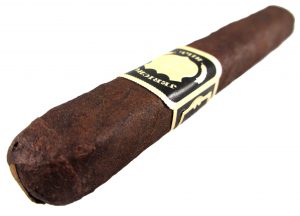 Vitola: Corona
Length: 5.12″
Ring Gauge: 44
Country of Origin: Nicaragua
Wrapper: Mexican San Andres Maduro
Binder: Nicaragua
Filler: Nicaragua
Factory: My Father Cigar Factory
Blender: Jon Huber
Number of reviewers: 5—–Dave (mdwest) Gregg (McGreggor57) Sandeep (Djangos) Craig (WyldKnyght) Wes (SosaCub4Life)
Price: $7.95
Age: 4 Months
Release Date: July 2014
Contributed by: Blind Man's Puff
This cigar was reviewed blind (no bands) by a panel of at least 4 reviewers. They did not know what they were smoking beforehand. The scores are an average of all the reviewers' scores with outliers removed. All of our cigars reviewed are shipped to the panelists with Boveda packs to ensure optimal smoking experience.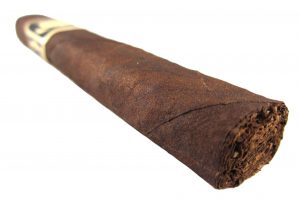 Initial Impressions
Appearance: 91
"Corona sized cigar with a dark wrapper. It has a slight box pressed shape to it with rounded edges. The surface is quite uneven with a lot of veins that are prominent. No major blemishes and there are three well placed caps." –Sandeep (Djangos)
Aroma: 89
"Cedar and leather throughout the length and foot with the cedar a bit more pronounced on the cold draw." –Gregg (McGreggor57)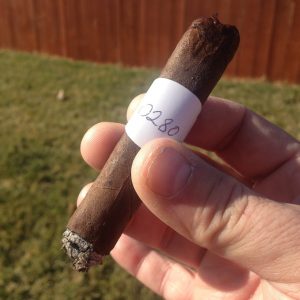 First Third
Flavor: 89
Strength: Medium
Body/Complexity: Medium
"A peppery cedar that's not too in your face. There's a char on the finish that really balances the brightness of the cedar. A bit more of the pepper is appearing on the retrohale. As this third closes out, the char is becoming more of a dark roast coffee. A very nice transition." –Gregg (McGreggor57)
"The first third started with a mild spice and leather which turned to bold pepper with leather and slight earthiness." –Craig (WyldKnyght)
Second Third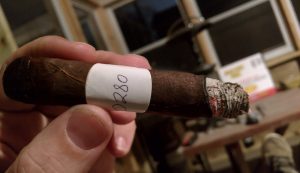 Flavor: 89
Strength: Medium
Body/Complexity: Medium
"The middle third continues the theme of leather and pepper forward. The leather is much more prominent, more so because the pepper has decreased some more, yet present quite prominently. Unfortunately, I cannot think of a better way of describing this mix of flavors. Towards the end of the third, there is some more cedar and some earthy flavors of wet mud and hay. The burn and draw are excellent till the very end of the third. Still producing a lot of creamy smoke." –Sandeep (Djangos)
"A bit of the spice from the start has backed off a bit but is still very much present. Some of the creaminess to the cigar is starting to come through and the cigar is still smoking nicely." –Wes (SosaCub4Life)
Final Third
Flavor: 90
Strength: Medium
Body/Complexity: Medium
"The cigar continues to mellow out into the final third and the smoke is almost creamy now. Coffee notes are becoming more prevalent again in the final third, but have lost the burnt flavors and are now more like a medium roast." –Dave (mdwest)
"The leather from the initial aroma finally appears. This makes me happy as it helps mute the cedar and keeps it from overtaking the profile. The coffee becomes a little buried, yet still adds a richness. As the cigar winds down, all of the flavors mellow to a nice softness." –Gregg (McGreggor57)
Overall Impressions
Draw: 88
"There was a slight tightness to the draw, but not too bad." –Craig (WyldKnyght)
Burn: 93
"A nice, consistent burn with good combustion and a reasonably even burn line from start to finish." –Dave (mdwest)
Construction: 92
"Construction was good. Held a good ash… Only thing was the tight draw." –Wes (SosaCub4Life)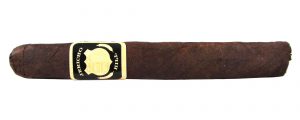 Overall Strength: Medium
Overall Body/Complexity: Medium
Overall Experience: 88
"Overall, a nice daily type smoke. If the price is right, I would buy more, and likely smoke with some regularity." –Dave (mdwest)
"This cigar started and finished well. The coffee and leather kept the cedar in check during the first and final third. The middle would have benefited from something to help tame the cedar. While there were not a lot of flavors, the transition of the char to dark roast coffee and then to a lighter coffee was appreciated. The leather on the final third allowed this one to finish on a smooth note. This would be a great cigar to enjoy with a morning cup of coffee." –Gregg (McGreggor57)
"Overall, this cigar was a decent smoke with a very leathery and peppery core. There were some other flavors of cedar and earthiness. However, the presence of the harshness and bitterness definitely cost some points towards the end of the cigar. I would definitely try this cigar again, but may not go seeking it." –Sandeep (Djangos)
"Not a bad cigar, I was pleasantly surprised as from the initial look and feel I was not expecting much. The flavor was mostly pepper with a few subtle flavor changes. Not something I would chase down, but would smoke again if I had one." –Craig (WyldKnyght)
"This was a very good cigar. I loved the spice and then the mixture of that spice with the hint of sweetness and overall creaminess of the cigar. The draw was real tight but I would love to try another one to see if that was better." –Wes (SosaCub4Life)
Smoking Time (in minutes): 54
Edit

| Reviewer | Appearance | Aroma | 1/3 | 2/3 | 3/3 | Draw | Burn | Constr. | Overall |
| --- | --- | --- | --- | --- | --- | --- | --- | --- | --- |
| Dave | 90 | 88 | 90 | 90 | 90 | 85 | 90 | 88 | 88 |
| Gregg | 90 | 90 | 90 | 88 | 92 | 90 | 90 | 90 | 90 |
| Sandeep | 92 | 92 | 90 | 90 | 88 | 97 | 97 | 92 | 88 |
| Craig | 85 | 88 | 88 | 88 | 88 | 88 | 90 | 92 | 88 |
| Wes | 95 | 97 | 97 | 95 | 92 | 88 | 97 | 92 | 95 |
To view the complete scores and notes, click here.
–
Blind Cigar Review: Crowned Heads | Jericho Hill .44S
Blind Cigar Review: Crowned Heads | Jericho Hill .44S
90
Total Score - Very Good