Vital Stats:
This cigar was reviewed blind (no bands) by a panel of at least 4 reviewers. They did not know what they were smoking beforehand. The scores are an average of all the reviewers' scores with outliers removed. All of our cigars reviewed are shipped to the panelists with Boveda packs to ensure optimal smoking experience.
Vitola: Cigarillo
Length: 4″
Ring Gauge: 32
Country of Origin: Nicaragua
Wrapper: Nicaraguan Habano
Binder: Indonesian
Filler: Nicaragua
Factory: Plasencia Cigars, S.A.
Blender: Undisclosed
Number of reviewers: 5—–Dave (mdwest) Gregg (McGreggor57) Jason H. (Jokey Smurf) Robert (NavyPiper) Sandeep (Djangos)
Price: $2.99
Age: 3 Months
Release Date: April 2014
Contributed by: Crux Cigars
Initial Impressions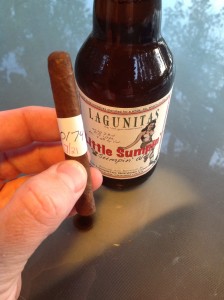 Appearance: 88
"Cigarillo sized cigar with an uneven surface. Dark brown color with a lot of veins visible." –Sandeep (Djangos)
Aroma: 89
"A pleasantly strong aroma of tobacco and hay is present on the foot. Very nice!" –Dave (mdwest)
First Third
Flavor: 89
Strength: Medium
Body/Complexity: Medium
"Pepper and dark roast coffee hit me initially. The spice carries onto the retrohale and palate for the first few draws. There is a grassy/vegetal flavor creeping in that adds some brightness to the coffee." –Gregg (McGreggor57)
"For a little cigar, it starts off like a giant. Flavor is very strong tobacco, pepper and dark espresso. Has a decent nasal burn on the retro. Small puffs are the name of the game for this little guy!" –Robert (NavyPiper)
Second Third
Flavor: 91
Strength: Medium-Strong
Body/Complexity: Medium
"There are a lot of flavor shifts going on. Coffee, grass, leather along with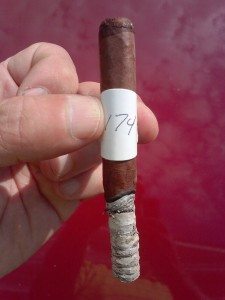 a pop of floral now and again. Just when I think it's settling down, the spice comes back and fills my nose. Everything is working well together." –Gregg (McGreggor57)
"The diminutive size of this cigar makes measurement in thirds almost comical…the second third, however, did show me a transition. The pepper has remained, but now is more like a ground black pepper than a spicy pepper. Also, the espresso has changed to more of a coffee…a subtle difference, but to a coffee lover, it's noticeable." –Jason H. (Jokey Smurf)
Final Third
Flavor: 90
Strength: Medium
Body/Complexity: Medium
"The smoke has remained very creamy and smooth for the duration of the entire smoke. No detectible changes in flavors at all, but thats ok. The flavors presented are very nice and this has been an enjoyable cigar." –Dave (mdwest)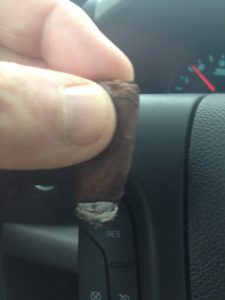 "The last portion of this little firecracker has remained peppery, and really tickles the nose on the retrohale. As I approach the nub, I notice the coffee flavor fading but I can detect a bit of brown sugar. It's near the back of my palate, which is unusual for me, but I'll be danged if it's not brown sugar. The oily nature of the smoke has remained and each puff is long lasting. I really like this because there really aren't that many long, slow puffs in this stick. Each one needs to count, and it does." –Jason H. (Jokey Smurf)
Overall Impressions
Draw: 96
"I was expecting a tight draw, but was surprised how great it was!" –
Burn: 89
"There was some skewing in the beginning but improved after the initial third." –Sandeep (Djangos)
Construction: 88
"I was impressed the roller was able to capture all of the quality elements in a well constructed cigar with one of this size. The cut cap stayed tight as did the seams throughout." –Gregg (McGreggor57)
Overall Strength: Medium-Strong
Overall Body/Complexity: Medium
Overall Experience: 91
"A very nice smoking experience. While the profile of the stick didn't really change much from start to finish, the flavors provided were distinct and blended well together. Worth smoking again for sure." –Dave (mdwest)
"While this cigar might be delicate to look at, it was a powerhouse in the flavor department. The first third bounced around with some bolder flavors while the second third set this cigar up for a grand finale. The final portion of this cigar made me wish I grabbed it on a cool morning with a cup of coffee and the day in front of me. What a wonderful smoke." –Gregg (McGreggor57)
"This stick smelled amazing, and had some nice string flavors to match. If I could reasonably take breaks at my job, I easily see myself buying a box or bundle of these for my break smoke." –Jason H. (Jokey Smurf)
"If you like the idea of a real cigar for a 15-30 minute break at work, then this guy is for you. I may have to get some just for this purpose, as it was much better than the ones I've tried previously." –Robert (NavyPiper)
"Overall, the cigar was not very pleasant with a lot of harshness and bitterness. Also, a vitola that I don't quite enjoy." –Sandeep (Djangos)
Smoking Time (in minutes): 28
Total Score: 90 (Very Good)
Edit

| Reviewer | Appea-rance | Aroma | 1/3 | 2/3 | 3/3 | Draw | Burn | Constr. | Overall |
| --- | --- | --- | --- | --- | --- | --- | --- | --- | --- |
| Dave | 90 | 92 | 92 | 90 | 90 | 95 | 88 | 90 | 92 |
| Gregg | 95 | 90 | 90 | 92 | 95 | 97 | 92 | 97 | 95 |
| Jason H. | 88 | 97 | 90 | 92 | 92 | 93 | 95 | 88 | 92 |
| Robert | 88 | 88 | 88 | 88 | 88 | 97 | 90 | 88 | 88 |
| Sandeep | 88 | 88 | 85 | 83 | 85 | 90 | 88 | 88 | 85 |
| Overall | 88 | 89 | 89 | 91 | 90 | 96 | 89 | 88 | 91 |
To view the complete scores and notes, click here.
Blind Cigar Review: Crux | Skeeterz