Vital Stats: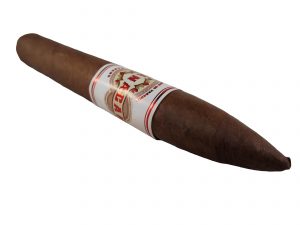 Vitola: Torpedo
Length: 6.12″
Ring Gauge: 52
Country of Origin: Nicaragua
Wrapper: Nicaraguan Habano
Binder: Ecuadorian Habano
Filler: Nicaragua
Factory: Cubanacan Cigars Factory S.A.
Blender: Omar González-Alemán
Number of reviewers: 5—–Gregg (McGreggor57) Robert (NavyPiper) Craig (WyldKnyght) Emmett (rhetorik) Derek (StogieNinja)
Price: $7.95
Age: 5 Months
Release Date: December 2012
Contributed by: Cubanacan
This cigar was reviewed blind (no bands) by a panel of at least 4 reviewers. They did not know what they were smoking beforehand. The scores are an average of all the reviewers' scores with outliers removed. All of our cigars reviewed are shipped to the panelists with Boveda packs to ensure optimal smoking experience.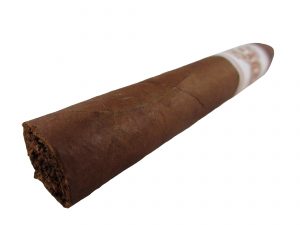 Initial Impressions
Appearance: 89
"The stogie is a very nice shaped torpedo, that is medium dark brown and uniform in color with no blemishes. Wrapper has a light sheen to it. It has a couple prominent veins on the wrapper. Seams are tight and well blended. Medium length taper ending at a pointed head. All in all, a very nice looking stogie." –Robert (NavyPiper)
Aroma: 89
"The wrapper smells surprisingly spicy with some leather. The foot is mostly fresh tobacco. The pre-light draw is sweet and a bit musty, like wet hay." –Emmett (rhetorik)
First Third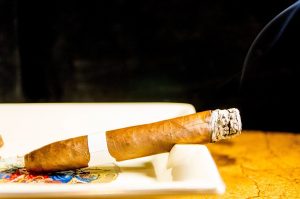 Flavor: 91
Strength: Medium
Body/Complexity: Medium
"After the initial pepper phase, the flavors begin to settle in nicely at the half inch mark. A buttery smooth leather and light toast find their way to the front with a little citrus on the finish. As the third winds down, the toast becomes a bit darker and the citrus picks up some in the background." –Gregg (McGreggor57)
"Very nice start to this cigar which started with pepper flavor and another flavor I couldn't put my finger on and hints of hay. There was a lot of nice thick creamy smoke. The ash was a nice marbled grey color." –Craig (WyldKnyght)
Second Third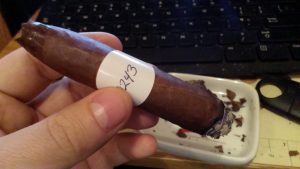 Flavor: 89
Strength: Medium
Body/Complexity: Medium
"In the second third, the spice really ramped up nicely, but about half way in, it started to fade back to where it was originally. For the remainder of the third, there was occasional bursts of spice. It's a little stronger than mild/medium strength, but not what I'd call a solid medium." –Robert (NavyPiper)
"The ash is a little flaky and the burn went a little crooked, but the flavors and smoke production are both outstanding. The oak flavor is still dominant, but the spices have mellowed out a bit, becoming more balanced. Towards the end of the third, another flavor shows up, peanut, in just the right amount making for a great transition and balance." –Emmett (rhetorik)
Final Third
Flavor: 88
Strength: Medium
Body/Complexity: Medium
"The nuttiness from the previous third has disappeared, but I'm still left with mostly oak and pepper flavors which work nicely. It has gotten a little hot towards the end, but nothing I can't deal with. This third wasn't as good as the other two, but still very good." –Emmett (rhetorik)
"Not a lot of changes to the final third, though the flavors warm, as is typical in the final third of a well-constructed cigar. A light milk chocolate flavor appears, and there's a little more to the body of the flavors, which remain oak, leather and peat. The final third is without a doubt the best of the three, but I've also grown a little tired of that peaty characteristic." –Derek (StogieNinja)
Overall Impressions
Draw: 93
"No issue with the draw, great from start to finish." –Craig (WyldKnyght)
Burn: 90
"The first half was near flawless. Once the ash dropped, however, the burn line became a bit inconsistent." –Gregg (McGreggor57)
Construction: 90
"Seemed well constructed. Burned relatively evenly, draw was stellar and the ash held for a reasonable amount." –Derek (StogieNinja)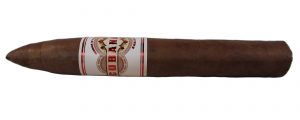 Overall Strength: Medium
Overall Body/Complexity: Medium
Overall Experience: 90
"The second third was my favorite profile with the right amount of creaminess from the leather against the toast. I was a little disappointed the final third mellowed so quickly. The final burst of flavor in the remaining draws ended the cigar on a positive note. I wouldn't say it was a complex smoke, but it was certainly a stick I would grab again." –Gregg (McGreggor57)
"I guess I took the appearance and construction as an indicator of an exciting, dynamic, flavorful smoke, but it was kind of flat for me. Best third was the final when it was all spice and decent spice at that. I wish the flavors were stronger, and consistent during the smoke. I'm gonna hope it was a fluke, and would like to try another to compare." –Robert (NavyPiper)
"This cigar was very one-dimensional, had the same flavors of pepper and hay from start to finish in varying degrees of strength. Although I found this cigar started out with great promise and failed to capitalize on it, I would give it another shot." –Craig (WyldKnyght)
"I really enjoyed this smoke, it had everything I look for and the flavor profile fit me well. The flavors of oak and mild spice with splashes of nuts was just great. I would definitely smoke more of these and might be buying a box." –Emmett (rhetorik)
"This was a very good cigar. It was not something I want to smoke regularly. The peaty essence was a unique aspect to the flavor, and enjoyable at first. If this were a small cigar, perhaps a petit corona or even a short robusto, I might be interested, but as there were no major flavor changes, I found that peaty essence eventually wore itself out. Still, overall a decent cigar, and worth trying." –Derek (StogieNinja)
–
Smoking Time (in minutes): 74
Edit

| Reviewer | Appearance | Aroma | 1/3 | 2/3 | 3/3 | Draw | Burn | Constr. | Overall |
| --- | --- | --- | --- | --- | --- | --- | --- | --- | --- |
| Gregg | 88 | 90 | 90 | 92 | 88 | 90 | 90 | 90 | 90 |
| Robert | 90 | 88 | 88 | 88 | 90 | 85 | 83 | 90 | 85 |
| Craig | 90 | 95 | 92 | 88 | 88 | 95 | 95 | 90 | 90 |
| Emmett | 88 | 92 | 95 | 97 | 90 | 100 | 90 | 92 | 95 |
| Derek | 92 | 88 | 90 | 88 | 88 | 92 | 90 | 90 | 90 |
To view the complete scores and notes, click here.
–
Blind Cigar Review: Cubanacan | Habano Piramide
Blind Cigar Review: Cubanacan | Habano Piramide
90
Total Score - Very Good