Vital Stats: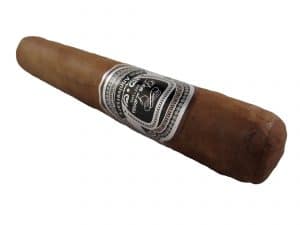 Vitola: Double Toro
Length: 5.75″
Ring Gauge: 60
Country of Origin: Dominican Republic
Wrapper: Dominican Republic
Binder: Dominican Republic
Filler: Dominican Republic
Factory: Don Lucas Cigar Factory
Blender: Undisclosed
Number of reviewers: 5—–Ron (shuckins) Dave (mdwest) Derek (StogieNinja) Kent (Throck) Craig (WyldKnyght)
Price: Undisclosed
Age: 8 Months
Release Date: 2013
Contributed by: Don Lucas Cigars
This cigar was reviewed blind (no bands) by a panel of at least 4 reviewers. They did not know what they were smoking beforehand. The scores are an average of all the reviewers' scores with outliers removed. All of our cigars reviewed are shipped to the panelists with Boveda packs to ensure optimal smoking experience.
Initial Impressions
Appearance: 90
"It's a large cigar, but appears well made. A dull brown wrapper with just a hint of green to it, and a light, oily sheen. The leaf is fairly smooth with a very light tooth, but has several prominent veins. It's a good looking cigar." –Derek (StogieNinja)
Aroma: 91
"I really enjoyed the aroma of chocolate and leather. It was consistent from cap to foot and was not overbearing. One of the best smelling cigars that I've come across." –Kent (Throck)
First Third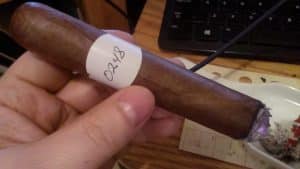 Flavor: 90
Strength: Medium-Strong
Body/Complexity: Medium-Full
"The stick provides a noticeably oily mouth feel. The flavor profile is made up of floral and leather notes with just a hint of black pepper on the finish. While the flavors themselves are nice and blend well, they are sadly weak and distant. This is not a bold cigar by any stretch." –Dave (mdwest)
"I thoroughly enjoyed the first third. Dry puff resulted in chocolate and, to the best of my ability to describe, English breakfast tea flavors. Upon lighting, I immediately detected dried currant and a thread of walnut flavors; not sweet, but pleasant. I found it exceedingly difficult to light the cigar initially and required multiple relights to get an even burn. Toward the end of the first third, a slight note of leather started appearing. It was a shame to hear the preexisting wrapper tear continue to split during this third. There was a tremendous nicotine kick during third." –Kent (Throck)
Second Third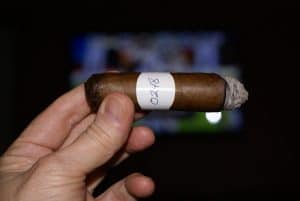 Flavor: 89
Strength: Medium-Strong
Body/Complexity: Medium
"It took a while, but the flavors are starting to develop into something more complex. There's still some dry wood and leather, but the herbal bitterness has faded and made room for a developing richness, toasty caramel and nuts. The smoke is creamy, with a sweetness to it that's not overwhelming or syrupy, but provides a nice balance." –Derek (StogieNinja)
"This third had a dominant leather flavor and started converting into chocolate flavors. The ash became tighter and the smoke plumes picked up." –Kent (Throck)
Final Third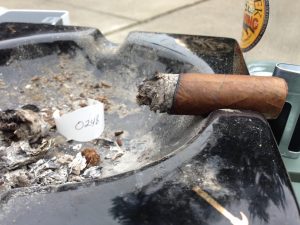 Flavor: 90
Strength: Medium-Strong
Body/Complexity: Medium
"Things finally smooth out as the cigar nears the end and the wood loses its harsh taste. This allows more of the fresh cedar flavor to move forward, along with the nutmeg, as it shakes itself loose from the pepper that was tagging along with it." –Ron (shuckins)
"The final third was great as the flavor started to get spicy, with lots a pepper and the hint of raw nuts." –Craig (WyldKnyght)
Overall Impressions
Draw: 87
"The draw was wide open, but stingy with the smoke for the most part." –Ron (shuckins)
Burn: 87
"I was really surprised at the amount of maintenance this cigar required. Normally, one of the advantages to big ring gauge sticks like this one is that they stay lit and typically burn well. Sadly, this cigar didnt offer that. Constant touch ups were required to keep the burn line even reasonably straight, and the cigar went out on two different occasions during the smoke." –Dave (mdwest)
Construction: 89
"When squeezed, this cigar was firm with a little sponginess. It took me about 5 minutes to get this cigar lit properly due to the large ring gauge, but was good once it was. The smoke was nice and creamy and the ash was solid and had a light grey color." –Craig (WyldKnyght)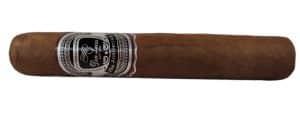 Overall Strength: Medium-Strong
Overall Body/Complexity: Medium
Overall Experience: 87
"This cigar just didn't do it for me as it had a harsh, semi bitter taste for most of the time I was smoking it, although the final third was better." –Ron (shuckins)
"I am hoping some of the other reviewers might have had a better experience than I did and maybe I just got a one off bad cigar. Based on poor performance from initial light to the final third and a complete lack of flavor, I couldnt recommend this smoke to anyone, and really dont have any interest in trying it again in the future. A real disappointment." –Dave (mdwest)
"I'd park this firmly in the "good" camp. It was pleasant, and I wouldnt mind smoking another, but it's not something I'll chase. I would be minorly interested to see how a smaller ring gauge would improve the overall experience, but to be honest, I would only pursue that if someone else recommended it. As it stands, this doesn't stand out to me at all." –Derek (StogieNinja)
"The difficult light and construction issues gave this pleasantly-flavored cigar a black eye. I would like to try this again because I'm curious if this was due to an aging issue or humidification problem during transport." –Kent (Throck)
"I really enjoyed this cigar, especially the final third where I was enjoying it so much I almost forgot to take notes. This was a long smoke so make sure you have ample time to sit back and relax." –Craig (WyldKnyght)
–
Smoking Time (in minutes): 114
Edit

| Reviewer | Appearance | Aroma | 1/3 | 2/3 | 3/3 | Draw | Burn | Constr. | Overall |
| --- | --- | --- | --- | --- | --- | --- | --- | --- | --- |
| Ron | 88 | 88 | 88 | 85 | 88 | 85 | 87 | 90 | 85 |
| Dave | 88 | 90 | 85 | 85 | 85 | 87 | 83 | 85 | 83 |
| Derek | 95 | 90 | 88 | 90 | 90 | 87 | 87 | 90 | 87 |
| Kent | 75 | 92 | 92 | 90 | 90 | 95 | 85 | 75 | 87 |
| Craig | 90 | 92 | 95 | 92 | 95 | 87 | 87 | 92 | 92 |
To view the complete scores and notes, click here.
–
Blind Cigar Review: Don Lucas | 20th Anniversary Robusto Gordo Aniversario
Blind Cigar Review: Don Lucas | 20th Anniversary Robusto Gordo Aniversario