Vital Stats
This cigar was reviewed blind (no bands) by a panel of at least 4 reviewers. They did not know what they were smoking beforehand. The scores are an average of all the reviewers' scores with outliers removed. All of our cigars reviewed are shipped to the panelists with Boveda packs to ensure optimal smoking experience.
Vitola: Toro
Length: 5.75″
Ring Gauge: 54
Country of Origin: Dominican Republic
Wrapper: Dominican
Binder: Dominican
Filler: Dominican
Factory: Don Lucas Cigar Factory
Blender: Unknown
Number of reviewers: 4 —– Will (Dubv23) Emmett (rhetorik) Robert (NavyPiper) Gregg (McGreggor57)
Price: Unknown
Age: 7 Months Rest
Release Date: 2013
Contributed by: Don Lucas Cigars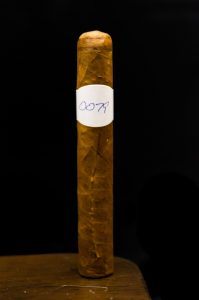 Initial Impressions
Appearance: 89
"This cigar looks good with a solid and uniform "medium brown" color wrapper. There are quite a few veins and bumps throughout the cigar, but overall it looks pretty good." –Will (Dubv23)
Aroma: 90
"Grass and tobacco with some faint chocolate. More of the same on the pre-light draw." –Gregg (McGreggor57)
First Third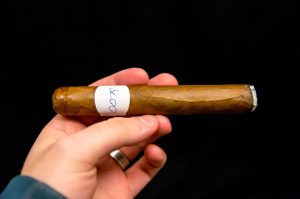 Flavor: 88
Strength: Medium
Body/Complexity: Medium
"This cigar takes a long time to get lit evenly, almost like it's a bit damp, but it's been at 65% for months. After a few minutes, I get it lit evenly and I'm getting lots of smoke. The profile so far is basic, but enjoyable, mostly leather and wood with maybe a touch of earth and barnyard back there somewhere. This third starts to get a little spicy towards the end and I struggle more with the burn." –Emmett (rhetorik)
"First third starts off with a mix of nuts, hay, leather and medium strong coffee. Not much in the way of smoke, and is a little challenging to keep it going. Very, very tight white ash. Draw is fair. Mid way into the third I began getting a hint of spice." –Robert (NavyPiper)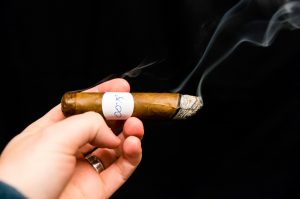 Second Third
Flavor: 88
Strength: Medium
Body/Complexity: Light-Medium
"Second third had a change of flavors. Along with the leather and nuts of the first third, got a touch of good tobacco and some pepper, although the pepper is quite mild." –Robert (NavyPiper)
"The use of a draw tool hasn't really helped but smoke production is up. More of the same grass and tea and a bit of coconut on retrohale now. A relatively tight light ash is holding on at the 2 inch mark, despite a burn line that differs by 1/2 on either side. Mild flavors and a little more interest during this third." –Gregg (McGreggor57)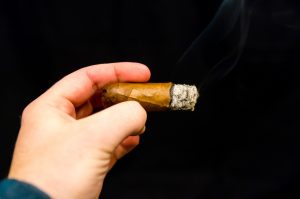 Final Third
Flavor: 88
Strength: Mild-Medium
Body/Complexity: Medium
"The final third was pretty much identical to the second. A mellow pepper base that picked up ample strength in the retrohale and a woody/toasty undertone. Simple but enjoyable." –Will (Dubv23)
"The final third has not been an improvement. The flavors are the same wood and pepper with some harshness, and not particularly balanced. I probably would have put this down if not for reviewing purposes." –Emmett (rhetorik)
Overall Impressions
Draw: 86
"The draw was ok, it did tighten up about halfway through and never went back." –Emmett (rhetorik)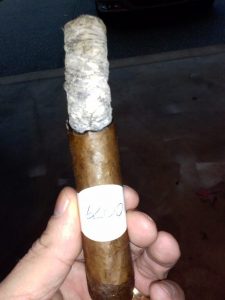 Burn: 89
'Burn was great, razor sharp except for a brief time in the second third where it got a little wonky. While I was deciding if I would touch it up or not, it corrected itself and continued on its merry, razor sharp way." –Robert (NavyPiper)
Construction: 89
"A nice firm roll with a smooth feel. A light squeeze produces virtually zero give to the cigar." –Will (Dubv23)
Overall Strength: Medium
Overall Body/Complexity: Medium
Overall Experience: 88
"This is a cigar that I wouldn't mind trying again. It had a nice simple profile that wasn't overpowering and could be enjoyed anytime by anyone. Performance was great too as it required little to no attention to keep burning." –Will (Dubv23)
"I can't say I enjoyed this one, the burn and draw were not good at all and the flavors were basic at best. The spice was pretty unbalanced and the bitterness from the poor burn was a let down. Overall I couldn't recommend this cigar, but I would try it again if the other reviewers have a different experience." –Emmett (rhetorik)
"My overall impressions are that its a good stick. I enjoyed it. From its appearance, aroma, flavors, burn, it was pleasurable. Wish it was a skosh stronger in the flavors, but I could see this as a start of the day stogie." –Robert (NavyPiper)
"Even though the flavors were not ones I appreciated, I was more disappointed in that none of them took the lead nor did they meld particularly well. A more open draw would have meant less aggressive puffing and hopefully would have helped. I appreciated the chance to try this one but doubt I would pick it up again." –Gregg (McGreggor57)
Smoking Time (in minutes): 91
Total Score: 88 (Good)
Edit

| Reviewer | Appea-rance | Aroma | 1/3 | 2/3 | 3/3 | Draw | Burn | Constr. | Overall |
| --- | --- | --- | --- | --- | --- | --- | --- | --- | --- |
| Will | 88 | 90 | 88 | 90 | 90 | 90 | 95 | 90 | 88 |
| Emmett | 88 | 88 | 88 | 85 | 83 | 85 | 80 | 85 | 83 |
| Robert | 90 | 90 | 92 | 88 | 88 | 87 | 90 | 90 | 88 |
| Gregg | 90 | 90 | 90 | 88 | 88 | 85 | 88 | 88 | 88 |
| Overall | 89 | 90 | 88 | 88 | 88 | 86 | 89 | 89 | 88 |
To view the complete scores and notes, click here.