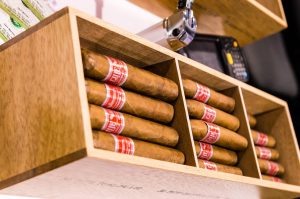 Vital Stats:
This cigar was reviewed blind (no bands) by a panel of at least 4 reviewers. They did not know what they were smoking beforehand. The scores are an average of all the reviewers' scores with outliers removed. All of our cigars reviewed are shipped to the panelists with Boveda packs to ensure optimal smoking experience.
Vitola: Double Robusto
Length: 5.5″
Ring Gauge: 60
Country of Origin: Undisclosed
Wrapper: Ecuadorian Habano
Binder: Nicaraguan Habano
Filler: Rebumbio A1
Factory: Undisclosed
Blender: Undisclosed
Number of reviewers: 5 —– Cindy (Ms_CindyLynn) Emmett (rhetorik) Sandeep (Djangos) Robert (NavyPiper) Milton (mjohnsoniii)
Price: Undisclosed
Age: 7 Months Rest
Release Date: 2013
Contributed by: La Cosecha Cigars
Initial Impressions
Appearance: 90
"The cigar is light brown in color with a very veiny surface. At least two caps are visible. No major flaws can be discerned." –Sandeep (Djangos)
Aroma: 91
"I loved the barnyard and earth coming off of this one. There was also a strong scent of leather and slight hints of coffee." –Milton (mjohnsoniii)
First Third
Flavor: 90
Strength: Medium
Body/Complexity: Medium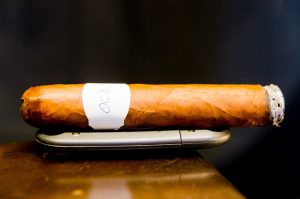 "Was excited to start off with a great pepper blast for a couple of minutes, firing up my nasal passages and putting a nice heat on my tongue, but transitioned quickly to a mild floral bouquet, faint wood, along with a slight sweetness. The draw is so loose it's hard to get any smoke or flavor. Ash is flaky, loose and has holes in it. Very, very mild." –Robert (NavyPiper)
"I was immediately hit with a blast of sweet n' spicy. White pepper and, I dunno, maple comes to mind. I also detected notes of coffee, leather and nutmeg. The combination of flavors married very well together. On a sour note, the draw was too open at this point." –Milton (mjohnsoniii)
Second Third
Flavor: 89
Strength: Medium
Body/Complexity: Medium
"Coming into this third I'm having some burn issues, I have one side that wants to burn too fast. The flavors are pretty much where we left off, roasted almost and dark wood, and just a hint of saltiness. I finally gave in and touched up the burn, but it didn't help." –Emmett (rhetorik)
"The major flavor profile is the same as before with the pepper coming in and out. Also there is hay and some woodsy flavors which I think is mostly oak. No sweet flavors are present. The burn line is still very straight with a great draw and plenty of creamy smoke. At this point I am hoping for the flavors to change but no such luck till the end of the third. There is a background that is leather." –Sandeep (Djangos)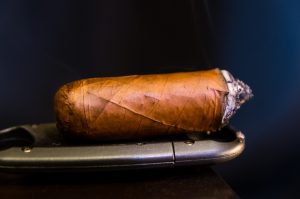 Final Third
Flavor: 88
Strength: Medium
Body/Complexity: Medium
"The cigar finished off the same as the others. The hay disappeared and it was mainly cedar with some earth. Smooth finish." –Cindy (Ms_CindyLynn)
"Final third remained super mild and flavors consistent of mild tobacco, light floral flavor and a sweetness. Draw returned to being very loose and tended to run hot." –Robert (NavyPiper)
Overall Impressions
Draw: 90
"As much as it pains me to say, I've gotta say that the draw was too loose. I like an easy draw, but this samples draw was so loose that I had to work hard just to get any flavor or smoke." –Robert (NavyPiper)
Burn: 83
"The burn was the Achilles heel of this cigar, I think it ruined the experience." –Emmett (rhetorik)
Construction: 89
"Very well constructed, medium to firm the entire length. No soft spots are present in the initial exam. Overall, very well constructed."  –Sandeep (Djangos)
Overall Strength: Medium
Overall Body/Complexity: Medium
Overall Experience: 88
"This was a very enjoyable smoke. I would definitely smoke again." –Cindy (Ms_CindyLynn)
"This one started out with some promise in the flavors, but by the second third turned papery and bitter. My experience may have been different if the burn had been better and I had been able to smoke it slower. I want to attribute this to another case of the ring gauge being too big for it's own good." –Emmett (rhetorik)
"Even though the flavors were mostly one dimensional, for the most part there was some improvement in the last third. Great with respect to the draw and burn. Not my flavor profile, but definitely a pleasant smoke." –Sandeep (Djangos)
"This cigar just didn't seem to work out well for me. Maybe it was just a fluke- a bad one in the bunch, it happens, but I just didn't care much for it." –Robert (NavyPiper)
"The flavors were awesome from the time I lit it but with the distractions of the uneven (canoeing) burn and the open draw, I couldn't enjoy it as well as I'd hoped. I'd definitely like to try more in order to get a good feel of what these really have to offer. What is it? Inquiring minds wanna know…" –Milton (mjohnsoniii)
Smoking Time (in minutes): 77
Total Score: 89 (Good)
Edit

| Reviewer | Appea-rance | Aroma | 1/3 | 2/3 | 3/3 | Draw | Burn | Constr. | Overall |
| --- | --- | --- | --- | --- | --- | --- | --- | --- | --- |
| Cindy | 88 | 90 | 90 | 90 | 90 | 100 | 98 | 95 | 88 |
| Emmett | 90 | 92 | 95 | 85 | 83 | 90 | 80 | 88 | 83 |
| Sandeep | 90 | 90 | 90 | 88 | 90 | 92 | 92 | 90 | 90 |
| Robert | 88 | 88 | 85 | 88 | 85 | 80 | 80 | 85 | 85 |
| Milton | 90 | 92 | 90 | 90 | 92 | 88 | 80 | 90 | 90 |
| Overall | 90 | 91 | 90 | 89 | 88 | 90 | 83 | 89 | 88 |
To view the complete scores and notes, click here.