Vital Stats:
Vitola: Toro
Length: 6″
Ring Gauge: 50
Country of Origin: Dominican Republic
Wrapper: Dominican And Broadleaf (USA)
Binder: Dominican
Filler: Dominican
Factory: Don Lucas Cigar Factory
Number of reviewers: 5 —– Will (Dubv23) Myles (MylesT) Gregg (McGreggor57) Sandeep (Djangos) Robert (NavyPiper)
Age: 3 months rest
Contributed by: Don Lucas Cigars
This cigar was reviewed blind (no bands) by a panel of at least 4 reviewers. They did not know what they were smoking beforehand. The scores are an average of all the reviewers' scores with outliers removed. All of our cigars reviewed are shipped to the panelists with Boveda packs to ensure optimal smoking experience.
Cigar Info
From Manufacturer – "In 1990, Mr. Philippe Gillet visited the Dominican Republic for the first time, finding not only good weather and beautiful beaches, but some of the world's finest cigars. Two years later he went back to the Dominican Republic with his biggest passion in mind "Create a Cigar Brand" and so he did!
In 1992, Don Lucas Cigars started rolling cigars with two cigar rollers, and making only 150 cigars per day. Today we have over 45 employees in our production line. From the beginning Don Lucas has always ensured to keep "quality over quantity". We produce a limited amount of cigars with the highest standards of quality in the market. Golf and Travel Magazine has ranked Don Lucas Cigars in the top 12 cigars brands of the Dominican Republic (Golf And Travel Magazine, March / April 2006 & Hunting Magazine, May / June 2010). At Don Lucas we produce 14 different cigar sizes with five different strengths, which are kept in our humidors to ensure optimal conditions."
Don Lucas Cigars has catered to the cigar needs of visiting tourists from countries all over the world. Rather than simply producing a serviceable cigar that their visitors can take as a souvenir, the cigars from the Don Lucas factory are a real treat that their customers would love to smoke again and again. However, because, up till recently, you could only get a Don Lucas at their factory in the DR, Americans came home with less than ample supplies and found they could not buy these great cigars at their local tobacconists. Now, you can purchase them through Chesapeake Cigar & Tobacco Company Phone: (443)-949-9004 Email: mike@chesapeakecigar.com
Initial Impressions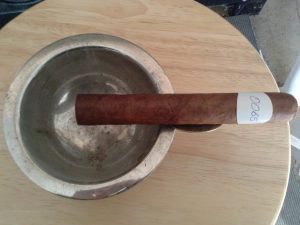 Appearance: 91
"Looks like a good solid cigar. Medium brown, uniform in color, nice and straight with a cap that is more squared off rather than rounded." –Robert (NavyPiper)
Aroma: 89
"Pretty nondescript. Basic tobacco with a bit of barnyard musk. While there is no wow factor, this is not a bad thing." –Gregg (McGreggor57)
Construction: 91
"Construction seems to be very good. Looks nice and round and feels solid. There is one soft spot by the band but seems far enough up to not cause any issues. Even the triple cap was clean and neat." –Will (Dubv23)
First Third
Flavor: 89
Strength: Medium
Body/Complexity: Medium
"The first third is a basic but nice woody profile that is smokey with a mixture of spices and pepper. Pretty straight forward flavor that is clean and does not linger on the palate. Smoke output is below average to begin." –Will (Dubv23)
"A bit of pepper hit the back of the throat on the first few puffs but surprisngly mild on the retrohale. I'm beginning to get some leather at the front with a smokey char note finish. Not a big smoke producer but the ash is light in color and tight." –Gregg (McGreggor57)
Second Third
Flavor: 91
Strength: Medium
Body/Complexity: Medium
"There's a nice bit of complexity growing as I work through it. The second third brings pleasing roasted coffee flavors, and the sweetness dries out a bit. Much more to my liking now!" –Myles (MylesT)
"In this third, the strength and bitterness are still present, but has eased enough so that the flavors come across as leather and old wood. Half way into this third, the small amount of pepper in the first third has begun to increase." –Robert (NavyPiper)
Final Third
Flavor: 88
Strength: Medium
Body/Complexity: Medium
"More spice comes through during the final third and the leather is becoming oily. Not surprising that the ash has turned much darker, at least on one side. The last inch or so settle into a decent tobacco flavor. The oiliness disappeared and the remaining flavors have become a bit harsh." –Gregg (McGreggor57)

"The woodsy notes from the last third persist into this third still mostly cedar and sawdust. Unfortunately these are the predominant flavors with not much else. The white pepper is still fading in and out. The nutmeg and earthiness had faded away leaving me wanting for something more. However, the cigar maintains its pleasant feel. The smoke is still creamy and voluminous and the almost white ash is now holding a little stronger for a little over an inch before falling off. Overall a very pleasant and desirable stick." –Sandeep (Djangos)
Overall Impressions
Draw: 91
"Draw was very good and produced ample airflow but lacked the output I expected."-Will (Dubv23)
Burn: 90
"I did have to relight this once or twice, but no major touchups required." –Myles (MylesT)
Overall Strength: Medium
Overall Body/Complexity: Medium
Overall Experience: 89
"Not the cigar I was expecting from the great appearance. I didn't have flavor expectations going into this but I did hope for something more entertaining and more flavorful. The dry profile bored me but it was smokable so some will find enjoyment from this cigar, but I did not." –Will (Dubv23)
"This was great by the end, but a little boring at first. Maybe a nice morning smoke to work you into the day?" –Myles (MylesT)
"There was not much flavor interest in this smoke. It was pretty one dimensional throughout and no one flavor profile dominated. It was not a bad cigar but also not one I would keep in rotation. The size and lack of interest would put it in the category of simply something to smoke." –Gregg (McGreggor57)
"This was a very good cigar almost from the start to the finish. It would have scored much higher had the final third been as complex as the previous thirds. However, this did not detract from the good cigar that it was. It surprised me that despite the lack of the sweeter flavors that I covet in my cigars, I enjoyed it almost as much. Definitely want to know what this one is!" –Sandeep (Djangos)
"Overall it was ok. Not bad, but not spectacular in my opinion. Probably wouldn't go looking to stock my humidor with them, but wouldn't refuse another." –Robert (NavyPiper)
Smoking Time (in minutes): 78
Total Score: 90 (Very Good)
Edit
Reviewer
Appea-
rance
Aroma
Constr.
1/3
2/3
3/3
Draw
Burn
Overall
Will
94
88
92
88
87
87
92
90
86
Myles
92
93
94
89
92
93
95
89
91
Gregg
90
89
90
89
91
88
91
91
89
Sandeep
90
91
90
90
90
89
92
91
90
Robert
90
88
90
89
89
89
90
85
87
Overall
91
89
91
89
91
88
91
90
89
To view the complete scores and notes, click here
Blind Cigar Review: Don Lucas | A.L. Series Toro