Vital Stats:
Vitola: Double Toro
Length: 6.12″
Ring Gauge: 56
Country of Origin: Undisclosed
Wrapper: Ecuadorian Habano
Binder: Nicaraguan Habano
Filler: Undisclosed
Factory: Undisclosed
Blender: Undisclosed
Number of reviewers: 4 —– Craig (WyldKnyght) Milton (mjohnsoniii) Jason (bigslowrock) Emmett (rhetorik)
Price: Undisclosed
Age: 6 Months Rest
Release Date: July 2013
Contributed by: La Cosecha Cigars
This cigar was reviewed blind (no bands) by a panel of at least 4 reviewers. They did not know what they were smoking beforehand. The scores are an average of all the reviewers' scores with outliers removed. All of our cigars reviewed are shipped to the panelists with Boveda packs to ensure optimal smoking experience.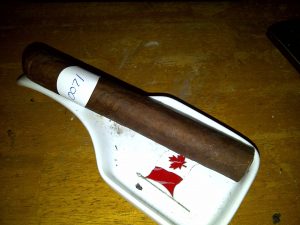 Initial Impressions
Appearance: 90
"This one had a nice brown wrapper with minimal veins. It's a good looking cigar." –Milton (mjohnsoniii)
Aroma: 90
"There is a boot leather smell on this cigar with a nutty and pepper flavor on the dry puff." –Craig (WyldKnyght)
Construction: 91
"Triple Cap. Evenly filled. Box press and just a slight deflection to the squeeze. This stick also has some heft to it. No shortage of tobacco in this cigar." –Jason (bigslowrock)
First Third
Flavor: 92
Strength: Strong
Body/Complexity: Full
"The cigar starts off with pepper with a side of some pepper. This is an unmitigated pepper bomb. Despite being so much pepper, it doesn't seem to overwhelm my palate, which happens a lot with pepper bombs. I'm also getting some nice leather, earthiness and dark cherries to go with the pepper as the third progresses." –Jason (bigslowrock)
"There are lots of flavors on the first few puffs including chocolate, pepper, fresh tobacco and leather. As the flavors settle in the pepper starts taking over, nothing powerful though, more like a green pepper mixing in with some coffee and cocoa. The burn is very slow but producing lots of smoke. There's some good tobacco here. Towards the end of the third I start getting a pretty dominant hay flavor." –Emmett (rhetorik)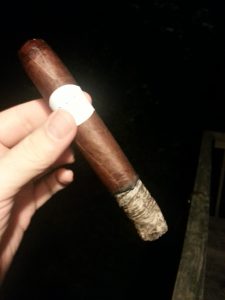 Second Third
Flavor: 92
Strength: Strong
Body/Complexity: Full
"This cigar can definitely stand on its own. It boasts various flavors that tend to come and go. A mixture of mesquite wood, hints of toffee adding a bit of sweetness and the spices of cloves and cinnamon combine to give this one a pretty complex profile." –Milton (mjohnsoniii)
"Pepper is still the word of the day. In addition to the dominant pepper flavor, I'm also getting some leather, strong woody flavor (almost like a hickory/mesquite mix) and some hazelnut." –Jason (bigslowrock)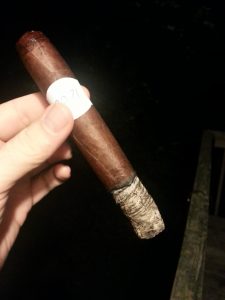 Final Third
Flavor: 90
Strength: Medium-Strong
Body/Complexity: Medium-Full
"Final third continued with the woody peppery flavor. Not as strong as the first two thirds, definitely the last third was the best part of this cigar." –Craig (WyldKnyght)
"This third has brought another pretty dramatic shift, now I'm getting a lot more meatier and char profile. I wasn't expecting that, but I like it! The ash held on almost halfway through without problem. Along with the leather from before, I'm starting to get some baking spices in this third. This cigar has surprised me. This is definitely the best third." –Emmett (rhetorik)
Overall Impressions
Draw: 92
"This had the perfect amount of resistance and allowed for billowing smoke that produced tons of flavor." –Milton (mjohnsoniii)
Burn: 93
"The burn was great for a cigar of this size. It only required a touch here and there." –Emmett (rhetorik)
Overall Strength: Strong
Overall Body/Complexity: Full
Overall Experience: 92
"Someone who enjoys a strong peppery cigar may enjoy this cigar, myself, I did not enjoy this cigar. It was way out of my profile range." –Craig (WyldKnyght)
"This was the best hour and a half I've spent this week. There was a multitude of great flavors within this cigar. I'm excited to see what this is so I can track down more. I enjoyed this one from beginning to end and didn't want to see it finish. This is a definite keeper and one that I would try to incorporate into the normal rotation." –Milton (mjohnsoniii)
"A bit of a pepper and nicotine bomb. I'm not a giant fan of pepper bombs, but this delivered more than just pepper. I would smoke again, but this would probably be a once a month type cigar. Any strong cigar fans should check it out." –Jason (bigslowrock)
"This cigar really surprised me. It started out pretty mild and with some unique flavors but then shifted several times and kept me really interested. I'm going to stick with my "dark and mild" description, kind of like a Jim Jarmusch movie. I'm not sure I would smoke this all the time, but it's so unique that it would be good just to have something different. It would pair very well with a milk or chocolate stout. Great for a mid-day smoke." –Emmett (rhetorik)
Smoking Time (in minutes): 102
Total Score: 91 (Very Good)
Edit

| Reviewer | Appea-rance | Aroma | 1/3 | 2/3 | 3/3 | Draw | Burn | Constr. | Overall |
| --- | --- | --- | --- | --- | --- | --- | --- | --- | --- |
| Craig | 90 | 89 | 87 | 88 | 87 | 92 | 92 | 89 | 85 |
| Milton | 90 | 90 | 91 | 91 | 91 | 94 | 89 | 90 | 91 |
| Jason | 93 | 92 | 92 | 92 | 89 | 92 | 93 | 93 | 91 |
| Emmett | 90 | 97 | 92 | 95 | 95 | 90 | 95 | 97 | 92 |
| Overall | 90 | 90 | 92 | 92 | 90 | 92 | 93 | 91 | 92 |
To view the complete scores and notes, click here.
Blind Cigar Review: El Cuje | Maravillas Collection No. 1