Vital Stats:

This cigar was reviewed blind (no bands) by a panel of at least 4 reviewers. They did not know what they were smoking beforehand. The scores are an average of all the reviewers' scores with outliers removed. All of our cigars reviewed are shipped to the panelists with Boveda packs to ensure optimal smoking experience.
Vitola: Toro
Length: 6″
Ring Gauge: 54
Country of Origin: Dominican Republic
Wrapper: Brazilian Ariparaca
Binder: Dominican Olor
Filler: Dominican Piloto Cubano, Seco and Ligero
Factory: Charles Fairmorn
Blender: Dean Parsons
Number of reviewers: 5—–Gregg (McGreggor57) Wes (SosaCub4Life) Ron (shuckins) Jason H. (Jokey Smurf) Robert (NavyPiper)
Price: $7.50
Age: 3 Months
Release Date: March 2014
Contributed by: Epic Cigars
Initial Impressions
Appearance: 93
"A near black cigar that camouflages the small veins and bumps throughout. It's a very inviting looking stick" –Gregg (McGreggor57)
Aroma: 91
"A rich leather, dark roasted coffee and a light pepper smell." –Ron (shuckins)
First Third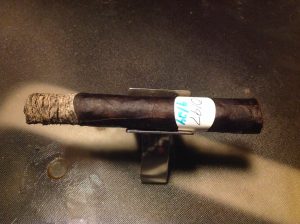 Flavor: 91
Strength: Medium
Body/Complexity: Medium
"The first third of this stick has been interesting. It has some nice spice on the retro and I'm getting some of that classic maduro flavor with each puff. Trying to pin down some of the other flavors has been difficult. There is a hint of sweetness to it, but the spice really has dominated so far. The ash is now up to 2 inches and has held perfect. It's almost a milky white ash that is very distinct in color compared to the wrapper which is very dark." –Wes (SosaCub4Life)
"First third flavor is a rich medium tobacco with a woodiness that is reminiscent of oak, with a bit of sweetness. No pepper or spice detected." –Robert (NavyPiper)
Second Third
Flavor: 90
Strength: Medium
Body/Complexity: Medium
"The second third transitions to a fuller profile. Oak and charred meat pair nicely with the cool summer evening. The leather is fading yet the flavors remain relatively smooth with a more earthy note to them. A bit of burnt caramel adds a sweetness to the finish." –Gregg (McGreggor57)
"The second portion of this cigar has continued with the sweet molasses notes, but has deepened with some dark cocoa notes and just a touch of espresso. The black pepper has diminished a bit, but is still there and making my lips and tongue tingle. So far I haven't had any nicotine issues but I think I'm just staying ahead of it…there is definitely a strength to this cigar that I've been missing in many of my recent smokes. The smoke production has thinned just a bit, but is still prodigious and has remained oily and rich." –Jason H. (Jokey Smurf)
Final Third
Flavor: 88
Strength: Medium
Body/Complexity: Medium
"A rustic wood taste moves to the front to join the dark roast coffee flavor. The leather faded a bit the closer to the end it got. The pepper boosted the strength of the cigar and brought a little heat with it at the end." –Ron (shuckins)
"I have to say…this has been a damn enjoyable cigar through the first two thirds. The strength has lessened a bit but the flavors have done nothing but remain extremely rich and have firmly planted themselves right in my preferred wheelhouse. The cocoa flavors have grown more pronounced as the molasses faded away. There is still a fair amount of pepper, but also a chewy leather note. The resting smoke has remained heavy, and has a strong general tobacco aroma that is pleasant to me. This has been really excellent!" –Jason H. (Jokey Smurf)
Overall Impressions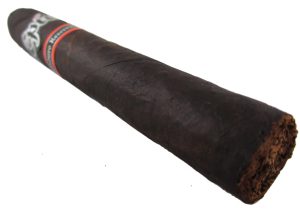 Draw: 93
"Draw was just right for me, not overly loose and just the right amount of resistance." –Robert (NavyPiper)
Burn: 97
"A fantastic burning cigar! Slow, even and worry free." –Ron (shuckins)
Construction: 93
"I have to say this cigar was made very well. It has held an ash great, the burn is perfect, there are no flaws at all that I can find. Very well made stick." –Wes (SosaCub4Life)
Overall Strength: Medium
Overall Body/Complexity: Medium
Overall Experience: 91
"I really wanted this cigar to win in all categories. The first two thirds held their own with nice flavors, but there was not a lot to choose from. The transition to the earthy flavors in the second third were nice, but again, a bit one dimensional in its offering. The final third was a real letdown. Ending the evening with a harsh profile and no real new flavors turned what could've been a great cigar into something less. I would grab another one for a day tending the smoker but not for a special occasion." –Gregg (McGreggor57)
"This cigar started off with lots of spice in my mouth, throat and lots on the retro. Making my way through the smoke, the spice fell off to just be a hint on the retro and it became a nice creamy smoke that was enjoyable. There were times I picked up a bit of sweetness, but for me it was hard to really pinpoint the flavors. It has been enjoyable but not a "wow" cigar. The construction, burn and amount of smoke produced have all been fantastic. It is a very well made cigar. It's a bit hard to give a rating to as the stick itself has been enjoyable and very well made but since the first third there has not been much change in the flavor profile for me. I am interested to find out what it is and try it again a second time. I have no complaints about the cigar but I also wouldn't run out and buy a box based on this one smoke." –Wes (SosaCub4Life)
"I liked the way the cigar started better than how it ended, but do think it would be a great after dinner smoke at a cookout or campfire." –Ron (shuckins)
"We've got us a winner here! Ample flavor, a great burn and superior construction. That's a recipe for enjoyment! This cigar promised excellence at the first sniff and lived up to its promise…fully! I can't wait to see what this is…and I hope I can afford to buy some to keep on hand…This one is a super premium all the way!" –Jason H. (Jokey Smurf)
"Overall, it was an enjoyable stogie. Flavors were very rich the whole time, the only downside was the bit of harshness and bite that came in the final third, but wasn't enough to be a distraction from the overall enjoyment of the cigar." –Robert (NavyPiper)
Smoking Time (in minutes): 78
Total Score: 92 (Excellent)
Edit

| Reviewer | Appea-rance | Aroma | 1/3 | 2/3 | 3/3 | Draw | Burn | Constr. | Overall |
| --- | --- | --- | --- | --- | --- | --- | --- | --- | --- |
| Gregg | 93 | 90 | 90 | 90 | 88 | 93 | 93 | 93 | 90 |
| Wes | 95 | 90 | 95 | 95 | 95 | 97 | 100 | 100 | 92 |
| Ron | 95 | 95 | 90 | 90 | 90 | 93 | 97 | 93 | 90 |
| Jason H. | 90 | 92 | 92 | 95 | 95 | 97 | 97 | 95 | 95 |
| Robert | 90 | 90 | 90 | 90 | 88 | 90 | 88 | 90 | 90 |
| Overall | 93 | 91 | 91 | 90 | 88 | 93 | 97 | 93 | 91 |
To view the complete scores and notes, click here.
Blind Cigar Review: Epic | Maduro Reserva Double Corona