Vital Stats:
This cigar was reviewed blind (no bands) by a panel of at least 4 reviewers. They did not know what they were smoking beforehand. The scores are an average of all the reviewers' scores with outliers removed. All of our cigars reviewed are shipped to the panelists with Boveda packs to ensure optimal smoking experience.
Vitola: Petite Corona
Length: 5″
Ring Gauge: 42
Country of Origin: Nicaragua
Wrapper: Mexican San Andres
Binder: Mexican San Andres and Nicaraguan
Filler: Nicaragua
Factory: Plasencia Cigars S.A.
Blender: Steve Ysidron
Number of reviewers: 5—–Steve (ThaGreatWazoo) Sandeep (Djangos) Robert (NavyPiper) Wes (SosaCub4Life) Ron (shuckins)
Price: $10.50
Age: 4 Months
Release Date: 2014
Contributed by: House of Emilio
Initial Impressions
Appearance: 93
This is a box pressed Maduro which appears to be smaller than it actually is. Measured out at 5″ with the pigtail X44. Wrapper is rough textured with no sheen, or any blemishes. Box press looks good, squared up, nice edges. The head is topped with a pigtail. Seams are very well done, almost unable to detect them. Looking forward to smoking this one!" –Robert (NavyPiper)
Aroma: 88
"There doesn't seem to be much of a major flavor apparent for this cigar. There is a faint hay like character. The dry puff is similar with no major strong flavors." –Sandeep (Djangos)
First Third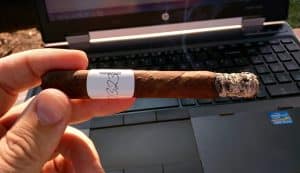 Flavor: 90
Strength: Medium
Body/Complexity: Medium
"Quite a mild start to this cigar with a mild hay like flavor. There is also some leather and cedar that appear as the third progresses. Not much pepper to speak of at this time. The burn and draw are quite good. There is also the production of a lot of creamy smoke. The ash is almost white and flaky. The ash only holds about an inch before falling off." –Sandeep (Djangos)
"Starts off with a pure tobacco taste right up front. Leather with light coffee flavors, along with splashes of allspice, add balance and smoothness to the cigar to round out the first third. This was a very good start to the cigar." –Ron (shuckins)
Second Third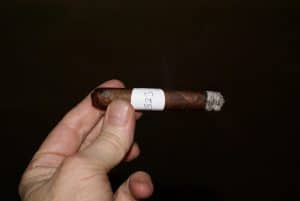 Flavor: 91
Strength: Medium
Body/Complexity: Medium
"The second third continues with the muted pepper notes. The wet grass flavor and tones are present towards the finish of the exhale. The flavors almost coat the tongue entirely and leave a somewhat curious, yet slightly pleasant taste behind. The retrohale continues to be crisp and smooth without having the harsh burn follow. Minus the lack of complex flavors, the cigar is burning quite nicely and keeps me coming back for more." –Steve (ThaGreatWazoo)
"The spice has kicked up a bit in the second third and there is also a bit of a charred flavor as well. The overall spiciness is very prevalent on the retrohale still. The draw has finally loosened up some which is a relief because I was sucking my brains out." –Wes (SosaCub4Life)
Final Third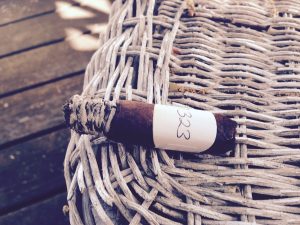 Flavor: 89
Strength: Medium
Body/Complexity: Medium
"Boy, wish this guy was bigger, it's been quite enjoyable. No real change in flavors only that the strength dropped to about a medium strength." –Robert (NavyPiper)
"Smoking smooth and balanced as it nears the end. The leather and coffee flavors have moved to the front, adding a bit of creaminess to the cigar, while the allspice laced tobacco brings a gentle kick at the very end." –Ron (shuckins)
Overall Impressions
Draw: 94
"Excellent draw throughout. Medium firm, with clouds of cool tasty smoke." –Ron (shuckins)
Burn: 92
"Overall, the burn was good. Burn line stayed consistent and it held a nice ash." –Wes (SosaCub4Life)
Construction: 93
"The construction was very nice. Though slightly stiff to the touch, the cigar had no real issues and had a nice appearance. Nothing about the cigars construction altered or affected the performance, and it supplied a nice nostalgic beginning to the smoke." –Steve (ThaGreatWazoo)
Overall Strength: Medium
Overall Body/Complexity: Medium
Overall Experience: 91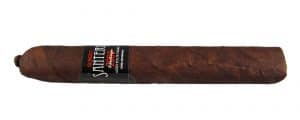 "The cigar was very good in presentation and construction. The flavor profile was very muted and lacking complexity. If it was not for this, the cigar would have been obviously more enjoyable. However, with a little rest and possibly cutting the cap for a few months prior to lighting, the flavors could come forward and be more complex. Definitely might be worth grabbing a fiver and seeing what some age could do." –Steve (ThaGreatWazoo)
"Overall, the cigar was quite disappointing with respect to the flavor profile and complexity. The pepper does not set in until the last inch of the cigar. This one is definitely not in my flavor profile and probably will not go looking for one." –Sandeep (Djangos)
"This was one nice stogie. Flavors were very much to my liking, and only wish it was a larger size to enjoy it longer." –Robert (NavyPiper)
"Overall, it was a nice little smoke. Nothing really wowed me with it, but it was a nice short smoke that I could see using on breaks or if you were short on time. The tight draw at the start might just have been a problem with this one stick, if it was, then it would be a better smoke all the way through." –Wes (SosaCub4Life)
"An enjoyable cigar with pleasant and well balanced flavors. Although another dimension would have been nice, I would definitely smoke another one." –Ron (shuckins)
–
Smoking Time (in minutes): 48
Reviewer

Appearance

Aroma

1/3

2/3

3/3

Draw

Burn

Constr.

Overall

Steve
ThaGreatWazoo)
93
90
88
90
88
90
90
90
90
Sandeep
Djangos)
90
88
88
85
85
97
95
93
85
Robert
NavyPiper)
90
88
90
90
90
100
85
95
90
Wes
SosaCub4Life)
95
88
92
92
92
90
97
93
92
Ron
shuckins)
95
95
90
90
90
93
92
93
90
To view the complete scores and notes, click here.
–
Blind Cigar Review: Epicurean | Gonzo Santeria Ruca
Blind Cigar Review: Epicurean | Gonzo Santeria Ruca
91
Total Score - Very Good