Vital Stats:
This cigar was reviewed blind (no bands) by a panel of at least 4 reviewers. They did not know what they were smoking beforehand. The scores are an average of all the reviewers' scores with outliers removed. All of our cigars reviewed are shipped to the panelists with Boveda packs to ensure optimal smoking experience.
Vitola: Perfecto
Length: 6.5″
Ring Gauge: 52
Country of Origin: Nicaragua
Wrapper: Broadleaf
Binder: Mexican San Andres and Nicaraguan
Filler: Nicaraguan
Factory: Plasencia
Blender: Steve Ysidron
Number of reviewers: 5—–Brian (B-daddy) Gregg (McGreggor57) Sandeep (Djangos) Derek (StogieNinja) Emmett (rhetorik)
Price: $8.80
Age: 4 Months
Release Date: 2012
Contributed by: House of Emilio
Initial Impressions
Appearance: 94
"A box pressed figurado with sharp points at both ends. A reddish, earthy looking wrapper with prominent veins give it a textured appearance and feel." –Derek (StogieNinja)
Aroma: 90
"Not much more than tobacco with a hint of hay along the closed cigar. After the clip, a little more of the barnyard is present. The cold draw brings out some cedar." –Gregg (McGreggor57)
First Third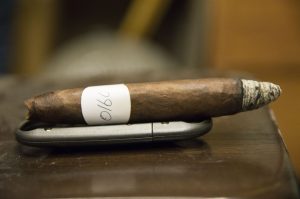 Flavor: 90
Strength: Mild-Medium
Body/Complexity: Medium-Full
"First few puffs have a straight tobacco core with a peppery finish that fades to leather and coffee. The leather and coffee become more pronounced after the first 1/2 inch. Towards the end of the first third, it's rich tobacco and coffee on the draw and a spicy leather on the finish. Finish isn't too long or pronounced but it's mellow and satisfying." –Brian (B-daddy)
"The initial blast is more straight up heat than pepper. A flavorful tobacco follows with a creamy earthiness. What a great start to this cigar. The body approaches full early on and very well balanced. Near the end of this third, cedar is appearing, pairing nicely with the earth overtones." –Gregg (McGreggor57)
Second Third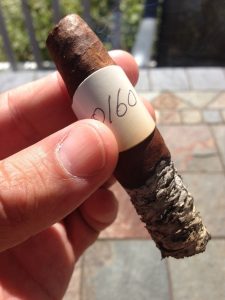 Flavor: 93
Strength: Medium
Body/Complexity: Medium-Full
"As we enter into the middle third, the flavors have mellowed out and the leather, though still the prominent flavor, is letting trough some spices like nutmeg and white pepper. The earthy flavors are in the finish at this point. The burn issues present in the initial third are not present and it is maintaining a straight line. The draw also has opened up. There are volumes of thick creamy smoke that hang in the air above my head. Definitely an improvement over the initial third." –Sandeep (Djangos)
"This third is becoming a little more focused on the spices as the espresso backs off and balances nicely. I'm getting some cinnamon and pumpkin spice now. Towards the end of this third, I start to pick up some wood notes. The burn and draw are perfect." –Emmett (rhetorik)
Final Third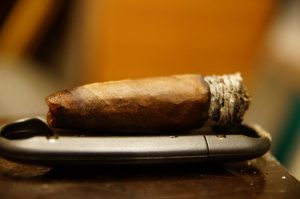 Flavor: 92
Strength: Medium-Strong
Body/Complexity: Medium
"The primary flavor profile at the beginning of the final third is rich dark coffee and deep tobacco. There's still a leather bite on the finish but it's pretty mellow. About every other puff, I'm also getting a mineral or metallic flavor. The finish is leather with a bit of wood. And strength-wise…this thing is kinda kicking my ass. I'm feeling the nicotine in my head and belly." –Brian (B-daddy)
"In the final third, the pepper (black now) appears and ramps up quite rapidly and stays throughout the last inch. This is a pleasant change given the unilateral flavors present in the prior thirds. The leather is also present quite prominently. The spices and the earthiness are now almost completely gone. The draw and burn are now close to perfect. The smoke is thick and creamy as ever. The ash is flaky and stays on for only about half an inch before falling off. The strength also seems to have ramped up quite a bit in this final third." –Sandeep (Djangos)
Overall Impressions
Draw: 96
"The draw was great throughout." –Emmett (rhetorik)
Burn: 95
"Great burn, razor straight throughout. Never needed a touch up. Burned a touch hot, but not problematic." –Derek (StogieNinja)
Construction: 95
"Consistent firmness throughout. Well packed and rolled nicely with ample smoke production. The ash held on past the halfway mark and never fell again." –Gregg (McGreggor57)
Overall Strength: Medium
Overall Body/Complexity: Medium-Full
Overall Experience: 93
"I enjoyed this cigar. Very good flavors. Good complexity and transitions throughout. I found it to be pretty strong though, so I'd recommend this for seasoned cigar smokers and I'd recommend you smoke it after a meal. I enjoyed it. I'd buy this cigar if the price is reasonable." –Brian (B-daddy)
"I've had my heart broken too many times by cigars that started great but faltered during the last third. This cigar was truly a pleasure to smoke. A full bodied start that offered a respite in the middle followed by a great finishing third. The sweeter profile at the end capped off a very enjoyable experience." –Gregg (McGreggor57)
"The lack of significant complexity in the first two thirds causes this cigar to lose out on points, but have to say that the final third made up some. It was a pleasant smoke but nothing extraordinary. Would try this again if available, but would not go looking for one." –Sandeep (Djangos)
"A well built cigar with an interesting shape that was good, but not great. It burned well, had a great draw and was stress free. But where it counts above all else -flavor- it was just good. Not bad, not mediocre, and not great… just good." –Derek (StogieNinja)
"This was an exceptional cigar, all around. It performed beautifully, especially for such a difficult shape, and the flavors were really great through the first two thirds. I think some time will smooth out the edges of the final third, and this will be a 94+ cigar for me." –Emmett (rhetorik)
Smoking Time (in minutes): 76
Total Score: 93 (Excellent)
Edit

| Reviewer | Appea-rance | Aroma | 1/3 | 2/3 | 3/3 | Draw | Burn | Constr. | Overall |
| --- | --- | --- | --- | --- | --- | --- | --- | --- | --- |
| Brian | 95 | 97 | 90 | 95 | 92 | 95 | 90 | 95 | 93 |
| Gregg | 95 | 92 | 95 | 93 | 95 | 97 | 95 | 95 | 95 |
| Sandeep | 93 | 92 | 90 | 90 | 92 | 90 | 90 | 93 | 90 |
| Derek | 90 | 88 | 90 | 88 | 88 | 95 | 95 | 95 | 88 |
| Emmett | 97 | 88 | 95 | 97 | 90 | 97 | 95 | 97 | 95 |
| Overall | 94 | 90 | 90 | 93 | 92 | 96 | 95 | 95 | 93 |
To view the complete scores and notes, click here.
Blind Cigar Review: Epicurian | Gonzo Perfecto