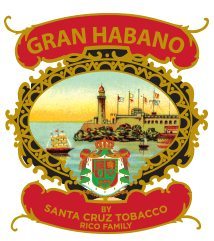 Vital Stats:
Vitola: Robusto
Length: 4.75″
Ring Gauge: 52
Country of Origin: U.S.A.
Wrapper: Connecticut Habano
Binder: Connecticut Habano
Filler: Pennsylvania, Connecticut, Kentucky fire-cured
Factory: GR Tabacaleras Unidas Co.
Blender: George Rico
Number of reviewers: 5 —– Will (Dubv23) Emmett (rhetorik) Robert (NavyPiper) Sandeep (Djangos) Ron (shuckins)
Price: $8.00
Age: 3 months
Release Date: September 2013
Contributed by: George Rico Cigars
This cigar was reviewed blind (no bands) by a panel of at least 4 reviewers. They did not know what they were smoking beforehand. The scores are an average of all the reviewers' scores with outliers removed. All of our cigars reviewed are shipped to the panelists with Boveda packs to ensure optimal smoking experience.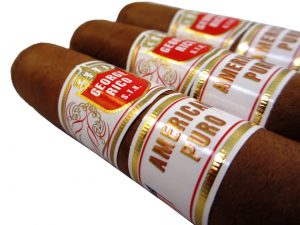 Cigar Info:
From Manufacturer – "G.R. Tabacaleras Co. Cigar Factory announces the release of George Rico S.T.K. Miami "American Puro".
June 26, 2013 (Miami, Fla.) – G.R. Tabacaleras Co. Cigar Factory of Little Havana, announces the release of the George Rico Miami "American Puro" cigar. This will be Rico's first release from his new George Rico S.T.K. Miami line, made in his factory in Miami. The "American Puro" is 100% all-American, boasting tobaccos from Pennsylvania, Connecticut, and Kentucky, and manufactured in the U.S.A. The American Puro cigar will come in a 4 3/4 x 52, 5 7/8 x 54, and a 5 5/8 x 46. MSRP prices will range from $8 to $9.00 a stick.
G.R. Tabacaleras Co. is also manufacturer to the Barracuda from the S.T.K. Miami line of cigars created by George Rico and the G.A.R. Deli custom made-to-order cigars. The Barracuda also comes in three sizes: the Robusto 5 x 50, B-54 6 1/2 x 54, and Corona Gordas 5 5/8 x 46. MSRP prices for the Barracuda run between $7.50 to $9.00."
Initial Impressions
Appearance: 90
"The appearance of this cigar is fantastic. Triple cap with a little pigtail, minimal veins, slightly toothy, even color and no soft spots." –Emmett (rhetorik)
Aroma: 90
"Strong notes of dried hay and tobacco predominate the initial whiff. There is also pepper and something that is reminiscent of waffles! Now the dry puff was a whole different matter! The dry puff was chock full of charcoal and flavors that you would associate with a grill!" –Sandeep (Djangos)
Construction: 93
"A well rolled cigar, very firm and tightly packed." –Ron (shuckins)
First Third
Flavor: 87
Strength: Medium
Body/Complexity: Medium-Full
"The first few puffs bring a familiar yet exotic spice to my palate. The main players in the base flavors are wood and leather. On top of that I'm still getting some of that spice, which is red pepper and some baking notes of bread dough and cloves." –Emmett (rhetorik)
"A little peppery on light up, but quickly giving way to a nice nutmeg and light cocoa flavor with a sweet cedary tasting tobacco in the first third." –Ron (shuckins)
Second Third
Flavor: 90
Strength: Medium
Body/Complexity: Medium-Full
"The smokiness subsides and becomes a leathery profile that mostly lingers in the background of wood and spices. Still very rich with nice thick smoke. Still very good but I liked the smokey aspect more than the leather." –Will (Dubv23)
"Pretty much the same as the first third, smoky oak and pepper. This third is a little stronger and the flavors are a little stronger. Has a slight 'bite' on the aftertaste between puffs." –Robert (NavyPiper)
Final Third
Flavor: 93
Strength: Medium
Body/Complexity: Medium-Full
"Going into the final third, the spices are coming more to the front. I'm still getting pepper and ginger with a little clove, but all more pronounced. The ash held on to the beginning of this third. Getting further into the third, it becomes more creamy and smooth. The finish also goes from spicy to buttery, and lasts for days." –Emmett (rhetorik)
"The last third is turning out to be even better than the last. The flavors have gained some complexity and now are a mix of barnyard hay and grass as well as some woodsy components. The tobacco and charcoal flavors are also present. The pepper is almost gone and is very faint to the back of the throat. The Cubanesque twang is more prominent now and I will not be surprised if this is an unmentionable! Luckily there are no more tar issues. The strength has also kicked up towards the end. The burn and smoke are still impeccable. Quite enjoyable and I am now wishing that the first third was just as good!" –Sandeep (Djangos)
Overall Impressions
Draw: 92
"Draw was very good throughout." –Robert (NavyPiper)
Burn: 91
"Not razor sharp, but problem free with a very strong ash." –Ron (shuckins)
Overall Strength: Medium
Overall Body/Complexity: Medium-Full
Overall Experience: 92
"I really want to say that this was an epic cigar. The construction was good enough to not warrant too much attention. The flavors really stood out though and we're very unique and great. The smokiness was an awesome touch that was never too strong or overpowering and was a great touch." –Will (Dubv23)
"This cigar demands your attention. It's spicy up front but with complexity behind it, then towards the end, when it knows it has your complete attention, it mellows out and shines through with it's baking spices and creamy flavors. This is going on my must buy list, I cannot wait to find out what it is. This thing had everything, full complexity, spice, flavor transitions and outstanding construction." –Emmett (rhetorik)
"This was a pretty good smoke, just the right size for a lunch break stogie. It started getting a little too hot to hold in the final third, wouldn't have minded it being a little longer to enjoy it more." –Robert (NavyPiper)
"The cigar was quite enjoyable and it would have scored much higher on my scale had it not been for the tar issues in the first third. Definitely had a Cuban flair to it. The flavors picked up complexity as the cigar burned on. Definitely will need more of these to form a better opinion and can't wait to find out." –Sandeep (Djangos)
"A nice middle of the day cigar that I would smoke again and would have no problem recommending to a friend." –Ron (shuckins)
Smoking Time (in minutes): 59
Total Score: 91 (Very Good)
Edit
Reviewer
Appea-
rance
Aroma
Constr.
1/3
2/3
3/3
Draw
Burn
Overall
Will
94
98
92
95
94
95
92
89
98
Emmett
97
95
95
95
96
95
96
99
96
Robert
88
88
88
88
88
88
90
90
89
Sandeep
90
89
90
86
90
92
92
89
91
Ron
88
88
94
88
88
89
92
94
90
Overall
90
90
93
87
90
93
92
92
91
To view the complete scores and notes, click here
Blind Cigar Review: George Rico | S.T.K. Miami American Puro Robusto