The "Revisited" review concept allows us to perform a follow up review on a cigar we have reviewed previously. These follow up reviews will be performed when the cigar has a year or more of age on them to see if time has been kind or not so kind to the cigar. The same reviewers are participating in both the original and follow up reviews whenever possible.
Vital Stats:
This cigar was reviewed blind (no bands) by a panel of at least 4 reviewers. They did not know what they were smoking beforehand. The scores are an average of all the reviewers' scores with outliers removed. All of our cigars reviewed are shipped to the panelists with Boveda packs to ensure optimal smoking experience.
Vitola: Robusto
Length: 5.5″
Ring Gauge: 52
Country of Origin: Nicaragua
Wrapper: Corojo 99
Binder: Nicaragua
Filler: Nicaragua
Factory: TABSA
Blender: Arsenio Ramos
Number of reviewers: 5—–Gregg (McGreggor57) Kent (Throck) Sandeep (Djangos) Dave (mdwest) Emmett (BMP_Emmett)
Price: $7.10
Age: 1 Year, 4 Months
Release Date: 2013
Contributed by: HVC Cigars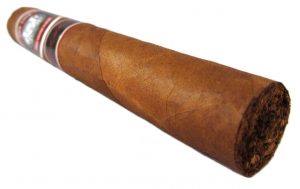 Initial Impressions
Appearance: 91
"Great looking cigar with a light brown wrapper and a smooth surface, albeit slightly bumpy. The veins are visible but not prominently felt. The cigar is firm to the touch the entire length. No issues with the wrapper and no discolorations. There are three well applied caps present." –Sandeep (Djangos)
Aroma: 93
"A little leather and hay with the addition of some barnyard at the foot. A nice sweet cedar is present on the cold draw." –Gregg (McGreggor57)
First Third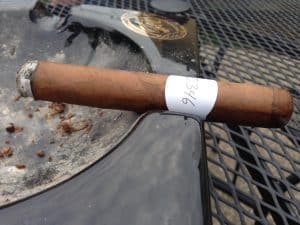 Flavor: 89
Strength: Medium
Body/Complexity: Medium
"A very dry, peppery leather with a sweet hay and subtle wild spearmint on the finish. As the pepper flavor fades, more of the hay, grasses and mint develop. A hint of coffee makes for a pretty good combination." –Gregg (McGreggor57)
"The first few puffs are a strong leather, and there is a hint of bitter chocolate. Further in, some interesting spices come to the surface like cinnamon and green pepper." –Emmett (BMP_Emmett)
Second Third
Flavor: 89
Strength: Medium
Body/Complexity: Medium
"This section was a nice transition from the spice of the first third. The predominant flavors were those of marzipan and leather. This was probably my favorite section of the cigar because of the intermingling of these two equally." –Kent (Throck)
"The middle third starts off with the same cocoa and nutmeg from the initial third, but there is more cedar and leather blended in at this point. The pepper is still present in every puff, adding a level of complexity to this cigar. The end of the third brings tobacco and dry hay like flavors as well with an attenuation of the sweeter flavors." –Sandeep (Djangos)
Final Third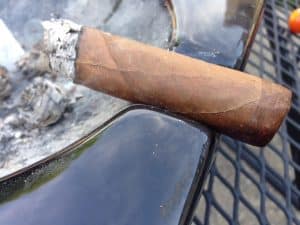 Flavor: 88
Strength: Medium-Strong
Body/Complexity: Medium
"The final third was mostly earthy flavors of leather, hay and cedar. The sweeter flavors of cocoa and nutmeg have now receded completely. However, the pepper is now increasing in intensity and has a very pervasive nature. The pepper increases to a crescendo to the very end. The last half inch or so had a little bit of bitterness, but this did not detract from the overall enjoyment of the cigar." –Sandeep (Djangos)
"The final third is defined by yet another pretty substantial transition and the cigar becomes herbal in profile with all evidence of pepper and other notes previously tasted completely gone now. This one definitely keeps you guessing." –Dave (mdwest)
Overall Impressions
Draw: 94
"Not much can be said here other than the draw was simply excellent. Couldn't have improved on this if they tried." –Dave (mdwest)
Burn: 93
"The burn was probably the highlight of this cigar, only had to touch it one time." –Emmett (BMP_Emmett)
Construction: 91
"This was a well constructed stogie. There were no issues with construction except for a modicum of fraying near the cap initially, but this did not continue throughout the smoke. It was a beautiful smoke." –Kent (Throck)
Overall Strength: Medium-Strong
Overall Body/Complexity: Medium
Overall Experience: 88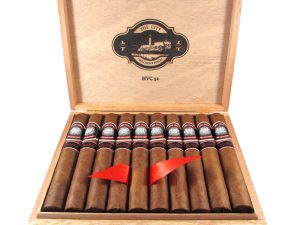 "Aside from some burn issues, this was a mediocre cigar at best. While there was nothing off putting about the flavors, there wasn't any real interest either. It was just OK. I found the second and final third to be pretty much the same. If there had been another transition or two this cigar would've scored much higher." –Gregg (McGreggor57)
"This would be a greatly daily smoke. It is nothing incredibly special, but it holds its own really well. The construction, burn and smoke produced were a great aspect of this cigar. I would recommend this to anyone that is looking for a milder flavored cigar." –Kent (Throck)
"Overall, the experience was a very good one with this cigar. The flavors were quite bold and the complexity with the flavor shifts good. I definitely would recommend this cigar." –Sandeep (Djangos)
"To be honest, I was completely surprised by this cigar. First impressions can sometimes be deceiving. This is not a very good looking stick, and the first third started off pretty slow, but the constant flavor transitions and strong overall performance of the cigar more than made up for that. At the end of it all, I enjoyed the stick quite a bit and would gladly smoke it again in the future." –Dave (mdwest)
"I wasn't really happy with how this cigar turned out. It started off great in the first third, but the bitterness eventually took over. I would smoke another just to see if the same thing happened, but based on the one sample I can't recommend." –Emmett (BMP_Emmett)
–
Smoking Time (in minutes): 89
Original Score: 91 (Very Good)
To view the original review, click here.
Reviewer

Appearance

Aroma

1/3

2/3

3/3

Draw

Burn

Constr.

Overall
Experience

Gregg
McGreggor57)
88
90
88
88
88
93
88
85
85
Kent
Throck)
92
95
88
90
88
97
95
97
90
Sandeep
Djangos)
95
95
90
90
90
97
97
95
90
Dave
mdwest)
85
88
88
88
88
93
88
88
88
Emmett
BMP_Emmett)
92
95
90
88
85
90
95
90
85
To view the complete scores and notes, click here.
–
Blind Cigar Review: HVC | The City First Selection 52 – Revisited
Blind Cigar Review: HVC | The City First Selection 52 – Revisited
90
Revisited Total Score - Very Good