Cigar Info
The Cuesta-Rey brand has been around since 1884. The current lines which includes the Centro Fino Sungrown collection from J.C. Newman showcases the tobacco of the Quevedo region of Ecuador incorporating a Sumatra-seed sungrown wrapper and Dominican binder and filler. It is rolled at Tabacalera A. Fuente in the Dominican Republic. The Centro Fino Sungrown comes in three sizes: Pyramid No. 9 6 1/4″ x 52, Centro Fino No. 60 6″ x 50, and Robusto No. 7 4 1/2″ x 50.
This cigar was reviewed blind (no bands) by a panel of at least 4 reviewers. They did not know what they were smoking beforehand. The scores are an average of all the reviewers' scores with outliers removed. All of our cigars reviewed are shipped to the panelists with Boveda packs to ensure optimal smoking experience.
The history of the Cuesta-Rey brand started in 1884 when a young Spanish immigrant, Angel LaMadrid Cuesta, opened a cigar factory. From there he earned a reputation as one of the best handmade cigar craftsmen and was joined some years later by Peregrino Rey. From there, the two of them formed the world-renowned Cuesta-Rey brand. Cuesta-Rey cigars were at one time  named the official cigar of 19th century Spanish King Alfonso XIII, and Señor Cuesta was give the official title, "Tobacco Purveyor for the Spanish King and Court." 
Vital Stats:
Vitola: Toro
Length: 6″
Ring Gauge: 50
Country of Origin: Dominican Republic
Wrapper: Ecuadorian Centro Fino Sungrown
Binder: Dominican Republic
Filler: Dominican Republic
Factory: Tabacalera A. Fuente
Blender: Undisclosed
Number of reviewers: 5 – Estevan Z. (TheRealBanzi) Ryan H. (Ryan H.) Jason H. (Jokey Smurf) Allison T. (The Yoga Ash) Jonathan R. (J.Lee)
Price: $7.25
Age: 8 Months
Release Date: Unknown
Contributed by: J.C. Newman
Initial Impressions
Appearance: 91
"This copper color wrapper is oily with no visible tooth. It sports tight seams and a beautiful applied triple cap. Many small sizes veins can be found throughout the entire length of this cigar. There is only one word for this cigar, elegant." –Estevan Z. (TheRealBanzi)
Aroma: 91
"Light hints almost faint floral sweetness with golden raisins and hay." –Allison T. (The Yoga Ash)
First Third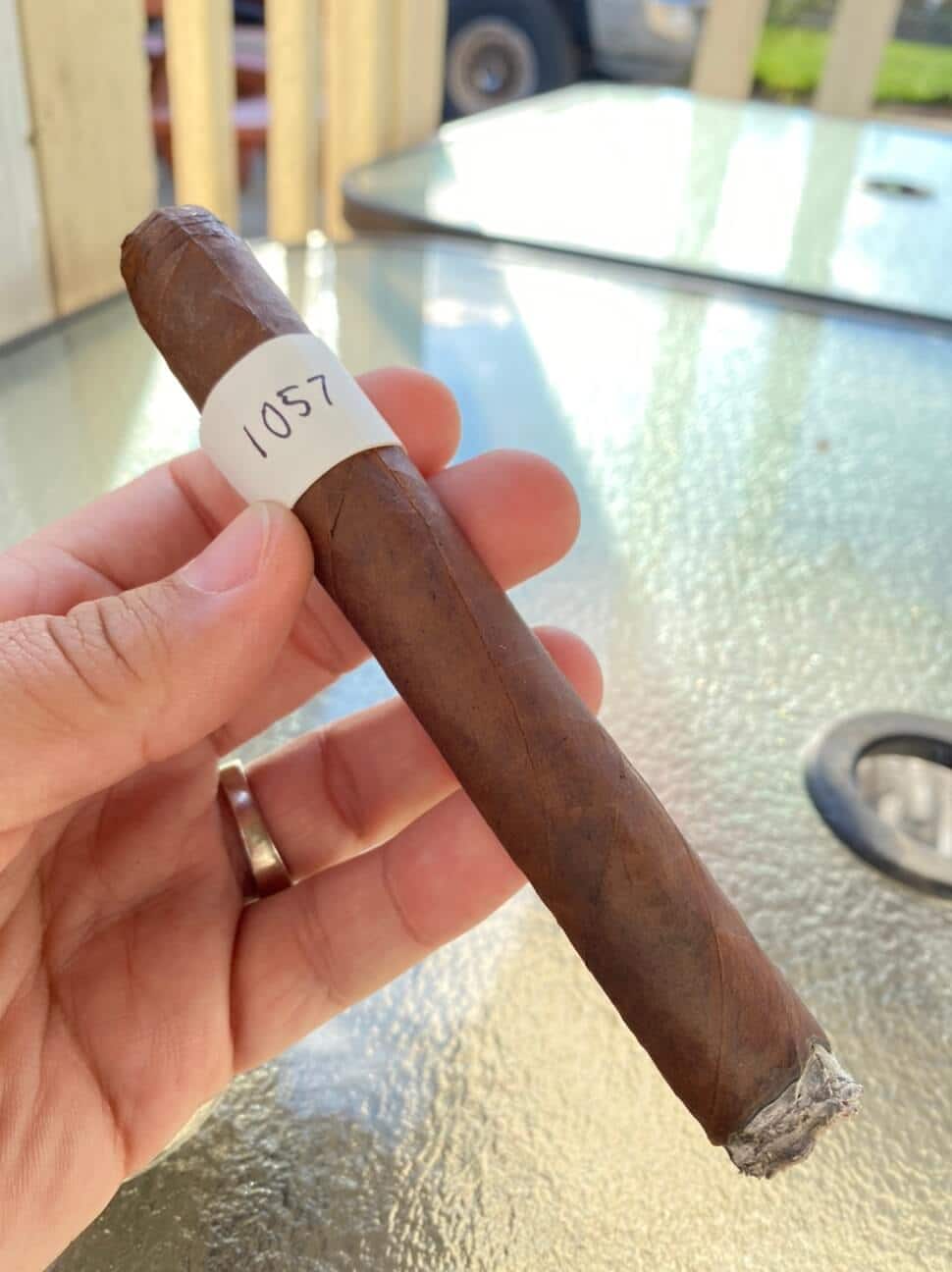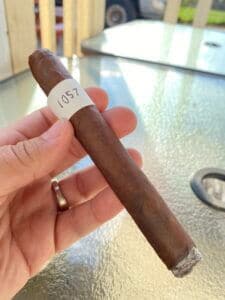 Flavor: 88
Strength: Mild-Medium
Body/Complexity: Medium
"As soon as you light this cigar there is a strong mineral component that is unpleasant, luckily this does not last. Within minutes the profile switches to more earthiness with some sweet caramel to balance it out, mainly in the retrohale. As I smoke on it becomes woody with heavy notes of cedar. The third closes with a great honey and raw walnut note that makes my mouth water. It is a great start to this cigar." –Estevan Z. (TheRealBanzi)
"This cigar started off with sweet caramelized molasses and a hint of stone fruit… through the nose the smoke is smooth and has just the slightest touch of white pepper. The flavors and smoke have me wanting to puff much more rapidly than normal. I'm really liking this cigar right now." –Jason H. (Jokey Smurf)
Second Third
Flavor: 91
Strength: Medium
Body/Complexity: Medium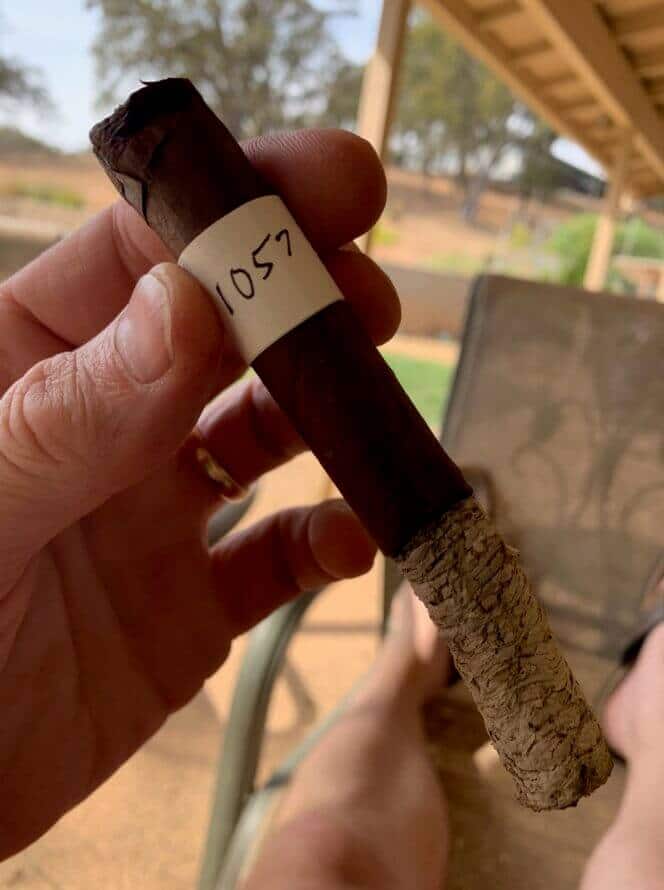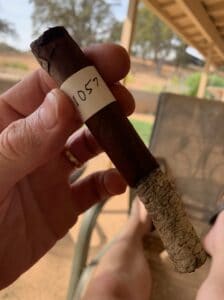 "Even with the burn I would buy multiple boxes. Light medium in strength. Very enjoyable profile wonderful draw burn frustrating at best. Citrus zest on the back end inching in." –Ryan H. (Ryan H.)
"As the third starts the raw walnut morphs into a more honey roasted walnut. Halfway through this cigar the caramel starts overtaking everything creating a wonderful sweet and savory profile. It is not unchecked thought, as the finish has a nice charred wood note bring some balance. As this second third comes to a close, vanilla and cinnamon make an appearance. That mixed with some mint, in the retrohale, is a welcomed addition to this favor profile. Definitely the best that this cigar has to offer." –Estevan Z. (TheRealBanzi)
Final Third
Flavor: 90
Strength: Mild-Medium
Body/Complexity: Medium
"The final portion of this cigar has retained the caramel nature while the specific sweetness has faded and the smoke became spicier as it heats up. Through the nose the smoke is significantly spicier and gives me a sinus zing that I'm really enjoying. " –Jason H. (Jokey Smurf)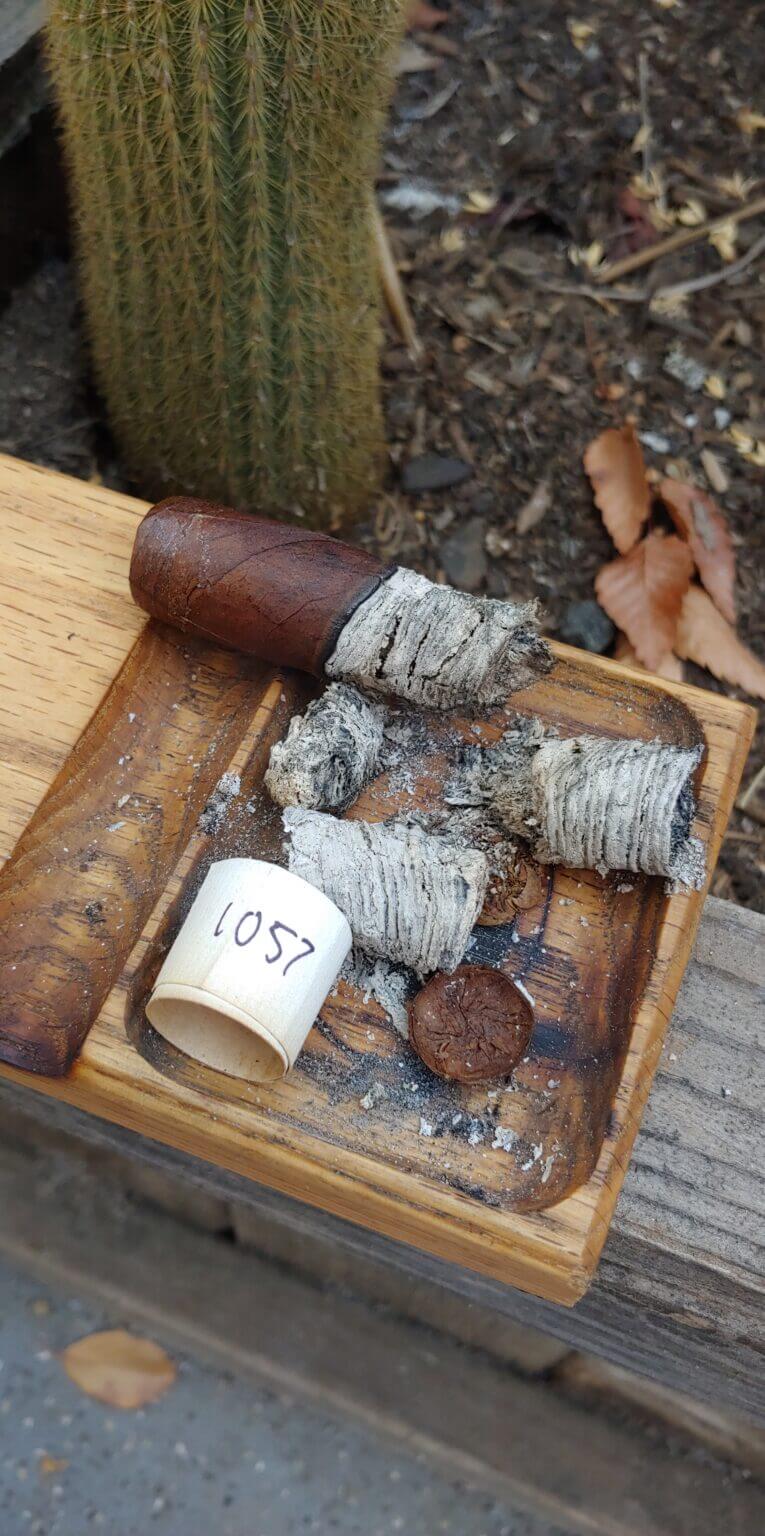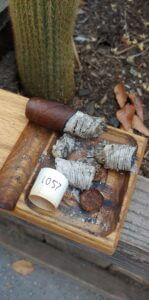 "Finally to the last 3rd and this stick has been consistent through and through. No actual transitions other than the addition of nuttiness. Smokey and consistent burn." –Jonathan R. (J.Lee)
Overall Impressions
Draw: 93
"A little tight after the initial cut but performed perfectly during the whole smoking experience. This allowed the cigar to burn nice and cool from start to finish." –Estevan Z. (TheRealBanzi)
Burn: 86
"Consistent burn, not quite laser sharp but no touch ups needed. " –Jonathan R. (J.Lee)
Construction: 93
"Construction seemed very well with tight nearly invisible seams very well applied tri cap and a full bunch. I felt the wrapped looked both delicious and of a higher quality product." –Ryan H. (Ryan H.)
Overall Strength: Mild-Medium
Overall Body/Complexity: Medium
Experience Overall: 91
"I have to say that after about 10 minutes I was feeling like this cigar was not to my liking, but all of that changed at the midway point. The last half was right in my wheelhouse and I would smoke this over and over again. I think it would pair very feel with coffee. Grab a few and give it a shot. Especially if you are a fan of a savory cigar, you won't be disappointed." –Estevan Z. (TheRealBanzi)
"Great product very relaxing and enjoyable. Get that burn under control and would be an awesome product." –Ryan H. (Ryan H.)
"If only this cigar could have lasted longer… the flavors were fun and engaging while the burn performance was exceptional. The ash lasted beyond the mid point before I tapped it out and then lasted until the nub. I would gladly smoke more of these, and gladly share with a friend." –Jason H. (Jokey Smurf)
"Will have to give this cigar ago again, once I know what it is." –Allison T. (The Yoga Ash)
"Overall this is a decent breakfast smoke with no true transitions. If you're looking for something to kill some time and not really looking for something complex. This is a nice smoke to pair with coffee. I prefer something with a little more character, even for my breakfast smoke. All in all, this is close but no cigar… Get it? Lol. -_-" –Jonathan R. (J.Lee)
Smoking Time (in minutes): 72
Reviewer

Apr

Aro

1/3

2/3

3/3

Draw

Burn

Const

Ovr
All

Estevan Z.
92
90
90
92
90
92
90
93
92
Ryan H.
90
83
95
92
92
90
83
95
90
Jason H.
90
90
90
90
90
95
95
95
95
Allison T.
85
92
85
83
75
83
83
85
83
Jonathan R.
90
92
88
88
88
92
87
90
88
To view the complete scores and notes, click here.
Blind Cigar Review: J.C. Newman | Cuesta-Rey Centro Fino Sungrown No. 60
Overall Score – 90 – Very Good
Blind Cigar Review:
J.C. Newman
| Cuesta-Rey Centro Fino Sungrown No. 60
Summary
"Overall this is a decent breakfast smoke with no true transitions. If you're looking for something to kill some time and not really looking for something complex. This is a nice smoke to pair with coffee. I prefer something with a little more character, even for my breakfast smoke. All in all, this is close but no cigar... Get it? Lol. -_-" -Jonathan R. (J.Lee)