Cigar Info
KILO is the brainchild of cigar blogger Barry Stein and the latest addition to the United Cigar portfolio. It's journey to the cigar market began in 2012 when Barry spent a few weeks at a well known factory in the Dominican Republic filling in the knowledge that he had not obtained since his entry into the cigar business in 1998.
This cigar was reviewed blind (no bands) by a panel of at least 4 reviewers. They did not know what they were smoking beforehand. The scores are an average of all the reviewers' scores with outliers removed. All of our cigars reviewed are shipped to the panelists with Boveda packs to ensure optimal smoking experience.
He blended a cigar that was well received throughout South Florida and led to a limited edition release that quickly sold out. Though the original blend was made in the Dominican Republic he wanted to work with a factory in Nicaragua that we visited in early 2015.
It was at Aroma de Jalapa that he saw his vision and dream come true with this powerhouse of a blend. The cigar features an Ecuador Habano wrapper over Nicaragua Corojo 2006 binder but the kick comes from the filler. Aged for three years, the tobacco used is all ligero with 80% coming from the factory farms in Jalapa while the other 20% comes from Aganorsa.
Described by the blender as a cigar that has a sweetness that delivers a serious kick it is available in two sizes. The robusto which is described as in your face from the initial light and the toro which is described as delivering a sucker punch. KILO is a cigar for today's cigar connoisseur that is looking for something strong. It isAvailable in 2 Sizes: Robusto (5 x 50) and Toro (6 x 52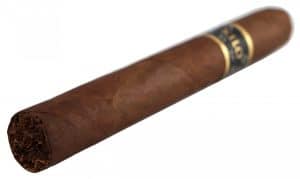 Vital Stats:
Vitola: Toro
Length: 6″
Ring Gauge: 52
Country of Origin: Nicaragua
Wrapper: Ecuadorian Habano
Binder: Nicaraguan Corojo 2006
Filler: Nicaragua
Factory: Aromas de Jalapa
Blender: Barry Stein
Number of reviewers: 4—-Gregg (McGreggor57) Jiunn (jliu) Alan (Eulogy) Stefan (Stefan)
Price: $9.50
Age: 2 Months
Release Date: August 2015
Contributed by: United Cigar Group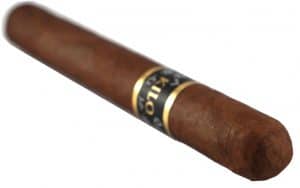 Initial Impressions
Appearance: 90
"A little black marbling in the wrapper helps hide the few veins. No noticeable seams are visible." – Gregg (McGreggor57)
Aroma: 89
"Comes through as a bit young, and seemingly (/probably) high in nicotine. Notes of leather and something verging on nostril-clearing peppermint." -Stefan (Stefan)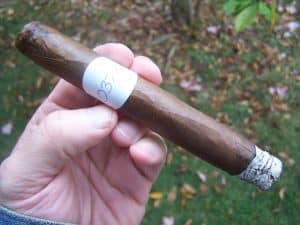 First Third
Flavor: 90
Strength: Medium-Strong
Body/Complexity: Medium
"First third's opening (first ten draws or so) gives namely a tongue sticking black pepper mixed in with the heat of a potent chili pepper (mainly fresh seeded jalapeno). Embodying to these flavors, notes of roasted nuts and semi-sweet cream. The finish lingers with the potent chili pepper. About an inch in, the upfront pepper dies but still leaving the palate with the potent chili pepper. Towards the end of the first third, I can feel a slight head buzz from the nicotine. Overall, first third's body is at a solid medium and strength at a medium plus." -Jiunn (jliu)
"There is a pretty familiar profile of chocolate, tobacco, bitter coffee, and pepper but it seems to work really well together for this cigar. None of the flavors really seem to dominate the others and it provides a really clean profile. The retro-hale has a really interesting almond flavor with a pepper finish that adds a great dimension. My only complaints is that the draw is a little loose and the wrapper is thin and causing the cigar to split a little; neither of these issues are hurting the performance of the cigar." –Alan (Eulogy)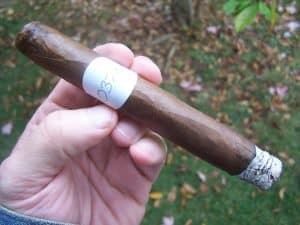 Second Third
Flavor: 88
Strength: Medium-Strong
Body/Complexity: Medium
"Second third for the most part stays true to the first third. Still a dominant black pepper spice and potent chili pepper mixed in with roasted nuts and semi-sweet cream. At certain pockets, a charred wood comes into the mix. Strength still stays at medium plus and body at a solid medium." –Jiunn (jliu)
"The flavors have grown a bit muted over this third. There are very mild notes of tobacco and leather with an occasional oscillation between pepper and bitterness on the finish. Even though I don't pick up a coffee flavor on the draw, I do notice it when I am waiting between puffs. The retro-hale has become an unsweetened heavy cream this third." –Alan (Eulogy)
Final Third
Flavor: 89
Strength: Medium-Strong
Body/Complexity: Medium
"The final third is offering up some allspice and cocoa with coffee providing a nice richness. Near the band, a little pepper returns along with some vegetal notes." –Gregg (McGreggor57)
"The final third begins with an unraveling wrapper, which I managed to put back together with some saliva. The flavor profile has now turned darker, exhibiting mostly bitter chocolate notes (again, a great pairing with a Russian Imperial Stout). The draw is unfortunately airy, and the stick shows a propensity to getting hot to touch; as such, I could barely get to the end of the last third, let alone smoke the nub." –Stefan (Stefan)
Overall Impressions
Draw: 86
"The draw was a little loose for me but didn't really cause a problem till the final third where it caused some heating issues." –Alan (Eulogy)
Burn: 90
"A great burn line with a strong ash and lots of smoke." –Gregg (McGreggor57)
Construction: 89
"The delicate wrapper split during the first third due to the heat of the cigar but it held up well otherwise. Otherwise, the cigar was firm to the touch with no soft spots, had a well applied quad cap, and nice tight seams." –Alan (Eulogy)
Overall Strength: Medium-Strong
Overall Body/Complexity: Medium
Overall Experience: 89
"I would grab this cigar again in a heartbeat. The middle third, especially, provided a wonderful balance between a nice rich coffee and some sweeter grassy notes. The presence of leather throughout helped to keep the flavors nice and creamy." –Gregg (McGreggor57)
"This type of cigar (spice dominant) is not in my flavor wheelhouse but I still respect a good powerful cigar. Even though the spice level was way above my liking, the embodiment of the roasted nuts, semi-sweet cream, and charred wood rounded out the powerful spice quite well. I would recommend this to someone that enjoys a strong cigar with rich and full throttle pepper spice. As for me, I will pass on future opportunities to smoke more and will go find some sugar to eat." –Jiunn (jliu)
"I was kind of surprised by this cigar. Normally, I find that dark leafed cigars have a boldness to the flavor and strength that carry out through the entirety of the experience. The build up in strength, especially at the end, wasn't present in this the cigar. The first third was by far my favorite and had the boldest flavors found; while the last two thirds seemed muted in comparison. It wasn't a bad cigar but it did leave me wanting more in terms of flavor and complexity." –Alan (Eulogy)
"A solid Maduro profile plagued by serious construction issues." –Stefan (Stefan)
Smoking Time (in minutes): 94
Reviewer

Appearance

Aroma

1/3

2/3

3/3

Draw

Burn

Constr.

Overall
Experience

Gregg
McGreggor57)
90
90
90
92
90
90
90
90
90
Jiunn
jliu)
90
88
88
87
88
85
95
88
88
Alan
Eulogy)
90
90
92
87
90
87
90
90
90
Stefan
Stefan)
88
88
90
87
85
85
85
83
88
To view the complete scores and notes, click here.
Blind Cigar Review: KILO | Toro
Blind Cigar Review: KILO | Toro