Cigar Info
La Aurora released the Salomon Puro Vintage 2006 starting in April. It's a 6 1/2 inch by 60 ring gauge figurado that commemorates La Aurora's 111th year in business, and it contains tobacco all culled from a 2006 harvest.
This cigar was reviewed blind (no bands) by a panel of at least 4 reviewers. They did not know what they were smoking beforehand. The scores are an average of all the reviewers' scores with outliers removed. All of our cigars reviewed are shipped to the panelists with Boveda packs to ensure optimal smoking experience.
The cigars come packaged in a period-piece replica of the original La Aurora boxes first designed in 1903. Each Salomon stands upright in the box, which opens from both the top and the front. Only 1,500 boxes of 18 cigars are scheduled for release.
Manuel Inoa of La Aurora said that the blend consists of an Ecuador Havana wrapper, Brazilian binder and filler tobacco from Nicaragua, Brazil and the Dominican Republic. All the tobacco, according to Inoa, is from a 2006 harvest. This is the fourth Puro Vintage cigar from La Aurora. The first was the Puro Vintage 2003, which was released in 2009. That cigar was followed by the Puro Vintage 2004 and the Puro Vintage 2005.
Vital Stats:
Vitola: Salomon
Length: 6.5″
Ring Gauge: 50/60
Country of Origin: Dominican Republic
Wrapper: Ecuadorian HVA
Binder: Brazil
Filler: Dominican Republic, Brazil and Nicaragua
Factory: La Aurora
Blender: Manuel Inoa
Number of reviewers: 5—–Jiunn (jliu) Dan (Danfish) Ron (shuckins) Steve (ThaGreatWazoo) Stefan (Stefan)
Price: $18.62
Age: 2 Months
Release Date: May 2015
Contributed by: Miami Cigar & Company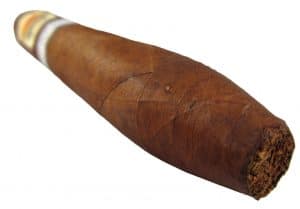 Initial Impressions
Appearance: 92
"The salomon is an intimidating shape on its own, but the sheen on what I think is a rosado wrapper dresses the cigar up nicely." –Ron (shuckins)
Aroma: 92
"Wrapper smells of namely floral, barnyard and white pepper. Foot smells of dominant white pepper followed by dry nuts. Cold draw mainly tells cedar and white pepper." –Jiunn (jliu)
First Third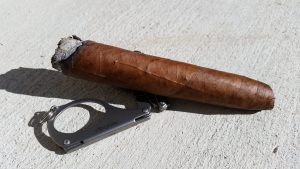 Flavor: 88
Strength: Medium
Body/Complexity: Medium
"The cigar begins with a light leather and pepper with a significant amount of dry oak. Smoke production is a bit light until the cigar burns down to the thicker part. As the smoke production increases, a smooth tobacco joins, but the dry oak blows away the rest of the flavors. The rest of the third continues the dry oak trend." –Dan (Danfish)
"The initial draws are very mild and smooth. There is a nice amount of smoke coming from the cigar. Flavor profiles throughout the first third are magnificent. Initially, I was getting a nice leather and cream flavor. Then, throughout the first third, a very smooth chocolate picked up and complimented the leather very nicely. Great smoke so far." –Steve (ThaGreatWazoo)
Second Third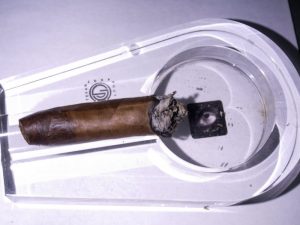 Flavor: 91
Strength: Medium
Body/Complexity: Medium-Full
"Second third gives similar core flavors as the first third. Still getting the tongue sticking oily pepper, white pepper, even more pronounced coffee and cream and dried nuts. Two main changes in the second third. First, the bitterness has now thankfully subsided. Second, the pepper is starting to lodge towards the back of my throat. Strength is creeping towards a medium plus but more on the medium side. Body now at a medium plus." –Jiunn (jliu)
"A peppery allspice brings a boost of strength, a touch of heat and the woodsy tasting tobacco to the front. The coffee picks up a rich flavor, but the dryness of the leather keeps it from shining fully through." –Ron (shuckins)
Final Third
Flavor: 91
Strength: Medium
Body/Complexity: Medium-Full
"The final third continues with a very nice mild cigar flavor and experience. The heat has picked up just a bit, but has not altered the flavors too much. The chocolate is still present, but the leather has subsided. An almost saltiness develops towards the finish. Really good cigar throughout." –Steve (ThaGreatWazoo)
"The final third introduces unexpected floral notes, most notably on the retrohale. The main flavors now are of plain tobacco with hints of sweaty leather on the palate while the spicy finish is mostly driven by white pepper notes followed by a bit of red pepper on the medium-long finish. As the smoke progresses toward the nub, so does the spiciness, changing my impression of the stogie's strength during the last third from medium at first to medium-strong at the end, bordering on strong. Close to the nub, the burn turns anemic so I found myself relighting it one last time. Finishes with a good dose of red pepper flavors." –Stefan (Stefan)
Overall Impressions
Draw: 94
"The draw was really quite nice. The figurado cap almost made the draw too little, but the cap opened up throughout and was the only small downside that I found." –Steve (ThaGreatWazoo)
Burn: 90
"Burn was mostly even apart from one instance of self-correcting canoeing." –Stefan (Stefan)
Construction: 94
"I tend to avoid perfecto shapes due to burn and construction problems being more likely. That wasn't the case here and the cigar performed admirably." –Dan (Danfish)
Overall Strength: Medium
Overall Body/Complexity: Medium-Full
Overall Experience: 89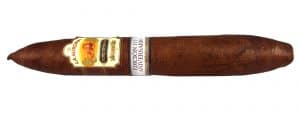 "Overall, I rate this a very good cigar. The core flavors and medium full bodied smoke is where the cigar really has me reeled in. I rarely find a non-Cuban cigar with such body. Compound that by some of my favorite flavors of coffee and cream, tempered oily chili and pepper along with dried nuts, I would gamble on this cigar being age worthy. As such, I would pick up a fiver of these to smoke down the road." –Jiunn (jliu)
"This cigar is an easy pass for me as wood flavors don't do it for me. If you're a fan of oak flavor bombs this is your cigar. The burn and construction were great so I'd have no trouble recommending to those that are a fan of oak flavors in their cigars." –Dan (Danfish)
"Not for the novice smoker, as there is a lot of tobacco action to process." –Ron (shuckins)
"This cigar was hands down my favorite blind review so far. From the flavor to the subtle changes that developed, this was a well made and well thought out cigar. Round of applause to the manufacturer. Very smooth and definitely on the lighter side. A great cigar for all types. Enjoy as many of these as you can, if you can." –Steve (ThaGreatWazoo)
"A dynamic smoke offering a few unexpected surprises in the flavor department." –Stefan (Stefan)
–
Smoking Time (in minutes): 95
Reviewer

Appearance

Aroma

1/3

2/3

3/3

Draw

Burn

Constr.

Overall
Experience

Jiunn
jliu)
88
90
88
90
90
75
83
83
90
Dan
Danfish)
88
90
85
85
85
95
92
95
85
Ron
shuckins)
95
95
90
90
90
95
85
95
90
Steve
ThaGreatWazoo)
95
95
97
95
92
93
97
97
97
Stefan
Stefan)
92
88
90
92
90
93
90
90
90
To view the complete scores and notes, click here.
–
Blind Cigar Review: La Aurora | Puro Vintage 2006
Blind Cigar Review:
La Aurora
| Puro Vintage 2006
91
Total Score - Very Good