Vital Stats: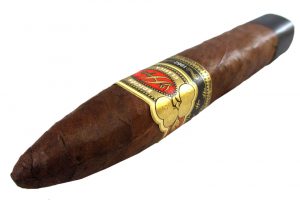 This cigar was reviewed blind (no bands) by a panel of at least 4 reviewers. They did not know what they were smoking beforehand. The scores are an average of all the reviewers' scores with outliers removed. All of our cigars reviewed are shipped to the panelists with Boveda packs to ensure optimal smoking experience.
Vitola: Belicoso
Length: 5.25″
Ring Gauge: 54
Country of Origin: Dominican Republic
Wrapper: Ecuadorian Corojo
Binder: Dominican Republic
Filler: Dominican Republic and Nicaragua
Factory: Tamboril DBL S.A.
Blender: Martin Almonte
Number of reviewers: 5—–Ron (shuckins) Steve (ThaGreatWazoo) Jiunn (jliu) Gregg (McGreggor57) Emmett (rhetorik)
Price: $11.00
Age: 2 Months
Release Date: December 2014
Contributed by: La Hoja Cigar Co.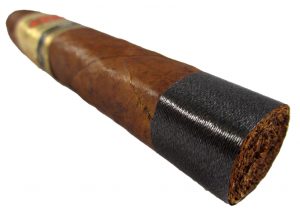 Initial Impressions
Appearance: 91
"This is a good looking, slightly box-pressed torpedo. The wrapper is fairly mottled and dark brown, not quite maduro. It's soft to the touch and has very good seam work." –Emmett (rhetorik)
Aroma: 91
"Barnyard along the length with a nice mix of barnyard and cedar at the foot. The cold draw is predominantly cedar with a little hay." –Gregg (McGreggor57)
First Third
Flavor: 91
Strength: Medium
Body/Complexity: Medium
"Initial first draws of this cigar have a smooth earthy tone coupled with wet grass and a black pepper undertone. All together, the flavors are mixing well with a smooth retrohale and clean crisp finish." –Steve (ThaGreatWazoo)
"Out of the gate, two words come to mind: powerful and bold. The cigar is giving a mouth tingling amount of black pepper followed by less noticeable flavors of charred cedar, semi-sweet cream and leather. Within the latter first third, the black pepper does taper off a little, but it is still a dominant factor. I am enjoying the cedar, leather and sour stone fruits mixing in with the pepper. I can't do a full retro-hale due to the numbing black pepper. I realize I need to carefully draw as at times the cigar does get bitter if I draw on it too frequently. First third yields a medium bodied and medium full nicotine smoke." –Jiunn (jliu)
Second Third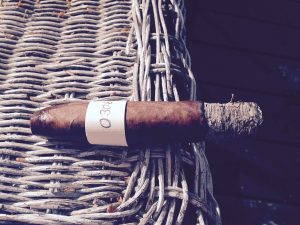 Flavor: 89
Strength: Medium-Strong
Body/Complexity: Medium
"Mild coffee with cedar begins the second third. Although not a complex profile, it's a comforting one. Nearing the halfway point, a little basil note appears on the finish and acts as a palate cleanser. The herbal component adds a dimension of freshness. It's unusual but seems to work." –Gregg (McGreggor57)
"The burn is a little crooked to start this third off, but I haven't touched it yet. A bit of citrus flavor has joined the mix which makes for a nice jump in complexity. The spices are still around and making for a great third." –Emmett (rhetorik)
Final Third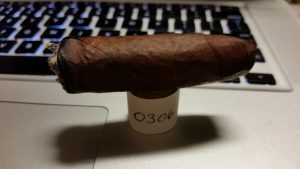 Flavor: 90
Strength: Medium-Strong
Body/Complexity: Medium
"A nutmeg flavor pushed to the front bringing both a smoothness and a fresh coffee taste with it. The cedar picks up and takes over the woodsy tobacco while letting the pepper continue to shine. This adds a favorable and much needed dimension to the cigar, along with a gentle kick at the very end." –Ron (shuckins)
"This this is the strongest this cigar gets. There is finally a layer of more traditional flavor which is charred oak, like sticking your head in a used whiskey barrel. The spices are still here, but more mild and balanced." –Emmett (rhetorik)
Overall Impressions
Draw: 92
"Very good draw. A bit on the snug side, but nothing to complain about." –Jiunn (jliu)
Burn: 93
"A fairly even burn, although a little quick, it was cool and left a soft flaky ash behind." –Ron (shuckins)
Construction: 90
"Construction of this cigar was near perfect. There were a couple small pinholes present, but they did not effect the smoking experience in any capacity." –Steve (ThaGreatWazoo)
Overall Strength: Medium-Strong
Overall Body/Complexity: Medium
Overall Experience: 89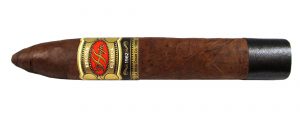 "Not a cigar with any stand out flavors. Almost boring to be honest, and one I don't think I will be smoking again any time soon." –Ron (shuckins)
"This cigar was an absolute delight. I enjoyed every aspect from beginning to end and cannot wait to find out what it was. Definitely a box worthy purchase cigar that can be enjoyed anytime by many." –Steve (ThaGreatWazoo)
"Overall, a mediocre cigar. This cigar had so much ligero in it without much other flavors. The poor burn is a testament to this ligero bomb. There needs to be more volado in this cigar to help with the burn. If you like just a raw mouth numbing pepper bomb, this is for you. As for me, this is an easy pass." –Jiunn (jliu)
"The flavors offered some interesting transitions. I really enjoyed the bit of herb during the second third as well as the back and forth of coffee and cedar of the first. My disappointment was with the constant struggle to taste enough flavors from the loose draw and keeping it lit toward the end. I would gladly smoke another one for the flavors and hope the construction issues on this one were a fluke." –Gregg (McGreggor57)
"I really liked this cigar, the first two thirds were very unique in flavor and all the way through there were nice transitions and balance of flavors. It performed very well from the techincal side as well, no complaints. I would definitely buy some of these and recommend them to just about anybody." –Emmett (rhetorik)
–
Smoking Time (in minutes): 67
Edit

| Reviewer | Appearance | Aroma | 1/3 | 2/3 | 3/3 | Draw | Burn | Constr. | Overall |
| --- | --- | --- | --- | --- | --- | --- | --- | --- | --- |
| Ron | 85 | 88 | 85 | 85 | 88 | 92 | 90 | 90 | 85 |
| Steve | 95 | 92 | 95 | 92 | 95 | 97 | 100 | 97 | 97 |
| Jiunn | 92 | 90 | 88 | 85 | 83 | 90 | 75 | 80 | 80 |
| Gregg | 90 | 90 | 90 | 90 | 88 | 88 | 88 | 85 | 88 |
| Emmett | 90 | 92 | 95 | 92 | 95 | 92 | 95 | 95 | 92 |
To view the complete scores and notes, click here.
–
Blind Cigar Review: La Hoja | Edición Clasica 1962 No. 2
Blind Cigar Review: La Hoja | Edición Clasica 1962 No. 2
90
Total Score - Very Good