Vital Stats:
Vitola: Robusto
Length: 5.5″
Ring Gauge: 50
Country of Origin: Dominican Republic
Wrapper: Dominican Criollo
Binder: Mexican San Andres
Filler: Dominican Republic and Nicaragua
Factory: Tabacalera Palma
Blender: Emma Viktorsson
Number of reviewers: 4—–Kent (Throck) Robert (NavyPiper) Emmett (BMP_Emmett) Jessica (Cigar Ninja)
Price: $7.85
Age: 2 Months
Release Date: July 2015
Contributed by: Las Cumbres Tabaco
This cigar was reviewed blind (no bands) by a panel of at least 4 reviewers. They did not know what they were smoking beforehand. The scores are an average of all the reviewers' scores with outliers removed. All of our cigars reviewed are shipped to the panelists with Boveda packs to ensure optimal smoking experience.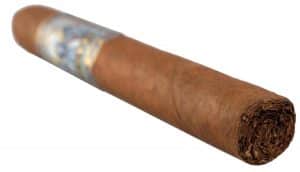 Initial Impressions
Appearance: 90
"The stogie has sort of a rustic appearance to it. Size is 5 1/2 X49. Color is a light brown with small patches that have a mild sheen to it. Color is uniform with no blemishes. There are a few moderate veins on the wrapper, but add to the rustic look. Head is flat but one area is raised a bit higher than the rest. Cap is not centered, but does cover the head." – Robert (NavyPiper)
Aroma: 89
"Notes are mainly those associated with leather and sweet woods." –Jessica (Cigar Ninja)
First Third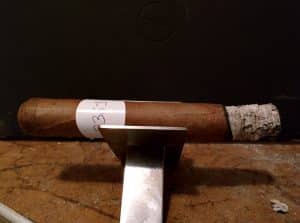 Flavor: 85
Strength: Medium
Body/Complexity: Medium
"The dry puff of the cigar was the most impressive part. Floral notes, mostly hibiscus, immediately hit my taste buds, but these flavors instantly dropped off upon the initial light. These all transformed into a conglomeration of tobacco and a touch of leather flavor. It was extremely disappointing that the floral notes did not persist." –Kent (Throck)
"First third starts off quite interesting. Initial flavors are a combination of a musty old newspaper type flavor that oddly enough isn't displeasing, and tobacco that carries a faint sweetness with it. Crazy as it sounds, these flavors work pretty well together which surprised me. Had a small issue at about 1/4 of the way in the wrapper separated. Fortunately, it stayed close enough to the stogie that it didn't cause any burn issues." –Robert (NavyPiper)
Second Third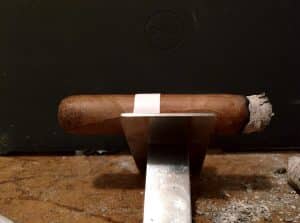 Flavor: 82
Strength: Medium
Body/Complexity: Medium-Full
"The leather flavor decreased during this section and was replaced with a very sulfur-like egg taste that was off-putting. The tobacco flavor persisted but very uni-dimensional." –Kent (Throck)
"This third is more dominated by the pine wood flavor, which you don't often get in a cigar, so I'm enjoying this. Further in, a musty earth flavor joins. These flavors continue throughout the third. The draw and burn are flawless." –Emmett (BMP_Emmett)
Final Third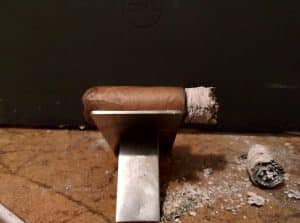 Flavor: 84
Strength: Medium-Strong
Body/Complexity: Medium
"Well, here we are now in the final third, coming up to the end of this stogie. I wish I could say there were some flavor changes, but not tonight. It has been the same flavors throughout the smoke. This has been, I think, the most consistent stogie I've ever had. If anything, it may have gotten a little stronger in strength. Although it was pretty enjoyable, I gotta admit I was ready to let it go at the end." –Robert (NavyPiper)
"Things have gotten just a little bitter towards the end here and the draw has tightened up a bit, but nothing much to complain about. There is a background of a dark roast coffee now with some spices. The finish is longer now and is pepper with a little bitter taste." –Emmett (BMP_Emmett)
Overall Impressions
Draw: 93
"The draw was perfect up until the last third when it got a little tight." –Emmett (BMP_Emmett)
Burn: 88
"Burn was OK. I'm giving it this level of rating mainly because of when the wrapper popped loose in the first third, it could have caused a lot of burn issues. It stayed pretty close to the cigar, so it really didn't affect anything. The burn was mostly straight, never razor sharp, but never wavy." –Robert (NavyPiper)
Construction: 91
"I had no problems with the construction. The wrapper held together well and no buckling or bulging occurred during the smoke." –Kent (Throck)
Overall Strength: Medium
Overall Body/Complexity: Medium
Overall Experience: 83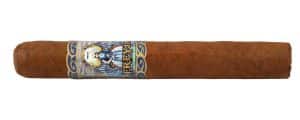 "I really did not enjoy this cigar. Its initial presentation of a light brown wrapper and double cap did not set this review off on the right foot. The smoke was incredibly dull and the flavor profile remained stagnant which had a sulfur/egg-flavor at its forefront. There was no change in complexity and I will not be purchasing this cigar again." –Kent (Throck)
"Overall, it was good. The flavors were interesting, but made a good overall flavor. It was consistent flavor wise from beginning to end, with the only real change being in the final third, when it seemed to maybe increase in strength. I gotta admit I was ready to let it go at the end as it was getting to be a bit boring in the flavor dept. I probably wouldn't smoke one everyday, but a couple of times a week might be OK just due to my preference in flavors. I prefer peppery, spicy stogies, preferably Maduros, but your mileage may vary." –Robert (NavyPiper)
"This was an excellent cigar that I think has even more potential after some more rest. I think the bitterness of the last third will go away after some more rest and allow those great flavors of coffee to shine. I would definitely buy some more of these." –Emmett (BMP_Emmett) Jessica (Cigar Ninja)
"Despite a great draw and an overall well constructed appearance, this cigar was terrible and once I know what it is, I'll make sure to never smoke one again unless paid a considerable sum of money. I know that my sample had about 2 more weeks rest than the other reviewer's sticks did as well, so I doubt it had to do with rest or condition. Maybe my stick was a fluke but I'm eager to see the other ratings." –Jessica (Cigar Ninja)
–
Smoking Time (in minutes): 68
Reviewer

Appearance

Aroma

1/3

2/3

3/3

Draw

Burn

Constr.

Overall
Experience

Kent
Throck)
88
88
85
80
75
93
90
92
79
Robert
NavyPiper)
88
88
87
87
87
93
90
88
87
Emmett
BMP_Emmett)
92
92
92
90
90
95
100
95
95
Jessica
Cigar Ninja)
92
88
74
70
0
90
70
88
70
To view the complete scores and notes, click here.
–
Blind Cigar Review: Las Cumbres Tabaco | Freyja Valhalla
Blind Cigar Review: Las Cumbres Tabaco | Freyja Valhalla