This year, Camacho Cigars announced the first release under it's new Master Built Series, Camacho American Barrel-Aged. A complex and intense new cigar experience inspired by the uncompromising American spirit, with bourbon barrel-aged Corojo at its heart.
With the spirit of America and the soul of a craftsman, Camacho American Barrel-Aged celebrates the hardworking grit of Kentucky bourbon makers and the passionate artistry of our master builders. Challenging convention at every turn. Working together to forge an intense smoking experience unlike anything else. A process that begins with the original Corojo plant, aging its legendary leaves for six years and then locking them in charred Kentucky bourbon barrels.
This cigar was reviewed blind (no bands) by a panel of at least 4 reviewers. They did not know what they were smoking beforehand. The scores are an average of all the reviewers' scores with outliers removed. All of our cigars reviewed are shipped to the panelists with Boveda packs to ensure optimal smoking experience.
Wrapped in five-year-old American broadleaf, each cigar delivers a richness and complexity characterized by oaky flavors and sweet bourbon aromas. American Barrel-Aged is truly the embodiment of uncompromising craftsmanship. Born from the inexhaustible spirit that has inspired Camacho from day one.
The blend is constructed almost entirely of American grown tobacco including a broadleaf wrapper, binder and filler, along with a maduro filler tobacco from Pennsylvania. One leaf of the six-year-old, bourbon barrel-aged Corojo tobacco was added to the recipe and is the main component that amplifies the complexity of the blend. American Barrel-Aged began shipping nationwide on Monday, June 15th and retails for $10 – $12 per cigar.
Vital Stats:
Vitola: Toro
Length: 6″
Ring Gauge: 50
Country of Origin: Dominican Republic
Wrapper: United States Broadleaf
Binder: United States Broadleaf
Filler: United States Broadleaf, Pennsylvania Maduro and Honduran Corojo
Factory: O.K. Cigars
Blender: Undisclosed
Number of reviewers: 4—–Jeff (ExpendableYouth) Craig (WyldKnyght) Gregg (McGreggor57) Sandeep (Djangos)
Price: $11.00
Age: 3 Months
Release Date: June 2015
Contributed by: Cigar Place
Initial Impressions
Appearance: 91
"Great looking toro sized cigar with a dark chocolate colored wrapper. The surface for the most part is smooth with some veins visible but not too prominent. The cigar is firm to the touch the entire length. There are no blemishes or discolorations to the wrapper either. There are at least two well applied caps present." –Sandeep (Djangos)
Aroma: 89
"The wrapper on this cigar had some sweet floral scents. The foot produce more sweetness and the dry puff tasted of nuttiness." –Craig (WyldKnyght)
First Third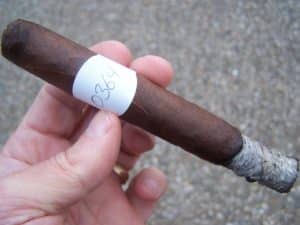 Flavor: 89
Strength: Medium
Body/Complexity: Medium-Full
"The initial flavors are cedar, white pepper, a bit of earthiness and a mineral retrohale. As I continue into the cigar, the mineral on the pre-draw is picking up intensity. The cigar is firm the whole length of the stick, and has a nice level of resistance and smoke output." –Jeff (ExpendableYouth)
"This one begins with some spiciness on the retrohale while a creamy – almost peanut butter – flavor mixes with some leather and hay. A little clove develops, most noticeably in the back of the throat." –Gregg (McGreggor57)
Second Third
Flavor: 90
Strength: Medium-Strong
Body/Complexity: Medium-Full
"The heat of the spice fades, leaving behind a nice black peppery flavor. This mixes well with the underlying leather and hay. The clove is a bit more consistent but not cloying or overpowering." –Gregg (McGreggor57)
"The middle third has the same flavor profile as the initial with the predominant flavors of hay and grass. Thankfully, now there is a stronger leather that is coming through towards the end of the third and does some to uplift the flavor profile. The pepper is also coming back towards the end of the third. There were no issues with the burn or the draw in this third." –Sandeep (Djangos)
Final Third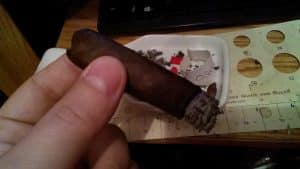 Flavor: 89
Strength: Medium-Strong
Body/Complexity: Medium-Full
"The final third of this cigar saw the flavors of wood and cedar mellow out and the pepper and spiciness really start to pick up." –Craig (WyldKnyght)
"In the final third, the flavors switch slightly away from the barnyardy profile to a more earthy profile of leather and cedar. However, those flavors are present distinctly in the background. The pepper increases in intensity towards the end of the cigar and adds a much needed oomph to the flavor profile that is mostly one dimensional for the most part except for the final third. Once again, no issues were encountered with the burn or draw." –Sandeep (Djangos)
Overall Impressions
Draw: 92
"No major issues with the draw from the start to the finish." –Sandeep (Djangos)
Burn: 91
"Lots of smoke production and a nice tight ash. While the burn line never needed a touch up, it also ran askew for a good portion of the cigar." –Gregg (McGreggor57)
Construction: 92
"I didn't have any issues with the construction of this cigar. No cracks, tunneling or unraveling." –Jeff (ExpendableYouth)
Overall Strength: Medium-Strong
Overall Body/Complexity: Medium-Full
Overall Experience: 89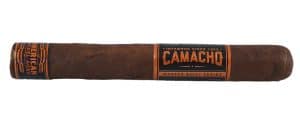 "This was a perfectly fine cigar for an everyday smoke depending on price, but it didn't wow me and doesn't really fall in my flavor wheelhouse. If you like white pepper, earthiness and mineral give this a try, if not I would look elsewhere." –Jeff (ExpendableYouth)
"I really enjoyed this cigar. There was a nice transition halfway through from the the woody cedar notes to more pepper and spice flavors, yet not too overpowering. I will definitely be trying this cigar again." –Craig (WyldKnyght)
"A slower cadence benefits this stick. Subtle changes can be detected that might otherwise be missed with a more aggressive draw. While I didn't find a basket of flavors, the transitions present, especially in the final third, were very nice. There was a comforting creaminess present throughout the majority of the cigar." –Gregg (McGreggor57)
"Overall, this was quite a one dimensional cigar with respect to the flavor profile. Luckily, some pepper and slight flavor changes in the final third made this somewhat enjoyable. I would like to try this after some time in the humidor." –Sandeep (Djangos)
–
Smoking Time (in minutes): 91
Reviewer

Appearance

Aroma

1/3

2/3

3/3

Draw

Burn

Constr.

Overall
Experience

Jeff
ExpendableYouth)
90
90
88
90
85
92
92
92
88
Craig
WyldKnyght)
92
92
92
92
92
88
88
90
92
Gregg
McGreggor57)
90
90
90
90
90
92
90
90
90
Sandeep
Djangos)
90
85
88
88
88
95
95
95
88
To view the complete scores and notes, click here.
–
Blind Cigar Review: Camacho | American Barrel Aged Toro
Blind Cigar Review: Camacho | American Barrel Aged Toro
90
Total Score - Very Good