The Oliva Tobacco Company (not to be confused with the Oliva Cigar Company) is one of the largest tobacco growers in the world for over 80 years. They are the original grower and creator of Habano Ecuador wrappers. They are also the tobacco supplier for ultra-premium handmades like Davidoff, Ashton VSG, Montecristo and many more.
​Latitude Zero takes its name from Ecuador, an homage to their supplier Oliva Tobacco Company's major growing area and the origin of the gorgeous wrapper leaf gracing their new premium brand. A R13E grade (Angel's Cut) Habano Ecuador wrapper from 2011 that's easily the finest I've ever seen. Inside, a bold cocktail of vintage 2010, Nicaraguan long-fillers all from a farm in Esteli dubbed 'The Jewel.'
This cigar was reviewed blind (no bands) by a panel of at least 4 reviewers. They did not know what they were smoking beforehand. The scores are an average of all the reviewers' scores with outliers removed. All of our cigars reviewed are shipped to the panelists with Boveda packs to ensure optimal smoking experience.
Vital Stats: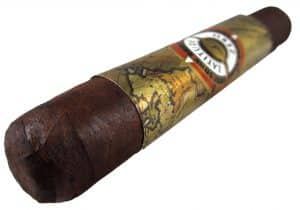 Vitola: Robusto
Length: 5″
Ring Gauge: 52
Country of Origin: Nicaragua
Wrapper: Ecuadorian Habano
Binder: Connecticut Broadleaf
Filler: Nicaragua
Factory: Undisclosed
Blender: Undisclosed
Number of reviewers: 5—–Ron (shuckins) Jiunn (jliu) Gregg (McGreggor57) Dave (mdwest) Emmett (rhetorik)
Price: $8.00
Age: 6 Months
Release Date: Undisclosed
Contributed by: Blind Man's Puff
Initial Impressions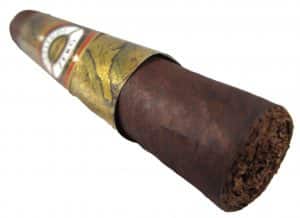 Appearance: 88
"This is a pretty good looking, if not rustic cigar. The wrapper is a very even dark brown with a slight red tint. The seams are barely visible and the double cap is perfect." –Emmett (rhetorik)
Aroma: 88
"Coffee with a peppery tobacco aroma that has a dry leather in the background." –Ron (shuckins)
First Third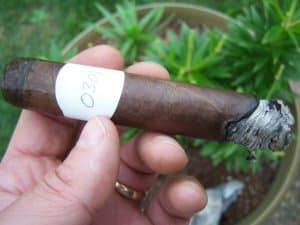 Flavor: 90
Strength: Medium
Body/Complexity: Medium
"First third's flavors namely tells rustic and dark earthy notes: gritty dirt, black coffee, black pepper and cedar. The black pepper lodges in the back of my throat but not entirely making me feel uncomfortable (just a slight tickle). Strength and body at a medium." –Jiunn (jliu)
"The first puffs are pretty mild in spice, but pack some nice flavor. I'm getting some coffee and oak. Further in, the spices pick up a bit with some black and red pepper and mingle nicely. The overall flavors are very balanced and pleasing with a nice medium body and a peppery finish." –Emmett (rhetorik)
Second Third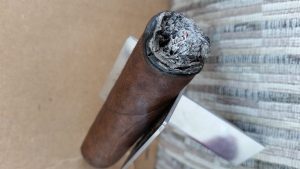 Flavor: 90
Strength: Medium
Body/Complexity: Medium
"Leather is really picking up during this third. A creamy, nutty coffee might sound strange but that's what my palate tastes. A little cedar on the retrohale adds a nice sweetness. The leather begins to fade near the end, signaling another change." –Gregg (McGreggor57)
"The second third brings a pretty interesting transition with all of the cocoa that was present in the first third completely fading away and being replaced with oak type notes in the profile." –Dave (mdwest)
Final Third
Flavor: 86
Strength: Medium
Body/Complexity: Medium
"Most of the heat fades as a lot of the pepper does as well. This lets the coffee and cedar flavored tobacco shine through, bringing a smoothness to the cigar that was greatly appreciated all the way to the end." –Ron (shuckins)
"This third hasn't been as complex as the previous, but good nonetheless. The spice has dominated most of the profile, but that isn't a bad thing. It has gotten a bit hot so I've had to slow my pace. It finished out nicely with a reduction in the spice letting the coffee come through." –Emmett (rhetorik)
Overall Impressions
Draw: 87
"Draw was on the loose end. Very similar to air breathing." –Jiunn (jliu)
Burn: 87
"A couple of minor touch ups were required while smoking, but nothing major. While the burn line was never straight, it never really got completely out of control either." –Dave (mdwest)
Construction: 86
"On the surface, there didn't appear to be any construction issues, but the draw and burn concerns led me to believe there might have been." –Gregg (McGreggor57)
Overall Strength: Medium
Overall Body/Complexity: Medium
Overall Experience: 87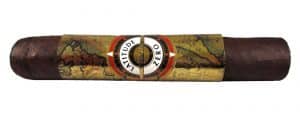 "A bit too much pepper kept the true flavors of the cigar from reaching their true potential. Perhaps more time in the humidor would change that." –Ron (shuckins)
"This was a decent cigar. I recommend this for someone who enjoys a dark, earthy cigar. My throat being tickled by the black pepper is the main reason why I viewed this as a decent/fair cigar. Perhaps this type of a earthy cigar is best paired with some bourbon or black coffee. This cigar is an easy pass for me." –Jiunn (jliu)
"The appearance, aroma and flavors of the first two thirds had the makings of a really good cigar. The transition from hearty to creaminess was appreciated. The final third, however, fell flat, developing a harshness. Draw and burn issues ultimately lowered my score." –Gregg (McGreggor57)
"Overall, a decent smoke. Flavors were a little bit muted, but were nice, and I would gladly smoke again." –Dave (mdwest)
"This was a great cigar, right in my personal wheelhouse, but I think it would appeal to a lot of smokers. It wasn't too strong, but offered a lot of strong flavor. I would definitely consider a box of these as the profile reminded of a Cuban at times. I enjoyed all of the flavors and the transitions that came with it." –Emmett (rhetorik)
–
Smoking Time (in minutes): 71
Reviewer

Appearance

Aroma

1/3

2/3

3/3

Draw

Burn

Constr.

Overall

Ron
shuckins)
88
90
88
88
87
90
87
87
87
Jiunn
jliu)
88
85
85
85
85
85
83
85
85
Gregg
McGreggor57)
90
92
90
90
85
87
87
87
87
Dave
mdwest)
88
88
90
90
87
85
85
85
87
Emmett
rhetorik)
95
85
95
95
92
97
90
92
92
To view the complete scores and notes, click here.
–
Blind Cigar Review: Latitude Zero | Robusto
Blind Cigar Review: Latitude Zero | Robusto