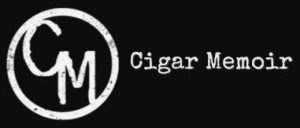 This review is the first in a series of collaboration reviews that we will be doing. We have invited cigar reviewers from other cigar review sites, podcasts, blogs, etc. to join the Blind Man's Puff staff in doing some blind reviews using our format. If this initial series goes well, then we may reach out to even more sites to make these collaboration reviews a semi regular event. This first collaboration review is with the guys from Cigar Memoir. Josh, Matt and David have a great review site with a unique rating system. We highly recommend that you check it out.
This cigar was reviewed blind (no bands) by a panel of at least 4 reviewers. They did not know what they were smoking beforehand. The scores are an average of all the reviewers' scores with outliers removed. All of our cigars reviewed are shipped to the panelists with Boveda packs to ensure optimal smoking experience.
Cigar Info
This Cameroon extension to the Decade Line was announced shortly before the IPCPR trade show this year, and was debuted there. The binder and filler of the cigar are the same as the original Decade, but the wrapper has been changed to a from Ecuadorian Sumatra to Cameroon. The Rocky Patel Decade Cameroon came about during testing of a new crop of Cameroon wrapper.  They wanted to test it with a known quantity, so they put it over the Rocky Patel Decade – and thus the Rocky Patel Decade Cameroon was born.
Vital Stats: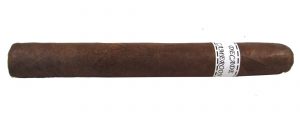 Vitola: Toro
Length: 6″
Ring Gauge: 52
Country of Origin:Honduras
Wrapper: Cameroon
Binder: Nicaragua
Filler: Nicaragua
Factory: El Paraiso
Blender: Rocky Patel
Number of reviewers: 5—–David (Cigar Memoir) Josh (Cigar Memoir) Matt (Cigar Memoir) Ron (shuckins) Emmett (rhetorik)
Price: $10.75
Age: 2 Months
Release Date: October 2014
Contributed by: Rocky Patel
Initial Impressions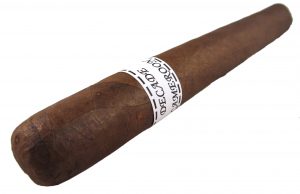 Appearance: 88
"A couple of visible veins along with a splotch of two, but still a very smoke-able looking cigar." –Ron (shuckins)
Aroma: 88
"The wrapper smells of dry earth with a bit of barnyard. The foot is likewise predominantly earthy but there is a touch of leather. The cold draw has a back end pepper that isn't too strong along with the same mineral earthy tones." –Josh (Cigar Memoir)
First Third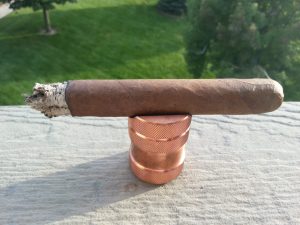 Flavor: 88
Strength: Medium-Strong
Body/Complexity: Medium
"Lots of high-pitched pepper to start it off. I'd say most reminiscent of cayenne pepper mostly through the retro with a modest tingle on the palate. Beneath the pepper are hints of cedar and a sweetness that hasn't developed enough to describe at this point. The smoke characteristic is velvety, adding a little more depth to this predominantly peppery cigar." –Matt (Cigar Memoir) "The cigar starts off a little peppery with a dry tasting cedar flavor. Things calm down soon after when a splash of nutmeg shows up and adds a little sweetness to the cedar flavor while taking the bite out of the pepper." –Ron (shuckins)
Second Third
Flavor: 86
Strength: Medium-Strong
Body/Complexity: Medium
"Let me preface this third by saying that while I like a little pepper on a cigar I believe it can overpower the flavor. This is one of those cigars. Fortunately, there is some good to be had underneath with a steady combination of earthy coffee, faint molasses-like sweetness and a bright smoky oak. The smoke has developed a more creamy mouthfeel which takes a bit of the bite off the smoke. Nearing the half, the sweetness picks up and a touch of salt comes forth." –Josh (Cigar Memoir) "This third starts off similar to the last with espresso and spice, but the spice has been amped up a bit and is actually making my tongue tingle. It's more of a cinnamon spice now. The spice continues to evolve, and I'm really liking it. It's not overpowering at all, but it is strong. Towards the end of the third, the spice turns peppery, another good transition." –Emmett (rhetorik)
Final Third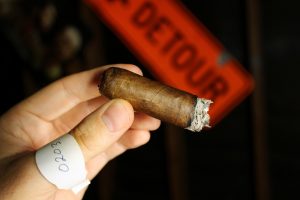 Flavor: 86
Strength: Medium-Strong
Body/Complexity: Full
"The final portions of this cigar carried forth the story from the previous two thirds. It continued to provide that nice straight tobacco flavor with the kitchen spice fading in and out. At times I almost feel like the sweetness tries to transition into a chocolate, but never quite makes it there with any affirmation. The pepper continues to be clear in the retrohale, but hides most of its presence on the tongue." –David (Cigar Memoir) "This third has hit the sweet spot. I'm getting notes from all the previous thirds at the same time, wood, cinnamon, pepper and espresso. The strength and complexity are at max right now. The draw is still perfect and the construction is flawless. At the very end, I get an added salty/savory flavor, a great finish." –Emmett (rhetorik)
Overall Impressions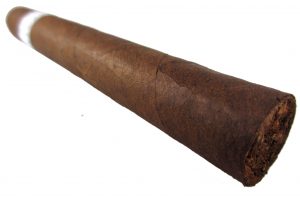 Draw: 98
"The draw was outstanding." –Matt (Cigar Memoir)
Burn: 90
"The cigar burned almost perfectly. The burn line was even for most of the cigar and never seemed to go off by more than about an eighth to a quarter of an inch before correcting. It needed no touch ups, and no help near the end to keep going." –David (Cigar Memoir)
Construction: 91
"A very firm cigar with a nice solid feel and no soft spots." –Ron (shuckins)
Overall Strength: Medium-Strong
Overall Body/Complexity: Medium-Full
Overall Experience: 86
"This cigar fits perfectly into the casual smoke category for me. Something that I would enjoy either at a crowded event or when I am relaxing with a book or a movie. Somewhere that I wouldn't want a complex and deep cigar that is begging for my attention. It was the kind of cigar where you probably aren't going to run out and tell your buddies about it, but you are quite content to be smoking it." –David (Cigar Memoir)
"The cigar started with a big punch of pepper that I hoped would fade and let the other flavors come forward but it didn't settle down until the final third. Unfortunately, by that point the flavors had become bitter. There were some nice flavor notes such as the molasses-like sweetness and coffee for most of the cigar but there wasn't a whole lot of complexity. I think age would have benefitted the cigar I smoked immensely." –Josh (Cigar Memoir)
"From being nearly overwhelmingly peppery to being overwhelmingly bitter, there are not many redeemable qualities about this particular sample. Not an enjoyable experience for me." –Matt (Cigar Memoir)
"This was a decent cigar overall, but another dimension or two would have helped it a lot." –Ron (shuckins)
"This was a really great cigar, it had everything I wanted, strength without being overpowering, balance, transitions and a profile that kept me very interested. The construction was great, and would have been prefect if not for the slight burn issue. I will definitely be buying some of these and see this as a contender for cigar of the year. Go pick some up now." –Emmett (rhetorik)
Smoking Time (in minutes): 92
Edit

| Reviewer | Appearance | Aroma | 1/3 | 2/3 | 3/3 | Draw | Burn | Constr. | Overall |
| --- | --- | --- | --- | --- | --- | --- | --- | --- | --- |
| David | 90 | 85 | 90 | 87 | 87 | 90 | 92 | 90 | 87 |
| Josh | 88 | 88 | 85 | 83 | 83 | 100 | 95 | 92 | 83 |
| Matt | 85 | 80 | 80 | 80 | 75 | 98 | 88 | 83 | 75 |
| Ron | 88 | 90 | 88 | 87 | 87 | 95 | 85 | 90 | 87 |
| Emmett | 92 | 90 | 97 | 97 | 97 | 100 | 90 | 95 | 95 |
To view the complete scores and notes, click here. –
Blind Cigar Review: Rocky Patel | Decade Cameroon Toro (Prerelease)
Blind Cigar Review: Rocky Patel | Decade
Cameroon
Toro (Prerelease)