Vital Stats:
Vitola: Robusto
Length: 4.88″
Ring Gauge: 50
Country of Origin: Cuba
Wrapper: Cuba
Binder: Cuba
Filler: Cuba
Factory: Habanos S.A.
This cigar was reviewed blind (no bands) by a panel of at least 4 reviewers. They did not know what they were smoking beforehand. The scores are an average of all the reviewers' scores with outliers removed. All of our cigars reviewed are shipped to the panelists with Boveda packs to ensure optimal smoking experience.
Blender: Habanos S.A.
Number of reviewers: 5 —– Ron (shuckins) Sandeep (Djangos) Aaron (aaron72) Dustin (CatfishBluezz) Milton (mjohnsoniii)
Price: $8.00
Age: Feb 13
Release Date: 2006
Contributed by: Cigars of Habanos (Site Sponsor)
Special thanks to Dustin (CatfishBluezz) of Cigar Federation for participating in this review with us. Be sure to check out their reviews and other cigar information at CigarFederation.com
Initial Impressions
Appearance: 91
"Nice color, but kind of rustic looking with veins and wrinkles in the wrapper." –Ron (shuckins)
Aroma: 89
"Dark honey and cinnamon. The aroma has a marked sweetness about it prelight." –Dustin (CatfishBluezz)
Construction: 91
"Seems very well constructed. Quite firm the entire length without any soft spots. Some of the veins are felt quite prominently. Cant wait to get into this one!" –Sandeep (Djangos)
First Third
Flavor: 89
Strength: Medium
Body/Complexity: Medium
"Surprisingly, the first third starts off quite tame with some barnyardy flavors and not much pepper. There is also some leather and woodsy flavors like cedar that are quite prominent. After about the first centimeter or so the pepper begins to appear and for the rest of the third ramps up quite rapidly. The pepper is very evident on the front of the tongue and on the palate. The flavors are also changing a bit to include more tobacco and a lot of nuttiness is coming through now. Prominent are hazelnuts and walnuts. The draw is a little tight but not too bad. The burn line is very straight and there is a large volume of creamy white smoke. It would have scored higher if not for the draw." –Sandeep (Djangos)
"Immediate musk and honey notes. Walnut notes hit after a few minutes. Finish had heavy earth notes indicative of young tobacco. The retrohale was nice and strong and the cigar reminded me of a PSD4 at this point. I picked up the honey, walnut and musk flavors on both the draw and retrohale, suggesting excellent depth and complexity for the first third." –Dustin (CatfishBluezz)
Second Third
Flavor: 90
Strength: Medium-Strong
Body/Complexity: Medium
"Dark honey notes really popped on the draw and retro as the most prevalent note. Earth on the finish was still strong, but not harsh, just heavy. The draw was very creamy, with cocoa powder and latte notes entering towards the midway point. This third did start to get rather grassy as well, indicating youth." –Dustin (CatfishBluezz)
"The gray ash has held on and appears to be pretty strong so far. The chocolate I tasted in the first third was a bit more noticeable at this point and the tobacco also stood out quite a bit. I had to do a relight about halfway into the second third and the flavors picked up right where they left off to include that twang." –Milton (mjohnsoniii)
Final Third
Flavor: 90
Strength: Medium-Strong
Body/Complexity: Medium-Full
"The cedar has a dryness to it as the final third starts. The tobacco is still earthy tasting, but the allspice has lost it's peppery kick. As it nears the nub, the earthiness faded and a trace of coffee flavor showed up, mostly as an after taste though." –Ron (shuckins)
"Getting a citrusy spice that is fairly drying on my palate. Definitely a large transition from the previous third." –Aaron (aaron72)
Overall Impressions
Draw: 92
"It had the perfect resistance in my opinion. It wasn't rolled too tight or loose at all." Milton (mjohnsoniii)
Burn: 90
"The burn wandered a bit at times, but always corrected itself and never needed any corrections." –Aaron (aaron72)
Overall Strength: Medium-Strong
Overall Body/Complexity: Medium-Full
Overall Experience: 89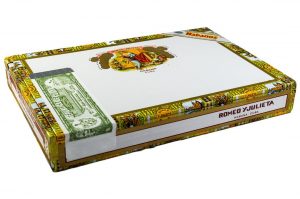 "A bit of a hot start, and a dry finish, but I enjoyed everything in between." –Ron (shuckins)
"Overall, this was a great experience. The nutty flavors that I got in this one was more pronounced than in most other cigars that I have smoked. The changes in the flavor profile was very appreciable. Definitely a repeat smoke!" –Sandeep (Djangos)
"Overall, I would say that the cigar was just good. The first half inch of the cigar was just over the top in strength. There were many transitions and they were pretty far reaching, but none of them ever moved into a great flavor for me." –Aaron (aaron72)
"This is an excellent smoke, and the youth may be part of its issues. I am pretty sure this is a Cuban cigar, and would not be surprised to find out the box code was 2012 or newer. The burn issues may be the result of humidification, and a few months at 62 or dry boxing may have cured it. My guess is by lack of a slight box press, this is a PSD4. The wrapper was a dead giveaway on the origin as well. I am honored to take part in a review like this, and had I not had the burn issues, would have scored this cigar much higher. Flavor wise, it was excellent. Pairing with a bourbon or latte would be ideal for me." –Dustin (CatfishBluezz)
"Overall, this was a really good and enjoyable smoke. Being a fan of full-bodied cigars made this a pleasure to smoke. I don't have an awful lot of time to really enjoy a cigar during the week but this was definitely an exception to that rule. I would unquestionably add some of these to my stash and, given the price point, make it a daily thing." –Milton (mjohnsoniii)
Smoking Time (in minutes): 73
Total Score: 90 (Very Good)
Edit
Reviewer
Appea-
rance
Aroma
Constr.
1/3
2/3
3/3
Draw
Burn
Overall
Ron
85
88
90
88
89
88
94
97
88
Sandeep
93
90
92
91
90
91
88
92
91
Aaron
87
86
85
87
89
88
92
90
88
Dustin
93
95
85
97
92
92
84
84
90
Milton
91
89
91
89
91
91
94
88
90
Overall
91
89
91
89
90
90
92
90
89
To view the complete scores and notes, click here.
Blind Cigar Review: Romeo y Julieta (Cuba) Short Churchill