Vital Stats: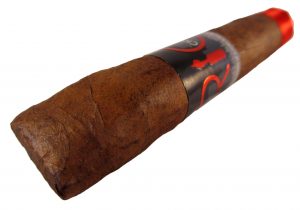 Vitola: Perfecto
Length: 4.5″
Ring Gauge: 54
Country of Origin: Dominican Republic
Wrapper: Mexican San Andres
Binder: Indonesian Sumatra
Filler: Brazilian Mata Fina, Pennsylvania Broadleaf and Dominican Piloto
Factory: Undisclosed
Blender: Jose Dominguez
Number of reviewers: 5—–Ron (shuckins) Gregg (McGreggor57) Craig (WyldKnyght) Dave (mdwest) Wes (SosaCub4Life)
Price: $6.25
Age: 4 Months
Release Date: September 2014
Contributed by: StogieBoys.com
This cigar was reviewed blind (no bands) by a panel of at least 4 reviewers. They did not know what they were smoking beforehand. The scores are an average of all the reviewers' scores with outliers removed. All of our cigars reviewed are shipped to the panelists with Boveda packs to ensure optimal smoking experience.
Initial Impressions
Appearance: 90
"Interesting looking little cigar. Small, very rustic looking chisel tip. Lots of veins and seams, loosely rolled." –Wes (SosaCub4Life)
Aroma: 92
"A well balanced combination of leather and cedar aroma are detected on the foot. Nice." –Dave (mdwest)
First Third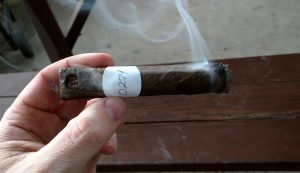 Flavor: 89
Strength: Medium
Body/Complexity: Medium-Full
"Nice coffee flavor to start, pepper quickly became the dominant flavor. There was a hint of cinnamon in there to." –Craig (WyldKnyght)
"Interesting start to the cigar. There is some nice spice and what I swear is almost some charred tobacco flavors. There is a nice almost chewy creaminess to it also that coats the tongue. It's been producing tons of smoke and so far as held a great ash." –Wes (SosaCub4Life)
Second Third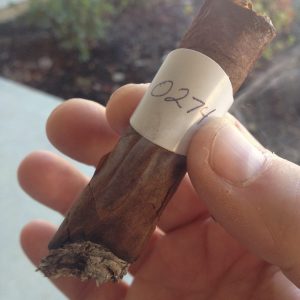 Flavor: 89
Strength: Medium
Body/Complexity: Medium
"There was a heavy wood taste keeping the rest of the flavors in check. This allows splashes and glimpses of dry coffee, along with lingering earth tasting tasting tobacco and a hopeful smooth leather working its way into the mix to shine a bit as I smoke the cigar past halfway." –Ron (shuckins)
"Thankfully, by the time I get to the second third, I have figured out that pinching the flat tip from the sides firmly helps to open the draw. The problem is in finding the balance point as too firm a pinch opens the draw so much that it kills the flavor, but not pinching firmly enough makes it almost impossible to get a decent puff. Having to play with this takes away from the smoking experience considerably. This is a shame. The flavors, when I can get them, are nice with a nutty note now making its way into the profile, which compliments the leather and cedar notes previously detected well." –Dave (mdwest)
Final Third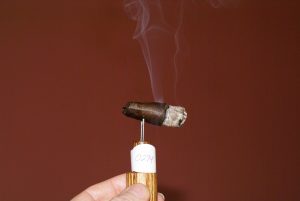 Flavor: 89
Strength: Medium
Body/Complexity: Medium
"A coffee and leather mix teamed up with a rebounding earthy tobacco blend and pushed past the woodsy flavor. This let the cigar end on a tastier note than it had been coasting along with. A splash of pepper popped in at the very end to provide a gentle kick that I definitely enjoyed." –Ron (shuckins)
"The flavors are starting to mellow, which is how I prefer the cedar and baking spices. I'm picking up an occasional hint of coffee and caramel on the finish. Nearing the end, the cedar ramps up and works well with the increase of light coffee." –Gregg (McGreggor57)
Overall Impressions
Draw: 94
"The draw was firm at first, but when it opened up there was clouds of smoke to be enjoyed." –Ron (shuckins)
Burn: 94
"Awesome smoke production, a clean burn line and a tight white ash completed the trifecta," –Gregg (McGreggor57)
Construction: 92
"The construction is interesting. It's definitely a rustic, loosely rolled cigar. It got very soft and had an overly easy draw. None of these really took away from the smoke except for the cigar getting pretty hot towards the end." –Wes (SosaCub4Life)
Overall Strength: Medium
Overall Body/Complexity: Medium-Full
Overall Experience: 89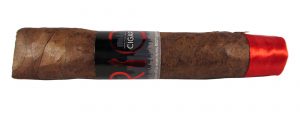 "Started a little one dimensional, with toned down flavors, but ended on a positive note as other more exciting flavors joined the fray." –Ron (shuckins)
"I was excited by the earthy tones of the first third and was equally disappointed with the complete change of direction in the middle. The final third, however, was a well balanced version of what I would've preferred with a cedar and grass profile. I would gladly smoke another one in the future." –Gregg (McGreggor57)
"I had high hopes for this cigar when I was doing the aroma section, even the first third started out good, but unfortunately it went downhill from there. I also found it hard to cut the over sized wedge cap, had to squeeze it in my cutter. I also was not fond of the feel of the wedge in my mouth." –Craig (WyldKnyght)
"Sadly, this stick gets a poor overall experience rating from me. It had a lot of potential. I liked the flavor profile quite a bit. But construction, design and performance issues caused me to spend so much time just trying to get a decent puff, that I can honestly say there was almost no joy found while trying to smoke it. I could not recommend this cigar to friend or foe." –Dave (mdwest)
"Definitely an interesting cigar. A smaller rustic chisel tip that was loosely rolled, yet had some good flavors. It produced lots of good smoke throughout, had a nice spice to it and also some nice chewy creaminess that coated the mouth. Depending on price, I might smoke this again. It's not a long smoke and did get kinda hot towards the end of the smoke. Overall, it was enjoyable but different." –Wes (SosaCub4Life)
–
Smoking Time (in minutes): 58
Edit

| Reviewer | Appearance | Aroma | 1/3 | 2/3 | 3/3 | Draw | Burn | Constr. | Overall |
| --- | --- | --- | --- | --- | --- | --- | --- | --- | --- |
| Ron | 92 | 92 | 90 | 90 | 92 | 93 | 95 | 95 | 90 |
| Gregg | 90 | 92 | 90 | 89 | 90 | 97 | 97 | 90 | 90 |
| Craig | 88 | 90 | 89 | 85 | 85 | 93 | 95 | 90 | 83 |
| Dave | 88 | 88 | 89 | 89 | 89 | 70 | 75 | 80 | 75 |
| Wes | 92 | 92 | 95 | 92 | 90 | 93 | 90 | 92 | 92 |
To view the complete scores and notes, click here.
Contest
StogieBoys.com has offered an exclusive cigar giveaway as part of this review! This giveaway includes:
A Box of RIOT Cigars
Carbon Fiber Torch Lighter
StogieBoys Ball Cap
We'll be choosing one random winner and contacting them for shipping information, so make sure you use accurate info. Contest ends 11:59PM MST 3/18/15. You must be 21 years of age or older in order to enter. US residents only. Use the rafflecopter app below to enter the giveaway contest.
Blind Cigar Review: Stogie Boys | RIOT 45
Blind Cigar Review: Stogie Boys | RIOT 45
90
Total Score - Very Good