Cigar Info
Advanced Warfare by Viva Republicsa is a sequel of sorts to the original Guerrilla Warfare line which received a 92 in our blind review here. Advanced Warfare was introduced at the this years IPCPR trade show in New Orleans. With the success of Viva Republica's Rapture lineup and Guerrilla Warfare there was great anticipation for their next cigar, the Advanced Warfare. The Advanced Warfare is comprised of an Ecuadorian Sumatra wrapper with filler tobaccos from three diverse growing regions; Nicaragua, Dominican Republic, and United States. The binder of this cigar is American Connecticut Broadleaf. Viva Republica has teamed up with La Aurora, the oldest cigar factory in the Dominican Republic, and they've taken advantage of La Aurora's extensive tobacco library to bring you these smokes. They are available in two sizes, Petit Corona: 4 x 41 and Corona: 5 1/4 x 43.
This cigar was reviewed blind (no bands) by a panel of at least 4 reviewers. They did not know what they were smoking beforehand. The scores are an average of all the reviewers' scores with outliers removed. All of our cigars reviewed are shipped to the panelists with Boveda packs to ensure optimal smoking experience.
For Advanced Warfare, Jason Holly keept the same Ecuadorian Sumatra wrapper, but changed up the rest of the blend going for a Connecticut Broadleaf binder and a combination of Dominican, Nicaraguan, and Pennsylvania tobacco for the filler. Advanced Warfare is described as a more potent and fuller-bodied smoke than the original Guerrilla Warfare.
The packaging will be similar as Guerrilla Warfare as Advanced Warfare will also be in 50 count boxes. The banding will be similar, but it will use a bright yellow and black scheme instead of a green and black scheme.
Vital Stats: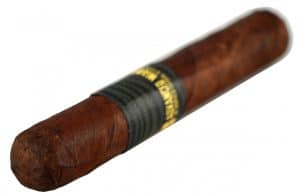 Vitola: Petite Corona
Length: 4″
Ring Gauge: 41
Country of Origin: Dominican Republic
Wrapper: Ecuadorian Sumatra
Binder: Connecticut Broadleaf
Filler: Dominican, Nicaraguan, Pennsylvania
Factory: La Aurora S.A.
Blender: Jason Holly
Number of reviewers: 4—–Jeff (ExpendableYouth) Jiunn (jliu) Kent (Throck) Robert (NavyPiper)
Price: $5.00
Age: 4 Months
Release Date: July 2015
Contributed by: Viva Republica
Initial Impressions
Appearance: 93
"The cigar has an incredibly oily, almost Colorado red wrapper. There are many dark brown veins running through the entire cigar. The roll is tight and even. The head is finished off with a well adhered triple cap." –Jiunn (jliu)
Aroma: 87
"The cigar has a musty barnyard and pepper aroma. I am pretty excited to smoke this cigar since I generally enjoy smokes with this type of aroma." –Jeff (ExpendableYouth)
First Third
Flavor: 91
Strength: Medium-Strong
Body/Complexity: Medium-Full
"First third wastes no time letting me know this will be a powerhouse of a cigar. With just 4 or 5 initial draws, I immediately notice a charred, oily and spicy pepper going straight towards the back of my throat. Unfortunately, this causes an uncomfortable irritation in my throat. Surrounding these powerful spices, notes of charred wood and dense bread/yeast. Through the retrohale, a black pepper spice is noted as well as the same dense bread/yeast. The strength by the end of the first third is a medium full and body at a medium reaching towards a medium full." –Jiunn (jliu)
"First third started off with a fairly brackish tobacco and pepper. Both are enough to put a decent burn through the sinuses. Draw is great! Ash is dark grey with flecks of black in it. Ash has lasted the length of the third, and still going. Burn is decent for the shape of the stogie." –Robert (NavyPiper)
Second Third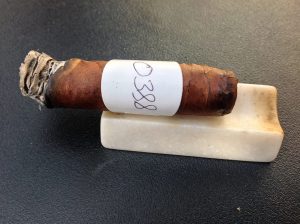 Flavor: 90
Strength: Medium-Strong
Body/Complexity: Medium
"The second third still has a lot of oily pepper that coats the whole mouth. The other core flavors of cedar, sweetness and cream are still there as well. The retrohale has a slight mineral and wood flavor to it as well that I think really rounds this smoke out." –Jeff (ExpendableYouth)
"The complexity dropped off a bit in the second third. The cherry subsided as the leather notes started taking more of a hold. The pepper tingle also diminished." –Kent (Throck)
Final Third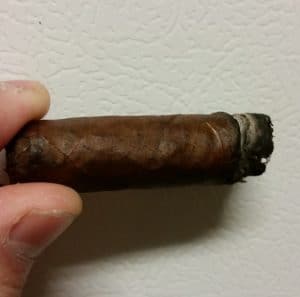 Flavor: 90
Strength: Medium-Strong
Body/Complexity: Medium
"The final third has picked up in strength, and still has a lot of pepper and cedar notes. The cream and sweetness is completely gone and I am getting some slight mineral notes and earthiness." –Jeff (ExpendableYouth)
"I think this was my favorite third. The brackishness in the tobacco finally disappeared, and tasted stronger, yet smoother. Pepper also showed an increase in strength, so changed the strength to 'Strong'. Everything else- draw, burn, ash- they all stayed pretty much the same." –Robert (NavyPiper)
Overall Impressions
Draw: 89
"The draw at the beginning was immaculate, but it firmed up on me a bit halfway through the second third. It again, leveled out in the last section." –Kent (Throck)
Burn: 89
"The burn… well considering the overall shape of the stogie, and I mean literal shape, not condition, I think it did pretty well. Was it razor sharp, nope, not with the way this thing looked, but I think it did as well as it could with what it was dealing with. I was rather impressed with it." –Robert (NavyPiper)
Construction: 84
"The cigar held together beautifully. Small bulging at the lit end during the duration of its life, but no cracking." –Kent (Throck)
Overall Strength: Medium-Strong
Overall Body/Complexity: Medium-Full
Overall Experience: 90
"This was a bit spicier than what I normally go for, but it had a lot of other flavor notes that I really like. I think with a bit of age this could be a really stellar smoke." –Jeff (ExpendableYouth)
"Overall, a disappointing cigar. I'm all for having spice in a cigar, but when a cigar (as this) namely has this dominating note that makes my throat uncomfortable, there isn't an incentive to enjoy the smoke. This is just a strong and spicy cigar with no other nuances to it. I'm thankful this was only a small petite corona… Will pass on future opportunities to smoke this again." –Jiunn (jliu)
"I loved this cigar. I was not expecting too much given its diminutive size, but the slow burn and complexity of flavors caught me completely off-gaurd. I would definitely recommend this to people looking to change up their normal cigar regimen." –Kent (Throck)
"Overall, It was a short little guy, and wasn't super attractive to look at, but it had some good points. It also had some not so good points, like it's appearance, and the brackishness in the first two thirds, etc. But I like peppery stogies, so that satisfied me in that area. Were they constructed to look this way on purpose? I have no idea, but on the overall I'll give it a 'good'." –Robert (NavyPiper)
–
Smoking Time (in minutes): 68
Reviewer

Appearance

Aroma

1/3

2/3

3/3

Draw

Burn

Constr.

Overall
Experience

Jeff
ExpendableYouth)
88
87
90
90
88
90
88
87
88
Jiunn
jliu)
95
85
78
78
78
83
78
78
78
Kent
Throck)
95
92
95
92
92
88
92
95
95
Robert
NavyPiper)
78
87
88
88
90
95
88
78
88
To view the complete scores and notes, click here.
Blind Cigar Review: Viva Republica | Advanced Warfare Petit Corona
Blind Cigar Review: Viva Republica | Advanced Warfare Petit Corona