Cigar Info
Warped and Casa Fernandez showed off their collaboration for 2015 at this year's IPCPR convention where it officially debuted. Futuro started as an idea at the 2014 IPCPR in Las Vegas between Kyle Gellis of Warped and Max Fernandez, son of Eduardo Fernandez of AGANORSA. The idea behind Futuro was simple but overly complicated, create a flavor profile and experience like nothing Warped nor Casa Fernandez has done previously.
This cigar was reviewed blind (no bands) by a panel of at least 4 reviewers. They did not know what they were smoking beforehand. The scores are an average of all the reviewers' scores with outliers removed. All of our cigars reviewed are shipped to the panelists with Boveda packs to ensure optimal smoking experience.
Utilizing AGANORSA's material from their "vault", a section of their storage facility under lock and key and home to their most prized material, life was given to this AGANORSA puro. The cigar blend details are: Wrapper: Nicaraguan Corojo '99 Filler: Nicaraguan Criollo '98 and Corojo '99 Binder: Nicaraguan Criollo '98 Body: Medium – Full.
Futuro is now offered in 2 vitolas in SLB's of 20. The selected sizes and shapes were individually chosen by Kyle and Max to reflect their own preferences while blending Futuro. KG – Selección Suprema – 5 5/8 x 46 – MSRP – $8.75 MF – Selección 109 – 6 x 52 – MSRP – $9.75 Only 400 boxes of each vitola were available for the debut at the IPCPR in New Orleans.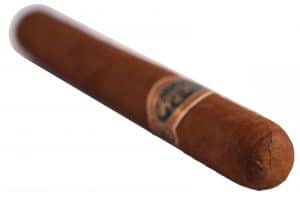 Vital Stats:
Vitola: Corona Gorda
Length: 5.6″
Ring Gauge: 46
Country of Origin: Nicaragua
Wrapper: Nicaraguan Corojo '99
Binder: Nicaraguan Criollo '98 and Corojo '99
Filler: Nicaraguan Criollo '98
Factory: TABSA
Blender: Kyle Gellis and Max Fernandez
Number of reviewers: 4—–Ryan (Youngryan216) Wes (SosaCub4Life) Robert (NavyPiper) Emmett (BMP_Emmett)
Price: $8.75
Age: 1 Month
Release Date: July 2015
Contributed by: Blind Man's Puff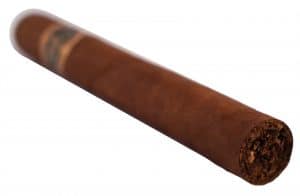 Initial Impressions
Appearance: 96
"This is a pretty interesting looking cigar. The first thing I notice is that the triple cap has a kind of flat edge to it. The rest of the cigar is pretty even in color, a little toothy and doesn't have many visible seams or veins. Overall, a good looking smoke." –Emmett (BMP_Emmett)
Aroma: 93
"The pre-light aroma is a typical barnyard / tobacco. The dry draw gives leather and a grainy spice." –Ryan (Youngryan216)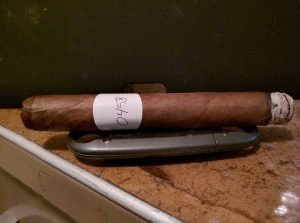 First Third
Flavor: 95
Strength: Medium
Body/Complexity: Medium-Full
"Right off the bat there is a lot of spice. A strong peppery spice, especially on the retrohale. After the initial blast of pepper, the cigar has calmed down and is settling in nicely. The smoothness and some creaminess are starting to come through." –Wes (SosaCub4Life)
"I love the first few puffs, there is a slight pepper taste, but not strong by any means, along with a light wood flavor and fresh tobacco. A little further in, the flavors shift to coffee and oak and become more complex, lingering with the spices of pepper and cinnamon. This was a fantastic third." –Emmett (BMP_Emmett)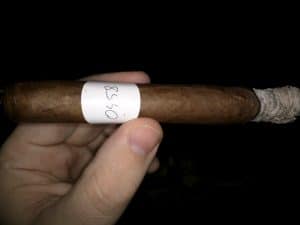 Second Third
Flavor: 93
Strength: Medium
Body/Complexity: Medium-Full
"The middle section of the cigar takes the pre-existing profile and adds some more heat, leaving a pleasant tingle on the tip of the tongue. There is a good bit of pepper at this point, but the whole-grain mustard flavor is still there along with a bit of meatiness. There is also some nuttiness to the blend that is not deep, but helps round out the spice nicely. I would compare this to the flavor profile of a less complex Illusione cg:4." –Ryan (Youngryan216)
"This third starts out with a fantastic toffee flavor that I don't get in cigars often. There is still just a hint of spice in there. This continues throughout the third and is joined by the same coffee from the first. Another great third of this cigar." –Emmett (BMP_Emmett)
Final Third
Flavor: 91
Strength: Medium-Strong
Body/Complexity: Medium-Full
"This cigar smoked well right down to the band in terms of both combustion and flavor. The final third was the strongest portion of the cigar, as I found it to gradually increase in intensity as the burn progressed. There were no real transitions in my experience, but rather an intensification of the pre-existing flavors." –Ryan (Youngryan216)
"I've reached the final third, and the strength of the flavors have increased some more, now to the point of what I feel is a medium strong. All initial flavors remain, and shortly after entering this third, some pepper joins the party, and along with the 'bite' mentioned earlier, produce a decent 'zing' through the ol' sinuses. I like how it went out like a lion rather than a lamb, if you know what I mean." –Robert (NavyPiper)
Overall Impressions
Draw: 99
"I gotta say, the draw was about dang perfect! The reaming tool got the night off, and no pinching or biting needed. It was awesome!" –Robert (NavyPiper)
Burn: 98
"The burn was almost spot on during the entire smoke." –Wes (SosaCub4Life)
Construction: 98
"Attractive? Check. Good draw? Check. Good burn? Check! This cigar was obviously made in a factory with high quality standards. This is the perfect example of a brand making me, as a smoker, curious about their other lines based on the build quality of this one." –Ryan (Youngryan216)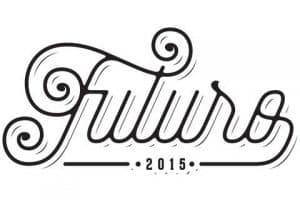 Overall Strength: Medium
Overall Body/Complexity: Medium-Full
Overall Experience: 96
"I enjoyed this smoke. The main downfall of this blend for me, was its general lack of depth. There was a good spiciness that stayed in check throughout, and the retrohale had a long, smooth finish that was not harsh at any point through the nostrils. Overall, this was a corona I could see myself reaching for after a hearty lunch or possibly pairing with a sweet sipping rum in the evening. I would comfortably buy a fiver of these knowing the blend is solid and there is some spice and complexity to keep me interested. Good construction and a flawless draw might even persuade me to pick up a 10 pack if a good deal came around. I would be curious to try this blend in other vitolas as well." –Ryan (Youngryan216)
"Overall, this was a very good cigar. It was full of flavor and had some nice spice that stayed throughout. The more you got into the cigar the smoother it got but the overall flavors and spice stayed. I would love to smoke this cigar again. I would recommend it to anyone. Just get through the initial pepper bomb at the start and you will enjoy it." –Wes (SosaCub4Life)
"This was an interesting stogie, with a set of flavors I don't usually look for which is just personal preference. I prefer peppery or spicy stogies. Ideally they'd have both and I'd be in hog heaven! But in this case, I guess it was kind of like being out in the woods far from home, and running across an old cabin that had sat empty for decades. You go in and things are straightened up and neat, but a little dusty from years of being empty. As you look around exploring this discovery, you are surprised to find an old humidor that even though it hasn't been touched in 20 or so years, it's still maintaining a good humidity level. You open the lid and find some old stogies in there. Obviously, the owner enjoyed his cigars as well, and since no one has found or entered this place in decades, and hey the stogies still are in nice condition you pull one out, clip it, light up, and sit in an old recliner after you pull off a dusty sheet from it. As you savor this stogie from years past, you pick up the flavors, the essence or aroma of the old cabin. The wood, the tobacco of the stogie, and the flavor of old newspapers on an old end table next to that recliner you just raised you legs up on as you settle down to relax and ponder this discovery out in the middle of nowhere. The stogie still has life – sure it's absorbed the atmosphere of the old cabin, but it's still got that little 'zing' someone once used to enjoy, and now you're enjoying, as you take in what could very well be a time capsule made into a cabin, and then pick up one of those old newspapers, shake off the dust, and read the latest news hot off the presses, only to find those hot presses printed those newspapers 50 years ago. That's kinda what I felt when smoking this stogie." –Robert (NavyPiper)
"This was about as close as I have come to smoking the perfect cigar. I mean, it's hard to call the flavors perfect because everyone has a different preference, but this one was right up my alley. It was medium strength, but full flavored. The draw, burn and construction were impeccable. This may be my favorite cigar I have reviewed. I am blown away." –Emmett (BMP_Emmett)
Smoking Time (in minutes): 92
Reviewer

Appearance

Aroma

1/3

2/3

3/3

Draw

Burn

Constr.

Overall
Experience

Ryan
Youngryan216)
97
93
95
90
88
100
98
100
95
Wes
SosaCub4Life)
95
93
95
97
95
98
98
98
95
Robert
NavyPiper)
85
88
88
88
88
98
88
85
88
Emmett
BMP_Emmett)
95
95
95
95
95
100
100
98
97
To view the complete scores and notes, click here.
Blind Cigar Review: Warped | Futuro Selección Suprema
Blind Cigar Review: Warped | Futuro Selección Suprema
96
Total Score - Extraordinary