Date: January 13, 2013
FOR IMMEDIATE RELEASE
AZAN CIGARS TO BEGIN 2014 WITH THE UNVEILING OF THEIR AD CAMPAIGN
(Miami, Florida) January 13, 2013— Azan Cigars by Roberto Duran Premium Cigars begins 2014 with a bang as they unveil an ad campaign this week which highlights Azan's outstanding quality and unique progressive flavor construction technique.
Roberto Pelayo Duran unveiled Azan Cigars at the 2013 IPCPR in Las Vegas promising to introduce a line of cigars that offers the same quality, construction, and detail which he exceeded from those he supervised while in Cuba. Azan Cigars represents what Roberto considers the best expression of premium cigars.
The Azan Cigar ad which will first be seen in the Cigar Snob Magazine due out next week will feature Azan's three lines which include the Burgundy, Premium White, and the soon the be released Natural Corojo Maduro. The ad alludes to Roberto's no nonsense approach to cigar manufacturing which began in Cuba as a supervisor of production. The ad's simple message of "No leather, No chocolate, and no frills" communicates Azan's move back to basics when a cigar was a simple pleasure without hype and gimmicky marketing.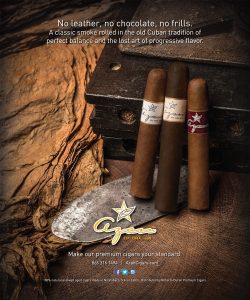 The ad will also introduce a construction method which has been lost in the free World's cigars. Progressive flavor construction is an age old Cuban technique in where cigar when lite is quite tame in taste and strength and progresses to increase in flavor and strength as the cigar is smoked. Roberto feels that there is a huge void for a classically constructed cigar that doesn't overpower the smoker. Roberto strongly feels that a cigar should be a relaxing pastime to enjoy at any point throughout the day.
Roberto Pelayo Duran began his life's work in his homeland of Havana, Cuba where tobacco grabbed a hold of him, and never let go. Supervising the production of cigar manufacturing in Cuba was only the beginning as he later went on to assemble and manage distribution of all Cuban cigar brands for Asia The Pacific Cigar Company Ltd. Most recently, he contributed to the new global brand marketing strategy for Dunhill Cigars as a consultant. Roberto's new venture allows him a platform to present Azan Cigar, which is a nod to the way cigars used to be.
Roberto has assembled a unique combination of well-known, talented, and well-traveled cigar professionals that complement each other, forming a boutique factory which focuses entirely on quality. This factory boasts only 20 couples that produce medium to full flavor cigars, with a very classic approach and excellent quality. Their craftsmanship is unrivalled and the small team allows for consistent superior quality monitoring.
Azan Cigars is one of the biggest kept secrets in the history of the Cuban cigar brands. Azan is particularly unique as it is the only Cuban cigar brand ever founded by Chinese immigrants. In 1928, Kwan Ben Sen (Domingo Azan) and his brothers, starting producing handmade cigars in Manicaragua, province of Villa Clara in Cuba. With the traditional Oriental dedication, focus and with a strike of good fortune, Domingo Azan was able to build one of the most successful tobacco brands in the center region of Cuba. Roberto Pelayo Duran stated: We are fortunate to revitalize Azan Cigars as the great-granddaughter of Domingo Azan Maria Isabel Alvarez Azan stands proudly with the Roberto Duran team.
For More info on Azan Cigars please go to www.AzanCigars.com or call 866 316 1494
You can see Azan Cigars on us Facebook
For media inquiries and interviews, please contact Creativas Group at info@creativasgroup.com or 305.968.2384.