Vital Stats:
This cigar was reviewed blind (no bands) by a panel of at least 4 reviewers. They did not know what they were smoking beforehand. The scores are an average of all the reviewers' scores with outliers removed. All of our cigars reviewed are shipped to the panelists with Boveda packs to ensure optimal smoking experience.
Vitola: Robusto
Length: 5.5″
Ring Gauge: 52
Country of Origin: Nicaragua
Wrapper: Corojo 99
Binder: Nicaragua
Filler: Nicaragua
Factory: Tabacos Valle de Jalapa S.A. (TABSA)
Blender: Arsenio Ramos
Number of reviewers: 5 —– Sandeep (Djangos) Jason H. (Jokey Smurf) Milton (mjohnsoniii) Dave (mdwest) Emmett (rhetorik)
Price: $7.10
Age: 2 Months
Release Date: 2013
Contributed by: HVC Cigars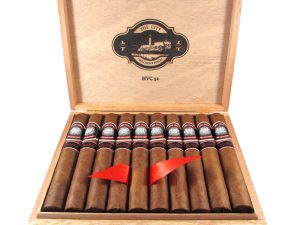 Initial Impressions
Appearance: 94
"This cigar looks great with a deep chocolate colored wrapper. The wrapper is slightly toothy with some veins visible and felt. The size is somewhere between a robusto and a toro. There are no discolorations or spots on the wrapper." -Sandeep (Djangos)
Aroma: 93
"The aroma of this cigar is really nice with a heavy cedar note. There is also a fairly strong sweetness that promises a nice smoke." –Jason H. (Jokey Smurf)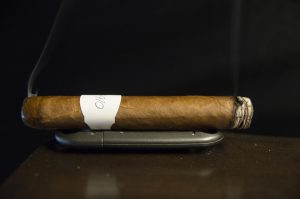 First Third
Flavor: 91
Strength: Medium
Body/Complexity: Medium
"The first third is filled with leather and grass on the front end with just a touch of pepper. While the leather and grass fade pretty quickly, the pepper lingers through a pretty long finish on each puff." –Dave (mdwest)
"From the first puff I get a ton of the leather I picked up on pre-light. Mixed in is a little barnyard and baking spices. There is almost no pepper in this cigar, and that is making it quite mild. After a while the leather shifts into a fresh bread taste." –Emmett (rhetorik)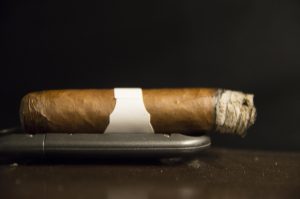 Second Third
Flavor: 88
Strength: Medium
Body/Complexity: Medium
"The middle of the second third is when I tasted a difference. The harshness mellowed out and I began tasting cedar and smokiness along with a slight hint of honey." –Milton (mjohnsoniii)
"A little sweetness has started coming around during this third, like honey or agave. The smoke is thick, and the burn and draw are solid, but there isn't much going on flavor-wise. Towards the end of this third, there are some very light and subtle flavors trying to make their way in, just a hint of nuttiness and fruitiness. Overall, I'm starting to get a little bored with the mild flavors."-Emmett (rhetorik)
Final Third
Flavor: 90
Strength: Medium
Body/Complexity: Medium
"As we enter the final third the flavors remain almost unchanging with tobacco and leather. Some faint grassy flavors may be coming through but not strong enough to notice a significant change in the flavor profile. Burn and draw are still great. As the cigar hits the last half smokable inch the pepper ramps up and stays that way till the very end. The draw and burn remain great to the very end. I am left wishing for more complexity in this otherwise quite pleasant cigar." -Sandeep (Djangos)
"One dimensional is the definition of this cigar…one very mild dimension. The flavor isn't bad, it's just non existent. I wish there was more to say, but I'd be dishonest." –Jason H. (Jokey Smurf)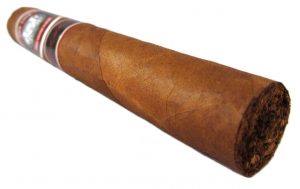 Overall Impressions
Draw: 95
"The draw was open enough to allow me to taste every nuance this cigar had to offer. It had the perfect amount of resistance to keep me a happy puffer." –Milton (mjohnsoniii)
Burn: 92
"An excellent burn. No touch ups or relights were required and the burn line stayed reasonably straight from start to finish." –Dave (mdwest)
Construction: 96
"I don't have any complaints about the construction of this cigar. It's double cap was laid almost perfectly. The wrapper was just about seamless and it was firm without soft spots or any blemishes." –Milton (mjohnsoniii)
Overall Strength: Medium
Overall Body/Complexity: Medium
Overall Experience: 89
"The cigar provides a very easy and pleasant experience. There is not much to think about and in the same vein I wish I did! The complexity is quite lacking with a very unilateral leather and tobacco profile. I will do this one again but probably will not go out looking for one." –Sandeep (Djangos)
"The performance is the real saving grace of this cigar. Based upon the total lack of flavor, I'd rate this a yard gar for me at best. Not something I'd smoke again." –Jason H. (Jokey Smurf)
"Other than the first third, this cigar turned out to be a very decent smoke. I honestly didn't think I would be able to finish it with the harshness and all. I'm glad I pushed forward because the second half started showing signs of being an excellent cigar. I'd like to try another one of these to compare the first halves. I do believe that it was only the one I smoked. We'll see." –Milton (mjohnsoniii)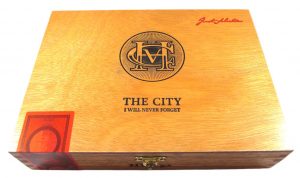 "Overall this was an excellent stick. One I would seek out and would like to smoke again. The profile continued to change from start to finish which kept me on my toes, and the flavors presented blended very well together." –Dave (mdwest)
"Overall, this smoke was good, if not average. There was nothing wrong with it, but nothing to stand out and make me say I really enjoyed it. For such a mild cigar, I would have liked to see more complexity to keep me interested. This would be a good cigar for the morning, or for a beginner. I don't know that I would recommend picking up more than one if mild cigars are your thing, and the flavors sound good to you." –Emmett (rhetorik)
Smoking Time (in minutes): 75
Total Score: 91 (Very Good)
Edit

| Reviewer | Appea-rance | Aroma | 1/3 | 2/3 | 3/3 | Draw | Burn | Constr. | Overall |
| --- | --- | --- | --- | --- | --- | --- | --- | --- | --- |
| Sandeep | 95 | 93 | 92 | 90 | 90 | 97 | 97 | 95 | 90 |
| Jason H. | 93 | 95 | 90 | 88 | 88 | 93 | 95 | 95 | 88 |
| Milton | 95 | 93 | 85 | 88 | 90 | 97 | 88 | 97 | 90 |
| Dave | 90 | 90 | 92 | 92 | 92 | 93 | 92 | 95 | 92 |
| Emmett | 95 | 93 | 88 | 88 | 90 | 88 | 85 | 85 | 88 |
| Overall | 94 | 93 | 89 | 89 | 90 | 95 | 92 | 96 | 89 |
To view the complete scores and notes, click here.
Cigar News: Blind Cigar Review: HVC | The City First Selection 52