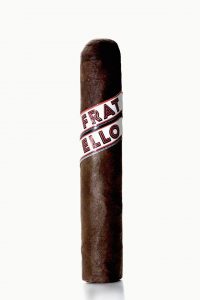 FRATELLO CIGARS TO LAUNCH FRATELLO BIANCO
Fratello Cigars, known for its name sake Fratello brand (which means "brother" in Italian) is releasing a new cigar : Fratello Bianco . It will have a soft launch at seven retailers nationwide next month before an official debut at the International Premium Cigar & Pipe Retailers IPCPR trade show in July. This is the company's second official cigar line.
"We've been a round since 2013," Omar de Frias, owner of Fratello Cigars told Cigar Insider." Most cigar companies, inducing the big guys and the boutique brands-are releasing three to four new blends a year, if not more. Our strategy was different . For our second blend, ,we wanted to wait and release something simple and effective… something that would move at retail."
The new Bianco cigar comes dressed in a white band (hence the name) and features a Mexican San Andres Negro wrapper, a binder from the Dominican Republic, and filler consisting of Nicaraguan, Peruvian and Pennsylvania broadleaf tobaccos. Though manufactured in Nicaragua, de Frias isn't disclosing the name of the factory.
Fratello Bianco will ship in 20-count boxes and will be available at retail in three sizes, each denoted by a Roman Numeral: I, at 6 1/4 inches by 44 ring gauge; II, 6 by 50; and III, 5 by 56. A fourth size, at 5 by 44, is also being made, but will only be available as an event exclusive. The cigars are priced between $8.00 and $9.00.
As for the inspiration behind the cigar, de Frias says he was looking to create something richer, darker and more full-bodied than the original Fratello line. "This cigar was over a year in the making," de Frias explained. "We didn't want to cannibalize our current blend, so we took our time perfecting Fratello Bianco."
The original Fratello line debuted at the IPCPR trade show in July of 2013. Since then de Frias said the company has grown from a small regional brand to a national brand sold in 40 States and is available at over 400 retailers.
Source: Fratello Facebook page post of Cigar Insider Article.
Cigar News: Fratello to Launch New Line: Bianco