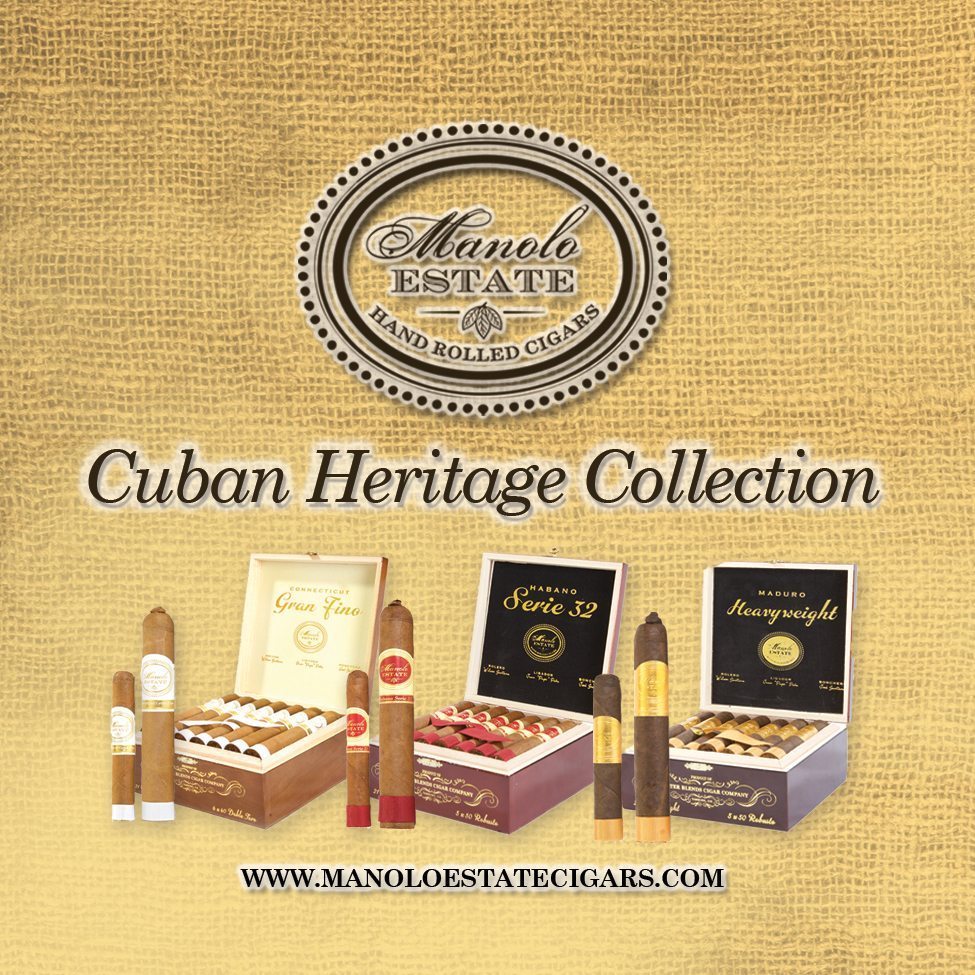 THE MASTER BLENDS CIGAR COMPANY WITH TABACALERA EL ARTISTA WILL SHOWCASE MANOLO ESTATE HAND ROLLED CIGARS AT THE 83RD ANNUAL IPCPR CONVENTION & INTERNATIONAL TRADE SHOW IN NEW ORLEANS, LOUISIANA FROM JULY 17 – 21
July 13, 2015 (Hoboken, NJ) – The Master Blends Cigar Company with Tabacalera El Artista will showcase their highly anticipated boutique brand, Manolo Estate Hand Rolled Cigars, at the 83rd Annual IPCPR Convention & International Trade Show in New Orleans, Louisiana from July 17 -21 in booth #15229.
The International Premium Cigar & Pipe Retailers Association is the oldest, largest and most active trade association representing retail tobacconists.  The official release of Manolo Estate Handmade Cigars marks the team of Luis Gutierrez and Juan Carlos Rojas' first foray into the cigar industry following their initial role as purveyors of fine premium cigars at their tobacconist shops, Ash Fine Cigars located at 203 Washington Street in Hoboken, NJ and 2915 Rt. 23 South in Newfoundland, NJ.
After a long and spirited smoke-filled journey in pursuit of the world's greatest cigars, co-founders Luis Gutierrez and Juan Carlos Rojas have teamed with Tabacalera El Artista in Tamboril, Dominican Repúblic to create a collection of master blends that is worthy of their Cuban family legacy.  The result of that relentless sojourn is Manolo Estate Handmade Cigars.
Proudly named after Juan Carlos Rojas' father Manuel "Manolo" Rojas, the official launch of this new line pays homage to the time-honored Cuban craftsmanship of both Rojas and Gutierrez's families having hand-rolled premium cigars for more than three generations.  Manolo Estate Handmade Cigars blends their families' time honored traditions with the nuances of carefully crafted experimentation and inspired innovation that they believe are the hallmark of the Master Blends Cigar Company.
The Manolo Estate Cuban Heritage Line includes three premium blends including the Gran Fino Connecticut, Serie 32 Habano and the undisputed Heavyweight Maduro.  These blends feature a masterful combination of premium tobaccos that reach a near perfect balance of complexity, flavor, consistency and aroma culminating in a divine experience that should be a required rite of passage for every cigar aficionado seeking to try the next great premium cigar.
Co-Founder Rojas described the line by saying, "Manolos are made with only the most avid cigar smokers in mind and are not intended for the meek in palate that's why each of our blends packs a flavorful punch according to their category of strength."
Gutiérrez added, "When it comes to our Manolos we aimed to imbue each blend with only the best materia prima from around the world so that each individual smoke provides a lasting experience that only a true top contender can offer."
###