Source: http://www.cigaraficionado.com/webfeatures/show/id/17125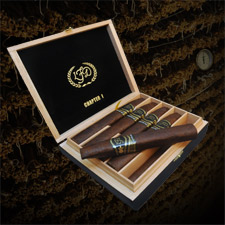 David Savona
Posted: June 28, 2013
The Chisel, the strong, distinctively tapered cigar made by Litto Gomez, is getting flat.
The La Flor Dominicana Chapter 1, a limited-edition smoke packed in a book-shaped box containing 10 cigars, is set to be unveiled next month at the cigar world's biggest trade show. The dark smoke is wrapped with an upper-priming Brazilian wrapper. The inside is a blend of Connecticut broadleaf binder and filler tobacco grown on the Dominican farm that Gomez has used for years in his signature cigars.
Most of the cigar's body is box-pressed, a first for a Chisel, and the head of the cigar has that signature flattened tip that looks like a wedge.
Gomez told Cigar Aficionado the project was the brainchild of his son Tony. "He made it fatter and he flattened it," Gomez said this morning.
When asked if the cigar was strong, Gomez replied: "Very. I think it's the strongest Chisel. The broadleaf binder kicks it up."
The Brazilian wrapper used on this smoke is from the same tobacco used for the La Flor Dominicana TAA cigar and in the Casa de Tabaco Air Bender Maduro, but from a higher priming. A high-priming leaf is grown higher on the tobacco plant, resulting in darker color and more power.