Source: http://www.cigaraficionado.com/webfeatures/show/id/17096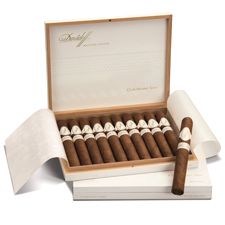 Gregory Mottola
Posted: June 4, 2013
The Davidoff Masters Edition 2013 Club House Toro, a new limited-edition cigar, is now on store shelves.
The Club House Toro measures 6 1/4 inches by 52 ring and features a three-year-old wrapper from the Yamasá region of the Dominican Republic. An Ecuadoran binder (classified as "702" by Davidoff) holds a filler blend of Dominican tobaccos that include Piloto and San Vicente varietals.
"Limited editions are like a playground for our master blenders who are free to use very rare, special and aged tobacco to create unrepeatable blends," said Davidoff in an official press release.
Only 7,000 boxes of Club House Toro are being made available. The box, which holds 10 cigars, has a subtle golf theme to the packaging. Single sticks will retail for $21.90.