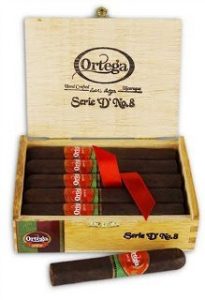 Vital Stats:
This cigar was reviewed blind (no bands) by a panel of at least 4 reviewers. They did not know what they were smoking beforehand. The scores are an average of all the reviewers' scores with outliers removed. All of our cigars reviewed are shipped to the panelists with Boveda packs to ensure optimal smoking experience.
Vitola: Robusto
Length: 5.5″
Ring Gauge: 50
Country of Origin: Nicaragua
Wrapper: Mexican Maduro
Binder: Nicaragua
Filler: Nicaragua
Factory: My Father Cigars S.A.
Blender: Eddie Ortega
Number of reviewers: 5 —– Myles (MylesT), Aaron (aaron72), Ian (Sp@rky426), Milton (mjohnsoniii), Jason (bigslowrock)
Price: $6.00
Age: 6 months
Contributed by: Emmett (rhetorik)
Initial Impressions
Appearance: 90
"Firmly box pressed, and pretty average looking. No major veins, no major cosmetic flaws. Not bad." –Myles (MylesT)
Aroma: 92
I detected mostly floral notes and hay with subtle hints of raisins. It was almost "sweet". The pre-light draw was very easy, almost too easy. –Milton (mjohnsoniii)
Construction: 90
"Nice and tight construction with no soft spots. The cigar appears well rolled for the slight box press design." –Aaron (aaron72)
"Near flawless, except for the wrapper issue noted. Does not appear to have been caused by mishandling. Draw is very free, no hard or soft spots." –Ian (Sp@rky426)
First Third
Flavor: 91
Strength: Medium
Body/Complexity: Medium
"Cocoa, tea, tobacco with a light pepper on the retrohale. Not overly complex, but pleasant." –
Jason
(bigslowrock)
"First few puffs are surprisingly creamy. I'm definitely getting the hay from the initial aroma. It has some sweetness to it, but is balanced overall. Much lighter than I had expected, but I like it. As the third progresses, I'm getting a lot of nuttiness, sweet cream, and sort of a barnyard-y character. It isn't very complex, but it is very pleasant. At the back end of this third, i'm starting to pick up some savory notes…almost a roasted meat flavor, with a bit of toasted nuts." –Myles (MylesT)
"Pre-light draw brings a taste of raisin. The draw pre-light is just slightly snug. The smoke coats the palate and has a long finish. Initially I was getting a black pepper type of sensation on my tongue. Getting some woody notes on the retrohale. The black pepper would show up on the finish after every draw, but that is starting to go away as I get to the end of the third. The burn is very straight and the salt and pepper colored ash seems solid and held on for almost the entire third." –Aaron (aaron72)
Second Third
Flavor: 90
Strength: Medium
Body/Complexity: Medium
"The ash fell at the beginning of the second third and the smoke is very prominent and creamy. The spices stand out much more and are a combination of thyme and cinnamon with a bit of toffee mixed in and provides a clean, sweet and zesty kick. So far so good." –Milton (mjohnsoniii)
"Oh, hey, there's some spice here….cinnamon, clove, cracked black pepper…not overwhelming at all. It's more in the back of the throat, while the front of the draw, and the exhale/retrohale are still on the creamy side, although with a marked decline in sweetness, which isn't a bad thing. As it goes on, the retrohale is starting to really pick up on the peppery notes, while its still creamy and nutty/meaty on the palate. Unfortunately, I'm not getting the fruit notes from the first third any longer. There's a definite ""pop"" to this stick…I can't really explain it but to say it reminds me of acidity in a wine… there's this sharp, bracing note in there that helps to balance out the richness of the stick quite well. The ash on this has held like a champ, and only dropped once" –Myles (MylesT)
Final Third
Flavor: 89
Strength: Medium-Strong
Body/Complexity: Medium
"The sweet chocolate flavor transitions in a dark bitter chocolate." –Jason (bigslowrock)
"While they aren't as prominent as during the second third, the spices are very much still present but begin to taper off and subtle hints of nuts show through. It reminds me of cinnamon-roasted almonds. I'm almost sad that its about done." –Milton (mjohnsoniii)
Overall Impressions
Draw: 92
"Draw was slightly snug which is the way I prefer it." –Aaron (aaron72)
Burn: 94
"Nice even burn all the way through, ash not very tight and couldn't hold for longer than a half inch or so." –Ian (Sp@rky426)
"Excellent burn, no relights or corrections needed. Excellent ash retention." –
Jason
(bigslowrock)
Overall Experience: 90
"Reliable and enjoyable, well made, and tasty. Certainly not amazing, and I don't know about box worthy, but I wouldn't mind having a few on hand for a nice evening at the grill or lounging on the porch." –Myles (MylesT)
"Overall the cigar was average. The flavors didn't do a whole lot for me." –Aaron (aaron72)
"From its initial spiciness to the roasted nuts of the final third, this cigar had much to offer. The complexity was above-average and left me wanting more. It is definitely one that any cigar connoisseur would love to have a few of in the humidor for their regular rotation. Other than its initial appearance, this cigar was fantastic." -Milton (mjohnsoniii)
Overall Strength: Medium-Strong
Overall Body: Medium
Smoking Time (in minutes): 83
Total Score: 90 (Very Good)

CONTEST RULES
1. You must be 18 years of age or over AND the legal age to possess tobacco in your respective address.
2. Prizes have no cash value.
3. Blind Man's Puff is not responsible for prizes damaged or lost in transit.
4. Occasionally cigars go missing, get damaged before we ship or other natural disasters occur, we reserve the right to replace a prize winning with something of equal or more value. In the event of replacement, winners will be notified before replacements are shipped.
5. In order to enter the contest you must subscribe to receive emails using the e-mail address submission widget in the upper right corner of the site. You must also put a comment in the comment section of this review.
6. Winners must claim prize by emailing info@BlindMansPuff.com within 72 hours of a winner being announced. Winners will be announced via a comment at the designated date for when contests end, it is all participants responsibility to determine if they have won.
7. Unless otherwise specified, you can only enter each contest a single time. Multiple entries will be disqualified.
8. All winners for random contests will be randomly. Contests where winners are not selected at random will be specifically noted.
9. Additional rules beyond what it is stated on this page will be explicitly stated on contests where additional rules apply.
10. By entering a contest, you accept the terms and conditions stated above.
11. Blind Man's Puff will only ship winner's cigars if they follow the above steps and email the appropriate e-mail address.
12. Blind Man's Puff reserves the right to change these rules at anytime.