Quick Cigar Review: AKA | Solace Cloud Nine
*Note: this is not a blind review, this is just to give a quick take on a cigar that was provided to us by the manufacturer.
This Solace Cloud Nine was provided to us in a sampler of the various lines by AKA Cigars. The wrapper is a 4 Year Aged Ecuadorian Connecticut. The binder is a 4 Year Aged Honduran Criollo from the Eiroa Family and the filler is a 4 and 5 Year Aged Triple Filler of Dominican and Honduran Tobaccos from the Kelner and Eiroa Families. This cigar has an MSRP of $7.75.

Initial Impressions:
There is no mistaking this for something other than a Connecticut wrapper, it has that typical light tan with a hint of green color. The cap is neat, the seams are very tight and smooth and there are minimal veins visible. A very light tobacco aroma from the wrapper and a deeper tobacco aroma from the foot.
The Smoke:
Just a very light sweetness with a hint of spice on the lips from the cold draw. I'm getting a definite woodiness on the draw and then a light pepper that lingers on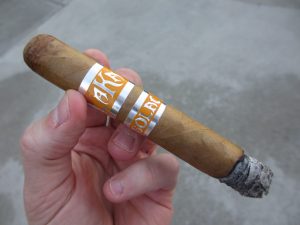 my palate. It has really started to mellow out towards the end of the first third and leaves the flavor of cedar. The cigar really produces a lot of smoke on the draw.
Into the second third, the woodiness continues with a bit of muted pepper. The ash is holding on in 1 inch increments. I start to get some light grassy notes towards the end of the third.
Right at the transition to the final third, the burn went off about ¾ of inch, but I let it keep going and it self-
corrected. Still getting the light woodiness and
grassy flavors. Not much pepper anymore.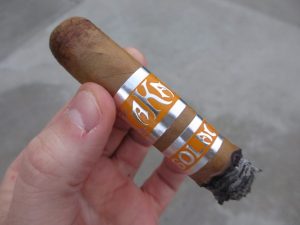 Overall Impressions:
The draw was great, just the perfect amount of resistance. The burn was very good throughout save for the fact of it going off kilter just a little bit at the start of the final third but corrected itself and caused no issues at all. This cigar was definitely a mild smoke. There weren't really any deep transitions, but that's ok. For a Connecticut wrapped cigar,
I would consider this above average. Definitely something that you could enjoy when you're looking for something mild like a morning smoke. It would also be a great cigar to share with someone that is newer to cigars. I didn't enjoy this as much as the Nth Degree, but I do have to say that this is another good cigar from AKA and makes me want to keep trying the other lines that they produce.
This lasted an hour and 55 minutes for me. I would give the AKA Solace Cloud Nine a personal score of 87.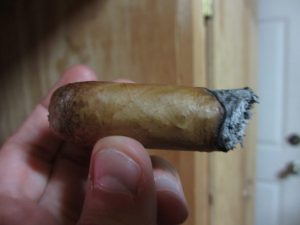 – Aaron
Quick Cigar Review: AKA | Solace Cloud Nine