Source: http://www.cigaraficionado.com/webfeatures/show/id/17113
David Savona
Posted: June 19, 2013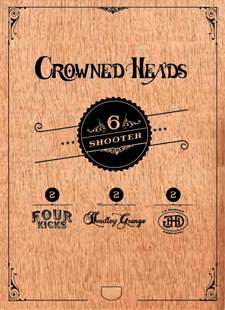 Crowned Heads LLC has two cigar brands under its belt, with a third set to debut next month. The company has now decided to put together a sampler providing a taste of all three lines in one package.
The 6 Shooter Sampler will contain two each of the following cigars: Four Kicks Sublime, which measure 6 inches long by 54 ring gauge (rated 88 points in Cigar Insider); Headley Grange Estupendos, 5 1/2 by 52 ring (rated 91 points in Cigar Aficionado and named the No. 24 cigar of 2012); and J.D. Howard Reserve HR46, a cigar that measures 6 by 46 and has yet to be released or rated.
The sampler pack will have a suggested retail price of $49.
"We felt the time was right for us to release a sampler which would allow cigar enthusiasts the opportunity to sample all three Crowned Heads cigar brands in one convenient package," said Jon Huber, who runs Crowned Heads with Mike Conder. The company is based in Nashville, Tennessee, and its cigars are rolled in the Dominican Republic at Tabacalera La Alianza S.A., run by Ernesto Perez-Carrillo.
The sampler, and the J.D. Howard Reserve brand, will debut next month at the International Premium Cigar Pipe & Retailers trade show in Las Vegas.