Vital Stats:
Vitola: Robusto
Length: 5″
Ring Gauge: 50
Country of Origin: Nicaragua
Wrapper: Ecuadorian Habano
Binder: Nicaraguan Habano
Filler: Viso Jalapa and Esteli Nicaragua, Dominican Piloto Cubano
Factory: STG Estelí (Torano)

This cigar was reviewed blind (no bands) by a panel of at least 4 reviewers. They did not know what they were smoking beforehand. The scores are an average of all the reviewers' scores with outliers removed. All of our cigars reviewed are shipped to the panelists with Boveda packs to ensure optimal smoking experience.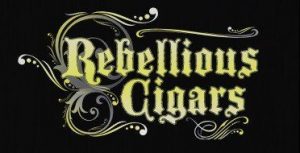 Blender: Unknown
Number of reviewers: 4 —– Craig (WyldKnyght) Ian (Sp@rky426) Derek (StogieNinja) Brian (B-daddy)
Price: $8.00
Age: 4 months rest
Release Date: July 2013
Contributed by:

Rebellious Cigars
Cigar Info
We met Rebellious Cigars at the 2013 IPCPR show. Formed in 2011, Rebellious Cigars is a Greenville, SC based distributor of ultra-premium, handmade cigars. They strive to create innovative brands that reflect their passions, interests and personalities.
From Manufacturer – "Our Rebellious Habano is our signature line. Unigue and flavorful, yet balanced and smooth, the Rebellious Habano is an extraordinary smoke! Blanded using an exquisite medley of rich Ecuadorian, Nicaraguan, and Dominican tobaccos, our Rebellious Habano is far from ordinary. Available in the following sizes: Ambition 5×50 The Southern 6×50 Mettle 6×60."
Initial Impressions
Appearance: 89
"Medium brown wrapper with some nice shine to it. No blemishes or unevenness. No large veins. One spot where a stem is poking into (not through) the wrapper. Neat roll and neat double cap. Some uncut tobacco hanging out of the foot and one spot where the seam is gaping a bit. Still a pretty cigar." –Brian (B-daddy)
Aroma: 90
"Some nice sweet aroma with hints of a caramel like smell." –Craig (WyldKnyght)
Construction: 90
"Pretty firm and even throughout its length. I mentioned the one spot where the stem is bulging into the wrapper. All-in-all, though, pretty nice." –Brian (B-daddy)
First Third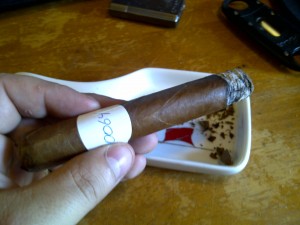 Flavor: 92
Strength: Medium
Body/Complexity: Medium-Full
"Begins with a blast of black pepper, sweet wood and cinnamon spices. At about an inch in, it settles into a nice dry wood, some pepper and a hint of chocolate and nuts, mostly on the retrohale." –Derek (StogieNinja)
"Right from the beginning, I get a nice full coffee flavor with a pepper kick on the finish, which lasts for almost a minute on my palate. Flavors get progressively more earthy, maybe some leather introduced. Pepper softens but is still there; not quite so pronounced and more enjoyable. Finish still lasting a long time. Start to pick up some nutty sweetness towards the end of this third. A nice balanced blend of flavors that just happens to be right up my alley." –Brian (B-daddy)
Second Third
Flavor: 91
Strength: Medium
Body/Complexity: Medium
"Pepper mellowed during the second third, hay-like flavor is predominate with a little hint of ash during this third. Ash continued to be nice and solid." –Craig (WyldKnyght)
"Continues much the same, with notes of sweet cedar, dry wood, pepper at the front, and chocolate and nuts on the retrohale. The chocolate gains a little in strength which is very nice. The spice is a bit more of a clove spice now, though it has has taken a bit of a backseat." –Derek (StogieNinja)
Final Third
Flavor: 91
Strength: Medium
Body/Complexity: Medium-Full
"There's not a lot of development here. The flavors remain quite pleasant, with wood, pepper, some spices, and some underlying chocolate and nuttiness. It's not a complex smoke, but it is enjoyable."-Derek (StogieNinja)
"The final third starts with good strong coffee flavors with some roasted nuts and earth. The finish has shortened a bit and the pepper flavor has softened even more. It's been replaced by subtle sweetness. (I described it before as a root beer flavor, so I'll stick with that.) As this third progresses, the sweetness transitions to a deep bittersweet chocolate with some hints of pepper. Smoke stays cool to the nub…and I'm a happy dude." –Brian (B-daddy)
Overall Impressions
Draw: 90
"Begins easy, with just the right amount of resistance. Gains a little resistance over the course of the smoke, but remains great and never gets too restrictive." –Derek (StogieNinja)
Burn: 93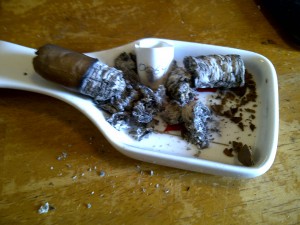 "Nice, fairly even burn, with thick, dry smoke. Never gets overly hot or harsh. Ash holds steady for an inch or more at a time." –Derek (StogieNinja)
Overall Strength: Medium
Overall Body/Complexity: Medium-Full
Overall Experience: 92
"Overall, this was a very good cigar, although not a lot of complexity. Very enjoyable and would definitely smoke it again." –Craig (WyldKnyght)
"This cigar was nice and pleasant, with really nothing to complain about. The flavors were pleasant, the burn was perfect and the draw was great. It remained a little one dimensional, and while enjoyable, it lacked charisma. I'd recommend it for sure, but wouldn't go chasing one." –Derek (StogieNinja)
"Well, this one was right on the mark for me. A flavor profile that's right in my wheelhouse; near flawless performance; and complexity that's characterized by interesting progressions of flavors, rather than wholesale transitions from profile to profile. If I had to guess, I'd say it's a DPG product; maybe the blue label. One note I'd like to mention, though. I'm a firm believer that your setting and mood influences your relative enjoyment of just about any cigar and this one probably benefited from the beautiful evening that we're having here in northern Virginia. Just a gorgeous cool clear evening and a beautiful sunset…Or maybe it's the evening that benefited from the stick?" –Brian (B-daddy)
Smoking Time (in minutes): 65
Total Score: 91 (Very Good)
Edit
Reviewer
Appea-
rance
Aroma
Constr.
1/3
2/3
3/3
Draw
Burn
Overall
Craig
90
90
90
90
90
90
90
90
90
Ian
80
89
80
87
86
82
87
82
79
Derek
89
92
91
91
91
91
92
93
91
Brian
89
88
90
94
93
93
96
97
94
Overall
89
90
90
92
91
91
90
93
92
To view the complete scores and notes, click here
Blind Cigar Review: Rebellious Cigars | Signature Series – Ambition