Vital Stats:
Vitola: Corona
Length: 5.62″
Ring Gauge: 42
Country of Origin: Brazil
Wrapper: Brazilian Mata Fina
Binder: Brazilian Mata Fina
Filler: Brazilian Mata Fina and Mata Norte
Factory: Bonsucesso Factory
Number of reviewers: 5 —– Brian (B-daddy) Craig (WyldKnyght) Gregg (McGreggor57) Sandeep (Djangos) Derek (StogieNinja)
Price: $5.60
Age: 4 months rest
Release Date: 2009
Contributed by: Monte Pascoal Premium Cigars
Cigar Info
From manufacturer – "Tabacos Mata Fina USA, an Orsi & Gensel partnership, is a member the of Tabacos Mata Fina Group and is involved with the sale, distribution, and marketing the products of Tabacos Mata Fina. Tabacos Mata Fina Ltda is a business unit of the Orsi Family Group which retains other businesses related to wine (Italy), steel (Brazil) and real estate (Brazil). Established in 2007, Tabacos Mata Fina Ltda. launched an ambitious project aiming the recognition and revival of Brazil's famed cigars. The company targets to overcome historical barriers of the cigar market supported by its basic principles: continuous investments in the infrastructure, guarantee of the best raw material, rigorous quality control, and focused marketing efforts. Tabacos Mata Fina's Bonsucesso farm & factory is located in Governador Mangabeira – Bahia in the middle of the Recôncavo Baiano area, a privileged region known for the growth of the highest quality Brazilian Tobacco. Tabacos Mata Fina has specialized itself in the manufacturing of high quality premium cigars targeting to achieve world recognition with the support of its continuous development, workforce and brands. Tabacos Mata Fina guarantees a permanent supply of the best Brazilian tobacco available."
This cigar was reviewed blind (no bands) by a panel of at least 4 reviewers. They did not know what they were smoking beforehand. The scores are an average of all the reviewers' scores with outliers removed. All of our cigars reviewed are shipped to the panelists with Boveda packs to ensure optimal smoking experience.
Initial Impressions
Appearance: 90
"Nice corona (5.5X42) sized cigar, chocolate bown in color. Some small/medium sized veins can be seen. Looks a little rough and toothy." –Craig (WyldKnyght)
Aroma: 88
"Smells of faint leather and not much else. A hint of barnyard from the foot." –Derek (StogieNinja)
Construction: 89
"Seams are nice and flat, and shape is mostly uniformly round. A few soft spots throughout but nothing overly troubling. Cap cuts cleanly and no major stems are visible at either the cap or foot. Cold draw feels about right." –Derek (StogieNinja)
First Third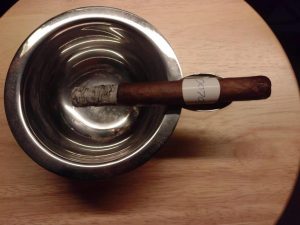 Flavor: 89
Strength: Mild-Medium
Body/Complexity: Light-Medium
"Lots of tobacco flavor on the first puff. Very oily on the tongue, sweetness is starting to come through. Lots of thick creamy smoke. Very dark solid ash. Nice even burn." –Craig (WyldKnyght)
"A bit of pepper on the first few puffs that subsided very quickly. Then a touch of kitchen spices and toast before settling into an almost zest of citrus. The flavors are bright yet complimented each other nicely. A tight medium gray ash and relatively straight burn line are a bonus." –Gregg (McGreggor57)
Second Third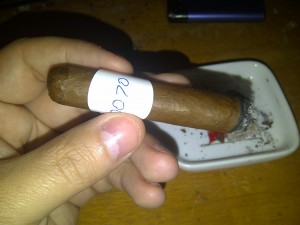 Flavor: 91
Strength: Mild-Medium
Body/Complexity: Medium
"Not too much change here. The coffee and cream are more prominent in the second third and they're complimented by some nutty flavors. The body amps up just a touch and I get a slight hint of pepper in the finish and in the retrohale." –Brian (B-daddy)
"Started to get some sweetness and pepper during the second third, very enjoyable." –Craig (WyldKnyght)
Final Third
Flavor: 91
Strength: Mild-Medium
Body/Complexity: Medium
"More of the same flavors on the final third with a bit of nuttiness to round them out. A touch more spice that comes and goes, nothing drastic. The ash and burn line remained consistent throughout the entire smoke. My only disappointment is that the cigar has been nubbed and is no more." –Gregg (McGreggor57)
"The pepper is fading at this point and the flavors have gotten quite interesting as well. The prominent flavor is of tobacco as well as some dried hay and grass. However, there are nuances of sweet spices like nutmeg. There is also a maduro like flavor but this does not seem like a maduro to me. The ash is still flaky since the start of the second third. The twang is still present but less noticeable. The burn line is still almost perfect and the draw is also almost perfect." –Sandeep (Djangos)
Overall Impressions
Draw: 92
"Almost perfect draw throughout." –Sandeep (Djangos)
Burn: 93
"Reasonably straight burn line. Never had a problem with the burn, and it put out a nice amount of smoke." –Derek (StogieNinja)
Overall Strength: Mild-Medium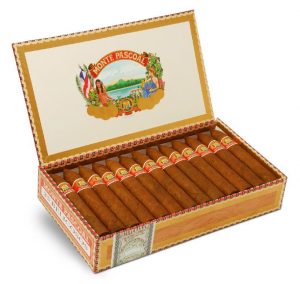 Overall Body/Complexity: Medium
Overall Experience: 92
"This cigar was VERY consistent, almost boring in its uniformity but I really liked the flavor profile and performance. It was like an old pair of loafers that you wouldn't wear out to a fancy occasion but you want to put on as soon as you get home. I'd buy these and keep them around for when you want a super consistent easy smoke." –Brian (B-daddy)
"Very good cigar, right in the middle of my profile, a little spice, lots of sweetness. Lots of thick creamy smoke. Can't wait to find out what this was." –Craig (WyldKnyght)
"Simply a great cigar. One that I would keep on hand at all times." –Gregg (McGreggor57)
"When it was good, it was nice, but far too sweet. The rest of the time, the bitterness, chemical aftertaste and burnt plastic ruined any chance of enjoyment." –Derek (StogieNinja)
"The cigar started off quite mediocre but picked up quite well towards the beginning of the second third and after that just improved for the rest of the duration of the burn. The 'twang like flavor was much appreciated and the pepper was also quite refreshing after the first third. The burn and the draw were to die for. I will definitely try another of these again!" –Sandeep (Djangos)
Smoking Time (in minutes): 64
Total Score: 91 (Very Good)
Edit
Reviewer
Appea-
rance
Aroma
Constr.
1/3
2/3
3/3
Draw
Burn
Overall
Brian
92
89
92
90
90
91
89
100
92
Craig
89
83
89
86
89
90
92
92
92
Gregg
91
91
89
90
93
92
91
93
93
Sandeep
89
88
89
90
91
91
94
94
90
Derek
86
86
90
85
75
50
97
91
50
Overall
90
88
89
89
91
91
92
93
92
To view the complete scores and notes, click here