For new readers who are unfamiliar with our previous collaboration reviews, we have invited cigar reviewers from other cigar review sites, podcasts, blogs, etc. to join the Blind Man's Puff staff in doing blind reviews using our format. This collaboration review is with Will from Cigar-Coop and Rob from Cigar Federation.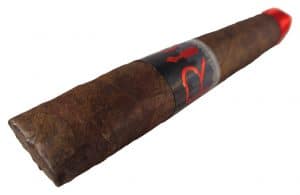 This cigar was reviewed blind (no bands) by a panel of at least 4 reviewers. They did not know what they were smoking beforehand. The scores are an average of all the reviewers' scores with outliers removed. All of our cigars reviewed are shipped to the panelists with Boveda packs to ensure optimal smoking experience.
Vital Stats:
Vitola: Perfecto
Length: 5.5″
Ring Gauge: 54
Country of Origin: Dominican Republic
Wrapper: Mexican San Andrés
Binder: Indonesian Sumatra
Filler: Brazilian Mata Fina, Pennsylvania Broadleaf and Dominican Piloto
Factory: Undisclosed
Blender: Jose Dominguez
Number of reviewers: 4—–Ron (shuckins) Will (Cigar-Coop) Rob (Cigar Federation) Wes (SosaCub4Life)
Price: $6.75
Age: 7 Months
Release Date: September 2014
Contributed by: StogieBoys.com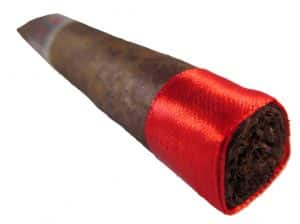 Initial Impressions
Appearance: 93
"I love the look and feel of this "chisel" shape. Vitolas like this show true craftsmanship and when I see them in the shop I tend to grab them. The wrapper has a "worn leather" look to it and the shape feels good in the hand." –Rob (Cigar Federation)
Aroma: 94
"The aroma notes are subtle at best. It delivers a slight combination of barnyard and cocoa." –Will (Cigar-Coop)
First Third
Flavor: 89
Strength: Medium
Body/Complexity: Medium
"This cigar isn't going to overpower you with nicotine and is somewhat dialed back. The flavors are a combination of espresso, earth and black pepper. The espresso note has somewhat of a sweet quality to it. The black pepper and earth are more complimentary notes on the tongue. The spice is more prominent on the retrohale." –Will (Cigar-Coop)
"I double punched the chisel tip as I do with every chisel I smoke. Off the start, the cigar is very mellow with some creamy sweetness. The only spice I'm detecting is on the retohale. As I smoke it down more there is just barely a hint of spice and the cigar is almost all a very mild, mellow creamy cigar. One thing that has amazed me is the amount of smoke being produced by this stick. It is a smoke bomb." –Wes (SosaCub4Life)
Second Third
Flavor: 88
Strength: Medium
Body/Complexity: Medium
"Coffee and cedar blend well together for a palate pleasing flavor. The pepper ups its game a notch to boost the strength level, while the leather lingers in the background and struggles to bring its creamy smoothness forward." –Ron (shuckins)
"There is still a dominant espresso sweetness, but past the midway point it becomes more of classic roasted coffee note. The pepper notes have increased and the earthy notes are distant." –Will (Cigar-Coop)
Final Third
Flavor: 88
Strength: Medium
Body/Complexity: Medium
"Creamy smooth as the leather breaks through, followed closely by the cedar and coffee mix. The tobacco kept most of its peppery goodness, although there wasn't enough of it left to produce more than a tap on the shoulder style kick at the very end." –Ron (shuckins)
"The final third was an improvement. Black pepper took over as the main flavor note along with a resurgence of the cedar and earthy notes. The sweetness was all but gone. The ramp up in flavor added some much needed dimension, but little balance." –Rob (Cigar Federation)
Overall Impressions
Draw: 92
"A surprisingly good draw considering I didn't have a v-cutter. Still plenty of cool tasty smoke throughout." –Ron (shuckins)
Burn: 88
"The burn was all over the place, but the cigar never went out on me." –Rob (Cigar Federation)
Construction: 92
"Construction was very good. The cigar held a great ash and produced tons of smoke." –Wes (SosaCub4Life)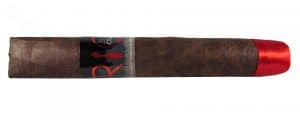 Overall Strength: Medium
Overall Body/Complexity: Medium
Overall Experience: 88
"I really enjoyed this cigar. It was both fun and tasty to smoke and I would definitely smoke another one as well as recommend it to a friend." –Ron (shuckins)
"While this cigar didn't have the best construction, burn or draw, I did enjoy the flavors this cigar produced. However, most of this cigar was still one dimensional and it didn't give me a lot in the way of complexity. This is probably a cigar worth smoking again, but much would depend on the price point." –Will (Cigar-Coop)
"This cigar was OK. The profile was a bit hectic and there was nothing that I truly loved about it other than the shape. It started off with nice balance of flavor, but went downhill form there." –Rob (Cigar Federation)
"Overall, this cigar is just not for me. It was too mild and mellow overall. The lack of spice made me lose my interest. Overall, it had some dull chocolate notes and was creamy as well as being well made. The flavors just didn't do it for me." –Wes (SosaCub4Life)
–
Smoking Time (in minutes): 76
Reviewer

Appearance

Aroma

1/3

2/3

3/3

Draw

Burn

Constr.

Overall
Experience

Ron
shuckins)
97
97
90
92
92
92
85
97
92
Will
Cigar-Coop)
85
88
88
88
88
85
85
85
85
Rob
Cigar Federation)
93
93
90
85
88
92
88
88
85
Wes
SosaCub4Life)
97
97
90
88
85
97
95
97
88
To view the complete scores and notes, click here.
–
Blind Cigar Review: Stogie Boys | RIOT 55
Blind Cigar Review: Stogie Boys | RIOT 55
90
Total Score - Very Good