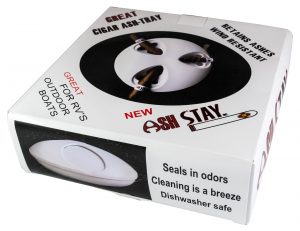 A while back I received a sample of a new kind of ashtray called the Ash Stay. It's claim was to prevent wind from blowing ashes out of the tray and make for a less-messy experience. The story behind Ash Stay is this: The now owners of ASH-STAY are two long time cigar smokers that got tired of arguing with their wives about messy ashes and smelly smoke. Lenny and Rich soon realized that their old ash tray was no longer cutting it. The two quickly put their ideas in motion, and came up with an amazing affordable solution: ASH-STAY. After Lenny and Rich created a few prototypes, they gave out ASH-STAY to a few close friends that were having the same problem. The response was unanimous and ASH-STAY was a hit! No more blowing ashes and smoke. Lenny and Rich are currently in the process of developing a smaller version of ASH-STAY, exclusively for cigarettes, and travel.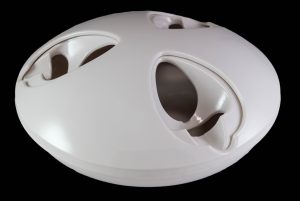 In putting the Ash Stay to the test I must admit I was skeptical of its claims, I mean ashes blow around, it's just part of smoking outside. But, after using this ash tray several times, and leaving it out on our VERY windy patio, I have to say I'm sold. It's design is very simple, but effective. The circular design to the three inlets prevents any wind from penetrating the interior and ashes from escaping. It also closes when not in use, which, for me, is just as big a benefit as being wind-proof. It allows me to carry it through the house without stinking up the place to dispose of the ashes. It also protects the ashes from the other elements, aka snow and rain, from getting in a making a disgusting gooey tar cigar mess if I don't empty it every time.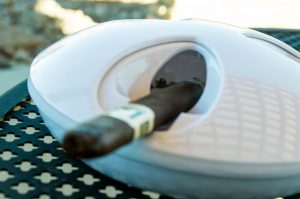 I smoked my Herrera Esteli Norteno on a very windy day on purpose, and not only did the ashes not blow out of the ashtray, but they never moved, and this was without even closing the lid. I left the ashes in there for a couple days with the lid open with I knew it wasn't going to rain, still no missing ashes. I left it for several weeks (in the snow and rain) with the lid closed, and there were no leaks, no mess. There is not much else to say about its performance other than it works, and it works well.
Aesthetically, it's not the most appealing ashtray on the market, but this is function over form. It only comes in white so a few other color choices would be nice, like black. A few size options would be nice too like a larger version for more crowded environments or a small one for just one person. I know they are making a smaller one for cigarettes, but I don't have any details on it or know if it will work with cigars. I think these kind of options will be the next step for the company if this proves successful, and these are really my only complaints.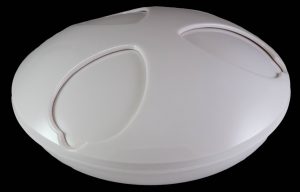 Overall I was very impressed with this unit and it is now a permanent accessory with our outdoor furniture for those times when I want to smoke outside. I would definitely recommend this to anyone that smokes outside a lot. The price is quite reasonable at $29.95 and can be found on their site here. Thanks again to Rich for sending this sample to review, and I look forward to seeing what they release next.
Verdict: Recommend