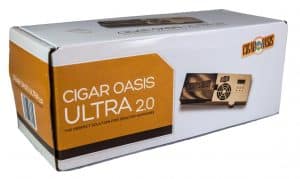 Last year, Cigar Oasis announced that their next line of electronic humidifiers would be Wi-Fi capable and you would be able to view and adjust your humidor's humidity from anywhere. Naturally, this got the attention of many cigar smokers including myself. After spending quite a few months with the unit, I will give you my thoughts. This review will go through the set-up process, functionality of the unit and the app, and some overall conclusions.
The Set-up
The set-up process itself is pretty complicated, requires a little bit of tech know-how and is very prone to bugs and needing reconfiguration. To initially connect it with your wireless network, you go through a series of seemingly arbitrary button-presses on the humidification device to enable it to broadcast a signal to your phone or computer. Once you find its MAC address and connect to it, you have to manually type in the configuration web address in the browser on the phone or computer you connected it to; it cannot be done from the app. Then, using the browser it has, you configure which network the Wi-Fi attachment will connect to and enter in security codes. Next, you have to reconnect to your regular Internet source and navigate to the Cigar Oasis website and register the MAC address of the device with the website. Now, assuming you have done all this correctly, in the right order, without typos, you go through another series of semi-arbitrary button presses on the humidifier to send an initial configuration signal. If it flashes green, you "should be" good to go. If nothing happens, you start all over. I found this whole process cumbersome at best.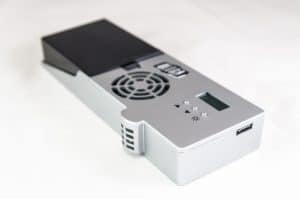 There is significant room for improvement here in the user interface. It feels like more of an alpha or beta phase of this project, not a final deliverable to the consumer. I also ran into trouble when the unit loses power. Now, I'm not sure if all of the units act this way, or if was a defect in mine specifically, but any time it loses power to the Wi-Fi unit, simply turning it back on or plugging it back in will not reconnect it to your network. You have to go back through the weird button combo on the humidifier itself and send out a new initial configuration signal, and even this only worked for me a small percentage of the time.
The Product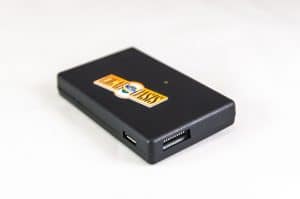 When choosing my model of Cigar Oasis unit, I opted for the Ultra 2.0 as I have a nice 100 count desktop humidor that I keep in my office separate from my walk-in. I liked the fact that it was small and battery powered so I wouldn't have to have any cords hanging from my desk. Unfortunately, in order to use the wifi attachment, it must be plugged in; something I wish I had known before selecting my model. This is something that they don't make clear in their marketing materials or on the website, which is kind of frustrating. The fact that the new models are rechargeable-battery capable and Wi-Fi capable are listed in the same bullet points, but not that they are mutually exclusive. It is mentioned in the user manual, but that is a little after-the-fact. There is, sort of, a way around this as I figured out that it will run on a portable power bank, but my 5600mAh Anker would only keep it running for about 14 hours. So if you have a giant 20,000mAh power bank, it would, in theory, run without wires for about 2 days, which isn't very long. The unit will still continue to run and keep the cigars humidified for much longer (weeks) without power to the Wi-Fi attachment, assuming you have the Ultra 2.0 model or a Cigar Oasis battery back attached to the bottom of another unit, but you won't get all the cool Wi-Fi features that come with it.
All that being said, the actual humidifier at its most basic level is great. I've had a larger older version powering a 300 count humidor without the Wi-Fi attachment long before I had a cigar blog. The Cigar Oasis humidifiers keep your cigars humidified at whatever humidity you want, and let you know when there's a problem, which is awesome.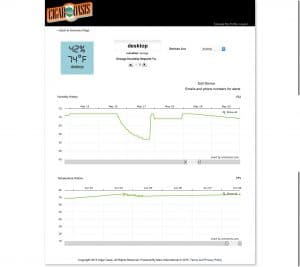 The App
While there were a few frustrations and snags in getting this system set up, there are definitely a lot of features that I use and appreciate. I really like the amount of detail that this device gives you. I'm a numbers and stats guy so it's pretty cool to be able to see my average temperature and humidities over a given time period. I appreciate that you can change the humidity set-point remotely from the app or website, although once you get it where you like it, there's really no reason to change it.
The alerts are a pretty cool feature as you can chose between email, SMS, or both to tell you when the humidity, temperature or water level is low. On either the web or the app, there are two charts that you can view and customize to show the data you want for a given time period. There are humidity history and temperature history. On the app you can only choose between 1, 3, 7, 14 day and 1 month time periods. On the web, you can get a lot more granular. When functioning properly, this data is updated hourly.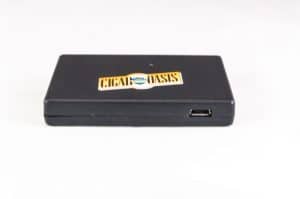 Overall
Overall, I can recommend the Wi-Fi Attachment device as long as you have the patience and a little bit of tech savviness to get it going. I hope that a lot of the problems I experienced will be updated or fixed soon because it really is a cool idea and product, it just needs to be more user friendly. I will say that if you do run into any problems, their tech support is awesome and responsive, and they will walk you through it on the phone to get you running. I want to thank Cigar Oasis for sending me this unit to review. I realize my review is not entirely favorable, and it's always a risk any manufacturer of cigars or accessories takes when sending product for review. Our site is based on honesty, so I'm not going to write a puff piece because they sent us something cool for free, but I do thank them for taking the time and money to seek our opinion. I hope that they, and our readers, see the value of an honest review and Cigar Oasis can take my critiques as suggestions for improvement, and our readers can feel confident in buying one of these if they feel it fits their needs and technical abilities. Click here to find out more about their other products and where to buy.
Verdict: Fair
(Needs Improvement)