Vital Stats: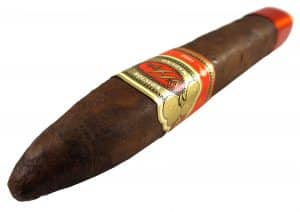 This cigar was reviewed blind (no bands) by a panel of at least 4 reviewers. They did not know what they were smoking beforehand. The scores are an average of all the reviewers' scores with outliers removed. All of our cigars reviewed are shipped to the panelists with Boveda packs to ensure optimal smoking experience.
Vitola: Belicoso
Length: 5.25″
Ring Gauge: 54
Country of Origin: Dominican Republic
Wrapper: Mexican San Andres Maduro
Binder: Dominican Republic
Filler: Dominican Republic and Nicaragua
Factory: Tamboril DBL S.A.
Blender: Martin Almonte
Number of reviewers: 5—–Steve (ThaGreatWazoo) Gregg (McGreggor57) Ron (shuckins) Craig (WyldKnyght) Wes (SosaCub4Life)
Price: $11.00
Age: 4 Months
Release Date: December 2014
Contributed by: La Hoja Cigar Co.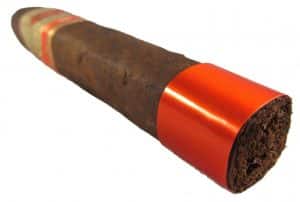 Initial Impressions
Appearance: 92
"A nice dark wrapper that is very uniform in color. The cigar has a slight box press to it that feels great in my hands. No veins and the seams are nearly invisible." –Gregg (McGreggor57)
Aroma: 91
"The aromas I got from this cigar were a mild leather smell off the wrapper. The foot had a tobacco aroma, and the dry puff had a smoked wood like taste." –Craig (WyldKnyght)
First Third
Flavor: 91
Strength: Medium
Body/Complexity: Medium-Full
"Fell for the head fake as the first few draws are fairly mild and then the pepper appears. Surprisingly, the spice only hits the retrohale and lasts but a few moments. A little coffee and allspice mix with some burnt wood. It's not a very complex third but the flavors stand on their own." –Gregg (McGreggor57)
"Starts off with a woodsy tasting tobacco up front and a pepper laced allspice flavor following close behind. This adds a touch of heat to the cigar, but doesn't bring any harshness with it which is always a good thing." –Ron (shuckins)
Second Third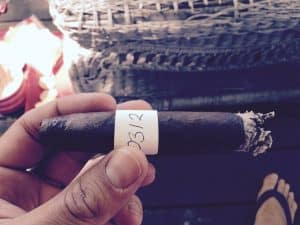 Flavor: 89
Strength: Medium-Strong
Body/Complexity: Medium
"The second third was full of cedar flavors with an underlying black pepper tone. The retrohale was a bit stronger than the first third, but was still enjoyable. Numerous re-lights were used and the cigar just would not stay lit. The overall strength picked up significantly and almost began to overpower the cigar towards the final third." –Steve (ThaGreatWazoo)
"In the second third of this cigar, the pepper mellowed to more of a smokey flavor, with still a hint of spiciness." –Craig (WyldKnyght)
Final Third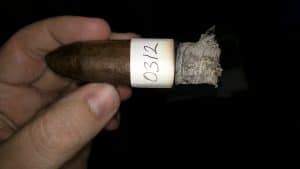 Flavor: 89
Strength: Medium-Strong
Body/Complexity: Medium-Full
"A little char remains consistent as the cigar moves into the final third. An occasional bit of cocoa mixes with a little coffee. Neither flavor dominates or sticks around very long. Pepper is returning on the finish, both on the nose and the tongue. It's not overpowering but present nonetheless." –Gregg (McGreggor57)
"The spice has kicked back in at the first part of this last third. There is still an overall creaminess that coats your entire mouth. There is just a hint of sweetness along with it. The super creaminess of the cigar really makes the flavors hang out in your mouth for a long time. The cigar continues to hold a great ash." –Wes (SosaCub4Life)
Overall Impressions
Draw: 94
"The initial draw was very tight and needed some fine tuning to get the cigar to flow smoothly. I used a straight cut on the torpedo cap and needed to keep climbing up towards the wrapper to find the sweet spot." –Steve (ThaGreatWazoo)
Burn: 91
"A great burning cigar, fairly even and cool, with a soft flaky ash left behind." –Ron (shuckins)
Construction: 88
"The construction has been very good. The cigar has held a great ash along with a mostly good burn and very good draw." –Wes (SosaCub4Life)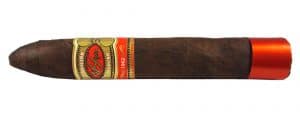 Overall Strength: Medium-Strong
Overall Body/Complexity: Medium-Full
Overall Experience: 89
"Overall, the cigar was decent. The flavors were good, but not overwhelming. The burn and construction definitely ruined it for me. The cigar definitely needed a lot of attention, which took from the overall enjoyment. Hopefully, my fellow reviewers had a better experience than myself." –Steve (ThaGreatWazoo)
"There was a bit of a let down after a promising start. The first third didn't offer a lot of interest, but the flavors were pretty good. While hoping for some more flavor development, none really materialized. The slight chemical taste during the middle might be due to a younger cigar. I would be interested in trying another one with more rest on it." –Gregg (McGreggor57)
"Kind of a one trick pony cigar. More dimensions were needed to put this one on my must try list." –Ron (shuckins)
"Overall, this was one of the best cigars I've smoked and reviewed. It was great from start to finish, any issue was minor and did not detract me from enjoying the time it took me to smoke it. This will definitely go on my do buy list." –Craig (WyldKnyght)
"Overall, the cigar was good. I would have preferred a bit more spice to go along with the other flavors. I would be interested to see what this cigar is and smoke it again to see how it smokes." –Wes (SosaCub4Life)
–
Smoking Time (in minutes): 65
Edit

| Reviewer | Appearance | Aroma | 1/3 | 2/3 | 3/3 | Draw | Burn | Constr. | Overall |
| --- | --- | --- | --- | --- | --- | --- | --- | --- | --- |
| Steve | 90 | 90 | 90 | 88 | 88 | 88 | 83 | 85 | 85 |
| Gregg | 92 | 90 | 90 | 88 | 88 | 90 | 88 | 90 | 88 |
| Ron | 90 | 92 | 85 | 85 | 85 | 95 | 95 | 88 | 85 |
| Craig | 92 | 92 | 90 | 92 | 92 | 100 | 95 | 90 | 95 |
| Wes | 95 | 90 | 92 | 90 | 90 | 97 | 95 | 97 | 92 |
To view the complete scores and notes, click here.
–
Blind Cigar Review: La Hoja | Edición Clasica Maduro 1962 No. 2
Blind Cigar Review: La Hoja | Edición Clasica Maduro 1962 No. 2
90
Total Score - Very Good