Vital Stats: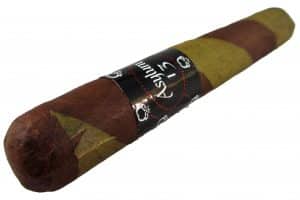 Vitola: Robusto
Length: 5″
Ring Gauge: 50
Country of Origin: Nicaragua
Wrapper: Nicaraguan Candela and Habano Maduro
Binder: Nicaragua
Filler: Nicaragua
Factory: Undisclosed
Blender: Tom Lazuka and Christian Eiroa
Number of reviewers: 5—–Ron (shuckins) Robert (NavyPiper) Wes (SosaCub4Life) Sandeep (Djangos) Dave (mdwest)
Price: $6.30
Age: 3 Months
Release Date: March 2014
Contributed by: C.L.E. Cigar Company
This cigar was reviewed blind (no bands) by a panel of at least 4 reviewers. They did not know what they were smoking beforehand. The scores are an average of all the reviewers' scores with outliers removed.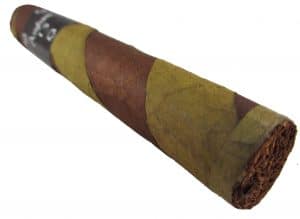 Initial Impressions
Appearance: 94
"OK, let me be blunt here about this stogie – It is one freakin' cool looking stogie! It's a 5 X 50 Robusto, with a Barber Pole wrapper. Now I've seen tan and brown ones, but never a mint green and dark brown before! Kinda reminded me of the colors of a Girl Scout mint/chocolate type cookie thing. Anyway, other than a few moderate sized veins on the wrapper(s), there are no issues at all with the wrappers. The head is round and smooth. The cap is perfectly centered, and the dark brown cap band is perfectly applied around the green wrapper for an awesome appearance. An impressive job." –Robert (NavyPiper)
Aroma: 91
"The cigar has a very sweet aroma of honey and cocoa. Also, faint floral notes are discernible. The dry puff is sweet notes of cocoa and coffee. Also possibly something that I have never had in a cigar – lavender. Surprisingly, no pepper or earthy notes at all." –Sandeep (Djangos)
First Third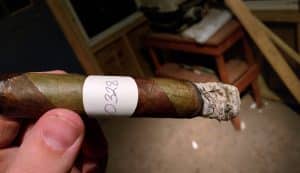 Flavor: 88
Strength: Medium
Body/Complexity: Medium-Full
"I'm really excited about smoking this stogie. After punching the cap and lighting up, I start off with a pretty good blast of pepper, with some medium strength tobacco. But it seems that the pepper is right at the edge of overpowering the tobacco. This guy is producing tons of smoke! Draw is perfect. Burn is a little wonky and gave it a couple of touchups which seems to be straightening itself out. Ash is 'grayish' salt and pepper." –Robert (NavyPiper)
"I'm a little surprised with the flavors showing up in the profile in the first third. Based on appearances and aroma, I expected something in the earthy, chocolaty or leathery wheelhouse, but instead find the cigar to be more vegetal in profile. The smoke is creamy and smooth from the first puff. We're off to a good start." –Dave (mdwest)
Second Third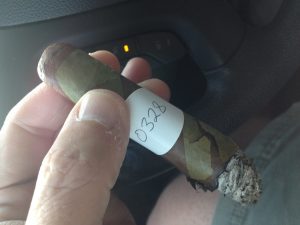 Flavor: 88
Strength: Medium-Strong
Body/Complexity: Medium-Full
"A woodsy coffee mix takes over the front spot, bringing both a heat and kick with it. The peppery allspice is on a fine line, with just enough pepper for a nice kick, balanced with just enough allspice to keep the heat in check. This mix does overtake the earthy taste of the tobacco along with the last of the cedar." –Ron (shuckins)
"The middle third has the same earth flavors of the initial third. The predominant flavor is grass and leather. The woodsy notes have now subsided and the pepper is also not very prominent. Very one dimensional, which is surprising given the two different kinds of wrappers, however, this cigar is quite strong and I am getting a nic kick towards the end of the third. No issues with the burn or draw in this third." –Sandeep (Djangos)
Final Third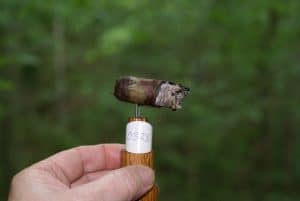 Flavor: 89
Strength: Medium-Strong
Body/Complexity: Medium-Full
"Things started coming together nicely as I smoked towards the end. The heat faded from the peppery allspice, but most of the kick stayed behind. The woodsy coffee flavor mellowed a fair bit and almost attained a level of smoothness in the final third, but ran out of cigar before it did." –Ron (shuckins)
"The spiciness has returned more in the final third. It's very well rounded with a good mix of spice, but yet also creamy with a faint hint of sweetness from time to time." –Wes (SosaCub4Life)
Overall Impressions
Draw: 94
"The draw was a bit tight, but overall very good. No complaints." –Wes (SosaCub4Life)
Burn: 91
"While the burn line stayed uneven pretty much from start to finish, it continually self corrected and never required any maintenance." –Dave (mdwest)
Construction: 92
"Very firm, nice feel in the hand. There was a burn issue at the very beginning and then again towards the end, but the cigar performed very well in between." –Ron (shuckins)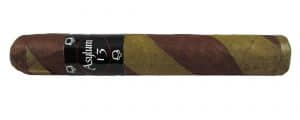 Overall Strength: Medium-Strong
Overall Body/Complexity: Medium-Full
Overall Experience: 91
"A fun cigar to smoke, but not one likely to make it into my rotation as the flavors were not among my favorites." –Ron (shuckins)
"Overall, this was a very, very enjoyable review. It was pleasing to the eyes and had really good flavors and a draw that was second to none. I'll take a dozen please!" –Robert (NavyPiper)
"Very good cigar. It's hard not to like the unique green and brown barber pole wrapper. The cigar also smoked very well and had a good mix of spice along with some creamy sweetness. The spice throughout is always there and the dominant factor." –Wes (SosaCub4Life)
"Overall, this was a pleasant smoke but quite unilateral in its flavor profile. Even though I will smoke it again, I may not go looking for it." –Sandeep (Djangos)
"I'm not normally a big fan of barber poles, but really enjoyed this cigar despite the minor performance problems experienced. I would gladly buy a fiver of these and smoke again in the future." –Dave (mdwest)
–
Smoking Time (in minutes): 82
Edit

| Reviewer | Appearance | Aroma | 1/3 | 2/3 | 3/3 | Draw | Burn | Constr. | Overall |
| --- | --- | --- | --- | --- | --- | --- | --- | --- | --- |
| Ron | 93 | 92 | 90 | 88 | 90 | 90 | 85 | 90 | 90 |
| Robert | 95 | 88 | 88 | 90 | 90 | 100 | 88 | 90 | 92 |
| Wes | 97 | 95 | 95 | 92 | 95 | 95 | 95 | 97 | 95 |
| Sandeep | 95 | 90 | 88 | 88 | 88 | 97 | 97 | 95 | 88 |
| Dave | 90 | 88 | 88 | 88 | 88 | 85 | 88 | 85 | 90 |
To view the complete scores and notes, click here.
–
Blind Cigar Review: Asylum 13 | Ogre Robusto
Blind Cigar Review: Asylum 13 | Ogre Robusto
91
Total Score - Very Good