Vital Stats:
Vitola: Toro
Length: 6″
Ring Gauge: 50
Country of Origin: U.S.A.
Wrapper: Ecuadorian Habano
Binder: Nicaraguan
Filler: Nicaraguan
Factory: G.R. Tabacaleras Unidas, S.A.
Blender: George Rico
Number of reviewers: 4 —– Sandeep (Djangos) Ron (shuckins) Gregg (McGreggor57) Jason H. (Jokey Smurf)
Price: $6.40
Age: 2 Months Rest
Release Date: April 2014
Contributed by: George Rico Cigars
Initial Impressions
Appearance: 88
"A good looking cigar with a nice color wrapper, although there is a prominent vein running the length of it." –Ron (shuckins)
Aroma: 91
"There is not a lot that greets my nose, just a touch of leather with some cedar at the foot. The cold draw is a bit more flavorful with barnyard and old wood." –Gregg (McGreggor57)
First Third
Flavor: 89
Strength: Medium
Body/Complexity: Medium
"A musty tasting cedar flavor on light up that has an aged hay after taste. This held true for the first third, although a light pepper with a trace of coffee was in the background, but struggled to come forward." –Ron (shuckins)
"Burnt toast and dark roasted coffee beans with enough black pepper to give it a little kick without overpowering the flavors. Shortly into this third, a nice leather develops that really takes the edge off and smooths out the flavors nicely." –Gregg (McGreggor57)
Second Third
Flavor: 88
Strength: Medium
Body/Complexity: Medium
"The middle third still has the same flavor profile as the initial third with leather predominating. Not much complexity but pleasant none the less. There is is definitely some nuttiness. There is pepper with each draw and it is gravitating to the back of the throat. The burn has straightened out and the draw is great. There is still copious amounts of smoke." –Sandeep (Djangos)
"More of a straight wood taste as the cedar fades. A stronger coffee flavor moves toward the front, bringing a nice balanced peppery allspice with it. The coffee has a roasted bean taste and when paired with the woodsy tasting tobacco, reminds me of the smoke from a campfire." –Ron (shuckins)
Final Third
Flavor: 88
Strength: Medium
Body/Complexity: Medium
"Allspice is moving forward and light coffee is picking up. The pepper is returning to the retro at a moderate level. Once these flavors establish themselves there isn't much change." –Gregg (McGreggor57)
"As I entered the final third of this cigar, the wrapper developed a bad split and began to come unwrapped. I eventually removed the wrapper leaf and exposed the Maduro binder. The flavors changed a bit at this point and became harsh and much less desirable. Based upon this, I ended the cigar with 1.5″ remaining…much sooner than is my norm." –Jason H.
Overall Impressions
Draw: 88
"A firm draw, but productive, with plenty of smoke in every puff." –Ron (shuckins)
Burn: 90
"The burn was skewed in the initial third but straightened out towards the beginning of the middle third. No issues there after." –Sandeep (Djangos)
Construction: 91
"Well rolled cigar. Medium firm with a hefty feel in the hand." –Ron (shuckins)
Overall Strength: Medium
Overall Body/Complexity: Medium
Overall Experience: 86
"Overall, this was a pleasant experience and I would try this again. If leather and tobacco are your favorite flavors, this one is for you." –Sandeep (Djangos)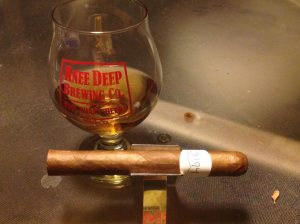 "Not an entirely unpleasant cigar, but not one I would keep as a regular in my rotation because of the flavor profile." –Ron (shuckins)
"After a bold beginning, this cigar became a little one dimensional. The flavors were pretty good but there wasn't a lot of interest past the first third. This is a cigar I would take to the golf course or offer someone just starting." –Gregg (McGreggor57)
"There were really no flavor "high points" for this cigar. It was just too mild for me. Couple this with the wrapper issues and this cigar was just not for me. If you prefer things extremely mild, then this might be in your wheelhouse. Personally, I would not choose to smoke another." –Jason H. (Jokey Smurf)
Smoking Time (in minutes): 69
Total Score: 88 (Good)
To view the complete scores and notes, click here.